Markets subdued in the wake of Trump's tax plans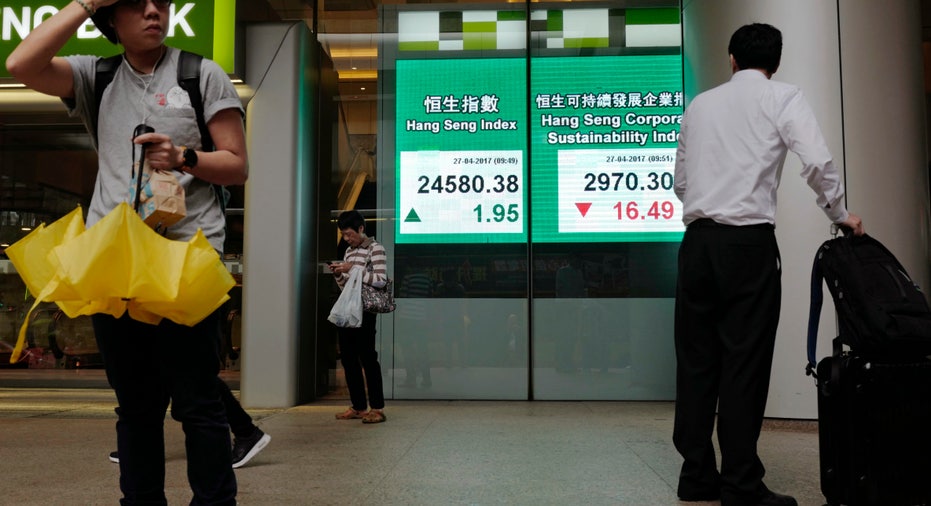 Global stocks were subdued Thursday as investors assessed the scant details of President Donald Trump's U.S. tax overhaul. The Bank of Japan and European Central Bank kept their policies on hold as expected, though the euro took a modest hit when ECB President Mario Draghi said he wasn't confident that inflation across the 19-country eurozone was heading toward target.
KEEPING SCORE: European shares fell with France's CAC 40 down 0.6 percent at 5,269 and Germany's DAX 0.2 percent lower at 12,447. Britain's FTSE 100 shed 0.5 percent to 7,249.97. U.S. shares were poised to open slightly higher. Dow futures and the broader S&P 500 futures were both up 0.1 percent.
TRUMP ON TAX: The White House unveiled broad outlines of Trump's tax plan, omitting many details. Officials said they hoped to slash corporate taxes to 15 percent from 35 percent, but specifics are still to be negotiated. Shares have risen on hopes for big tax cuts and less red tape. Based on the few specifics spelled out so far, most experts suggested the plan would add little to growth while swelling the budget deficit and potentially handing large windfalls to wealthier taxpayers.
QUOTEWORTHY: "There has been a relatively muted response to Trump's plans for tax reform that were announced on Wednesday, the prospect of which was one of the key drivers of the market rally that followed his election victory last November," said Craig Erlam, senior market analyst at OANDA. "With U.S. equity markets near all-time highs and much of the details that were released already being known, it would appear everything was already priced in."
EUROPE: The European Central Bank kept its stimulus program and interest rates unchanged even though it conceded that the economic recovery in the 19-country is becoming stronger. Though a raft of economic indicators in recent weeks have pointed to a strengthening recovery, there was little expectation the bank would adjust policy in the run-up to the second round of France's presidential election, in which anti-euro candidate Marine Le Pen is battling pro-EU front-runner Emmanuel Macron. Draghi said the bank is not confident that inflation will rise and stay at the bank's goal of just below 2 percent — in the year to March, headline inflation was 1.5 percent with the underlying rate, which strips out volatile items like energy, even lower at 0.7 percent. Draghi's inflation comment kept a lid on the euro, which was trading 0.3 percent lower at $1.0867 after briefly pushing up to $1.0920 when Draghi noted the improving economic outlook.
JAPAN OUTLOOK: The central bank forecast growth in the world's third-largest economy would remain steady over the next year as it keeps its ultra-lax monetary policy unchanged. The Bank of Japan said preparations for the Tokyo 2020 Olympics would support growth by spurring demand but warned of risks from geopolitical trends.
ASIA'S DAY: Japan's benchmark Nikkei 225 index lost 0.2 percent to finish at 19,251.87 while South Korea's Kospi gained 0.1 percent to 2,209.46. Hong Kong's Hang Seng rose 0.5 percent to 24,598.48 and the Shanghai Composite index climbed 0.4 percent to 3,152.19. Australia's S&P/ASX 200 edged up 0.2 percent to 5,921.50. Taiwan's benchmark rose but those in Southeast Asia mostly fell.
ENERGY: Benchmark U.S. crude oil fell $1.03 to $48.57 a barrel in electronic trading on the New York Mercantile Exchange while Brent crude, which is used to price international oils, fell $1.13 to $50.69.