Markets Rise as Investors Buy Into Trump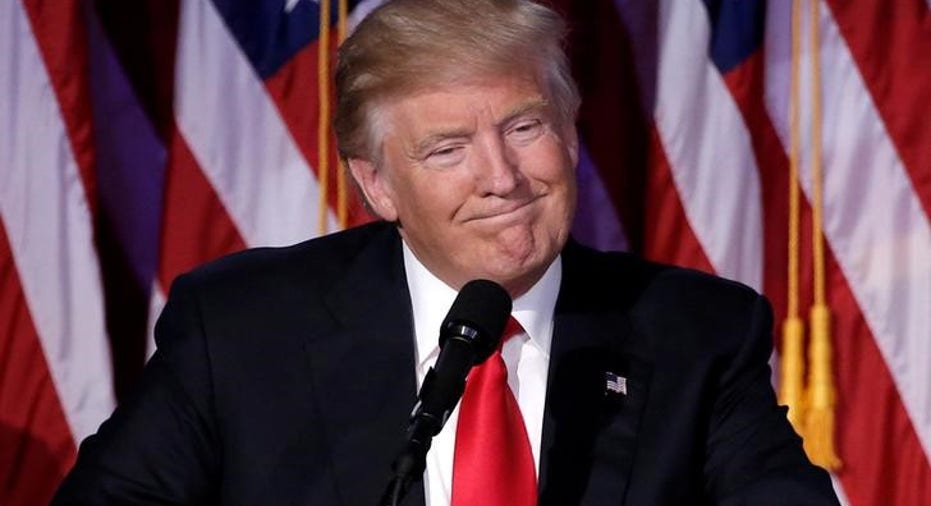 Stocks and commodities leapt higher Thursday while bonds remained under pressure as investors bet that a Donald Trump presidency could mean more fiscal stimulus, lower corporate taxes and higher interest rates.
Futures pointed to a 0.7% opening gain for the Dow Jones Industrial Average, putting the index on track to end the day at an all-time high. Investors around the world followed Wall Street's lead, with markets in Europe climbing after shares in Japan gained over 6%.
"There is a lot of sorting out going on right now," said Tom Manning, chief executive at F.L. Putnam Investment Management. "Markets were clearly caught offside."
U.S. stocks rose Wednesday in a dramatic turnaround from early losses as markets digested the unexpected outcome of the U.S. presidential race. It was a surprising move for many investors as the market had sold off risk assets in the run-up to the election as Mr. Trump appeared to fare better in the polls, and gained as he appeared to lag, citing concerns about his potential trade policies.
Financial, pharmaceutical and engineering companies led the rally on expectations they would perform best under the new U.S. government with decreased regulation and more government spending, while utilities and consumer staples, considered bond-proxies, sold off, and government bond markets around the world came under intense pressure.
Guy Monson, chief investment officer at Sarasin & Partners, said he has been adding to his holdings of U.S. banks, expecting them to benefit from decreased regulatory uncertainty and a steeper yield curve under the new administration.
"Banks are the last thing left on planet Earth that you can buy where you're absolutely sure profits will go up when interest rates go up."
More broadly, he said, "Everybody is saying this is one of the great seismic events in U.S. political history, but that's certainly not how the stock market is seeing it." The immediate selloff following the surprise outcome was reversed in just hours as this time around, global investors were much better hedged for either outcome, declining to take a strong bet on the polls.
The Stoxx Europe 600 was up 1.1% on Thursday, led by banks, insurance companies and miners. Shares of UBS Group were up 8%, while Credit Suisse added 7.2% as the broader bank sector headed toward its highest close since March.
Meanwhile, gold, iron ore and oil prices all climbed, supporting the basic resources sector, as LME copper surged over 4% to $5,646 a ton. Copper is up more than 13% so far this week and has touched a one-year high, boosted by bets on a rise in infrastructure spending and continued optimism over Chinese demand.
Rising commodity prices helped shares of Antofagasta, which was up over 21%, while Glencore rose nearly 5%.
The moves followed steep gains in Asian markets, which closed Wednesday with losses before a sudden reversal in risk sentiment across the globe. Japan's Nikkei Stock Average climbed 6.7% on Thursday in its best day since February, as the market more than reversed an initial selloff following the surprise outcome of the U.S. presidential race.
Investors bought local infrastructure companies and electronic-parts makers in Japan on hopes for more infrastructure spending in the U.S., while a softer yen helped exporters recover from a brutal session on Wednesday.
The yen had initially risen sharply against the dollar during Asian trading hours Wednesday as the votes pointed toward a victory for Mr. Trump, but the dollar more than reversed all its losses against the yen after Asian markets closed.
The dollar was last up 1.1% against the yen at Yen106.7900 and up 0.2% against the euro. The broader WSJ Dollar Index, which measures the dollar against a basket of 16 currencies, was up 0.3% after its best day since the U.K. referendum in June.
Stocks in Shanghai added 1.4%, Hong Kong markets added 1.9%, and Australian shares rallied 3.3%.
In government bond markets, investors were betting that expansive fiscal spending and tax cuts under a Donald Trump administration would mean higher bond yields in coming years. The yield on the 10-year U.S. Treasury note inched up slightly to 2.073% Thursday after reaching above 2% for the first time in nine months on Wednesday. Yields move inversely to prices.
Many said they believe that the plan would expand budget deficits and likely add to upward pressure on bond yields, as investors demand more compensation for lending to a country with greater borrowing needs.
Many global bond yields hovered around six-month highs, catching up with the move in Treasurys. The 10-year German yields climbed to 0.277% Thursday from 0.179% in the previous session, while 10-year Japanese government bond yields rose to minus 0.043%.
"At this point, investors are basically still flying blind," said Abi Oladimeji, chief strategist at Thomas Miller Investment in London. "The reality is we don't know what a Trump presidency will look like in terms of the policies that are actually carried forward."
At the minute, investors are focused on the shorter- term positives such as the boost to nominal growth from infrastructure spending, while overlooking the risks of a more protectionist stance on global trade, he said.
Katherine Dunn, Christopher Whittall and Kenan Machado contributed to this article.
Write to Riva Gold at riva.gold@wsj.com