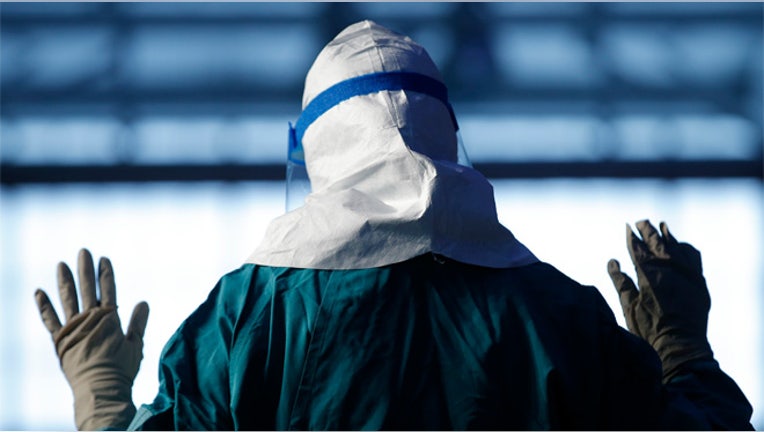 Market fluctuations eased on Friday and the Standard & Poor's 500 index ended its best week in almost two years as fears dwindled that the first Ebola diagnosis in New York could lead to widespread contagion in the nation's financial capital.
The market's favored gauge of anxiety, the CBOE Volatility Index, dropped from readings above 30 on Thursday to about the average daily level at 16.63 on Friday, while options activity suggested low expectations for volatility, signaling that investors no longer assign a high probability to wild shifts based on Ebola news.
To be sure, Ebola fears may still provide a trigger for temporary bouts of selling. The sharp selling in futures and broad-market exchange-traded funds on Thursday suggests a sensitivity that still exists - to a point. And those fears could revive in the event other Ebola sufferers turn up in the U.S., particularly any that can't be attributed to health care workers or people from West Africa.
"Ebola is really center stage as the No. 1 fear of the market right now because of the immediate reaction we've had to it," said John Kosar, director of research with Asbury Research in Chicago. "It's been more immediate and severe than any of the geopolitical tensions we've seen."
After the possible Ebola diagnosis in New York was reported on Thursday, the S&P 500 SPDRs exchange-traded fund traded about 2.56 million shares at 2:56 p.m. -- the busiest minute of the day other than the 4 p.m. close.
But the decline was limited to a move of about 0.6 percentage point, and stocks still ended higher, up 1.2 percent.
At 8:50 p.m. ET (0050 GMT), there was confirmation that Dr. Craig Spencer, 33, had contracted Ebola. S&P futures fell about 13 points in 20 minutes, but did not translate to declines Friday, as the S&P rose 0.7 percent, on its way to a 4.1 percent gain for the week, the best since January 2013.
New York and New Jersey will bolster screening for Ebola beyond federal requirements for travelers from West Africa arriving at the area's airports, New York Governor Andrew Cuomo said on Friday.
Travelers from Ebola-affected countries in West Africa will undergo interviews upon arrival at Newark Liberty International airport and New York's John F. Kennedy International airport and may face quarantine orders, Cuomo said. Newark and JFK are two of the five airports into which travelers from West Africa can fly to the U.S.
Fears that Ebola could spread in the United States escalated after a Liberian man became the first person in the country diagnosed with the virus on Sept. 30. Other cases have followed, and the uncertainty surrounding its possible spread was in part why sudden, late-day selloffs were seen on Oct. 10 and Oct. 13.
Now, however, investors are less concerned about isolated cases of Ebola in major cities among health care workers who work directly with patients. They see the reaction as more of a buying opportunity.
"What moves the market is a surprise or something that's unexpected or unanticipated, so the fact that there's an Ebola case is old news," said Brian Battle, director of trading at Performance Trust Capital Partners in Chicago. "For it to be a real story, it has to be way more contagious than we thought."
Stocks that have been hit hardest by the Ebola diagnoses - including airlines - dipped when the news broke Thursday but bounced back after New York City Mayor Bill de Blasio said Spencer's diagnosis did not pose a threat to others.
The NYSE ARCA Airline index reached its highest level in a month on Friday. Their rebound last week was a tip-off to Manoj Narang, chief executive of Tradeworx, a proprietary trading firm in Red Bank, New Jersey, that uses quantitative strategies, that the scare had passed its peak.
Many small companies involved in the Ebola response that soared after the first U.S. diagnosis have since seen volumes decline and shares slip, another sign that fears have quelled.
Shares of Lakeland Industries, an $86 million company that makes hazmat suits, surged with the outbreak, rising to $29 on October 13 from $6.13 at the end of August. Since then, the enthusiasm has dimmed - shares are down 53 percent.
Biotechnology stock Ibio Inc, which quadrupled to $3.21 a share in eight days leading to October 13, has since lost half its peak value.
"Ebola is having a diminishing marginal effect on market psychology," said Peter Kenny, chief market strategist at Clearpool Group in New York.
(Reporting By Yasmeen Abutaleb; additional reporting by Herb Lash in New York and Francesco Canepa in London. Editing by David Gaffen and John Pickering)