Market Volatility Leads to Record Trading, Earnings Boost for TD Ameritrade Holding Corp.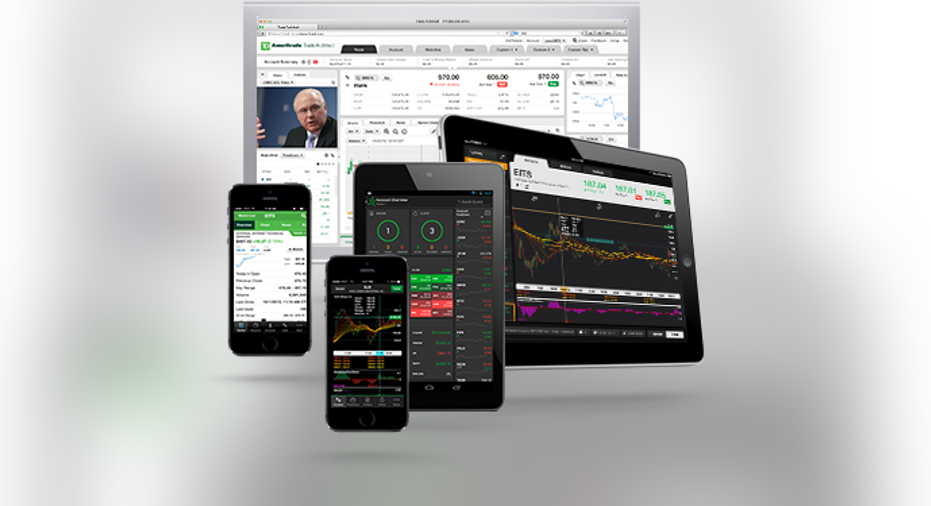 Image source: TD Ameritrade.
TD Ameritrade Holding Corp. announced second-quarter financial results on April 19 and reported that record trading activity and the highest total client assets in the company's history drove an 8% increase in earnings per share. Let's take a closer look at TD Ameritrade's results for the second quarter.
The numbers
| Metric | Q2 2016 | Q2 2015 | Change |
| --- | --- | --- | --- |
| Revenue | $846 | $803 | 5% |
| Net income | $205 | $189 | 8% |
| Earnings per share | $0.38 | $0.35 | 9% |
Revenue and net income in millions. Data source: TD Ameritrade release.
What happened in the quarterThere were several factors that contributed to the strong growth in earnings in the second quarter:
Record daily average of 509,120 trades per day, up from under 477,000 one year ago and 438,000 sequentially. Higher trading isn't something TD Ameritrade can control, but is a product of investor sentiment. A highly volatile start to 2016 was the key driver behind the big jump in trading at the broker.
Trading levels have begun returning to normal levels. On the earnings call, CEO Fred Tomczyk said that April trading levels were closer to 450,000 per day.
The 25 basis point increase in the fed rate helped increase profits in the quarter, but surprisingly enough didn't drive higher profits.
Management said this was because lower lending balances in margin accounts and stock lending (think short sales) revenue.
Lower costs versus the year-ago quarter also contributed to higher profits.
Financial housekeepingTD Ameritrade announced it would pay $0.17-per-share dividend this quarter, up from the $0.15 paid last year and the same as was paid last quarter. The company also said that it repurchased 8 million shares during the quarter.
Operating expenses of $503 million were up sequentially, but this was at least partly due to higher trading levels pushing up certain costs, as well as higher advertising expenses versus the first quarter. But at the same time, operating costs were down $4 million from the same year-ago quarter.
Debt was up $14 million to $1.814 billion, but cash and equivalents increased almost $500 million to $2.476 billion.
What management saidCFO Steve Boyle, on the impact of lower margin and stock lending balances counteracting the benefits of the recent fed rate hike:
Tomczyk spoke more than once on the potential impact of the recent Department of Labor ruling on retirement account advisory services, which will require investment advisors act as fiduciaries when advising clients on investments in retirement accounts.
Looking aheadTD Ameritrade's stock is still off its recent highs, along with many financial services stocks. But at the same time, 8% earnings growth is a solid result, particularly considering that the full benefit of higher interest rates wasn't felt in the quarter, though it did offset lower interest rate-bearing account balances.
But looking at the big picture, the company continues to add new clients and grow its client asset base. TD Ameritrade can't control how volatile the market is, how many trades its customers make, or how much margin customers utilize, but by keeping an eye on costs, aggressively investing in growing its client and asset base, and delivering a high-quality trading platform and investment advisory service, the company can better leverage its assets and drive more profits.
This strategy has worked well for most of the past decade under Tomczyk, who will retire in September. If Tomczyk, in his last two quarters as CEO, and his replacement Tim Hockey, who came over from Toronto-Dominion Bank, which owns 41% of TD Ameritrade, continue to focus on the things that management can most directly influence (namely costs and the service and product the company provides its clients), it should be able to keep steadily growing profits in the future.
The article Market Volatility Leads to Record Trading, Earnings Boost for TD Ameritrade Holding Corp. originally appeared on Fool.com.
Jason Hall has no position in any stocks mentioned. The Motley Fool owns shares of and recommends TD Ameritrade. Try any of our Foolish newsletter services free for 30 days. We Fools may not all hold the same opinions, but we all believe that considering a diverse range of insights makes us better investors. The Motley Fool has a disclosure policy.
Copyright 1995 - 2016 The Motley Fool, LLC. All rights reserved. The Motley Fool has a disclosure policy.