Markel Offers a Deceptively Good Quarter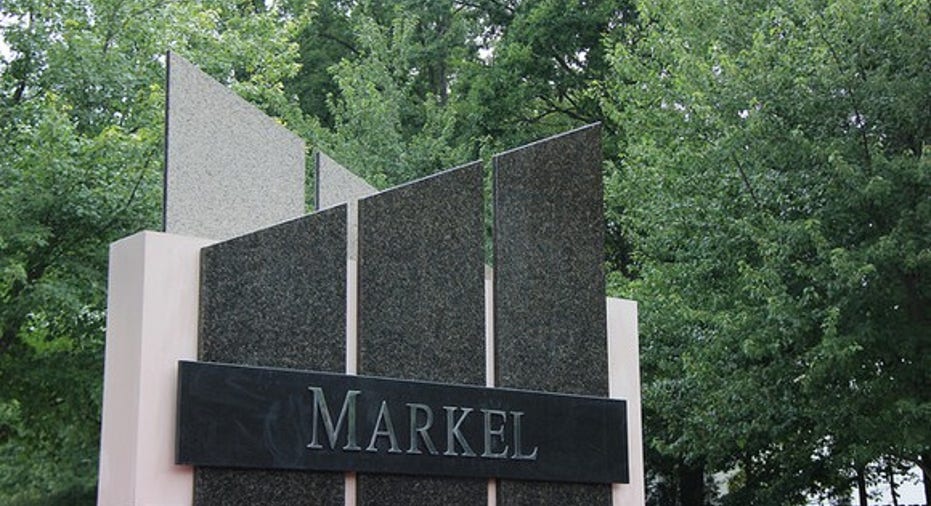 Markel Corporation (NYSE: MKL) announced first-quarter 2017 earnings on Wednesday after the market closed, punctuated by a generally strong performance apart from an unusual item -- and one outside of Markel's control, at that -- which affected underwriting results. After initially declining on the news, shares of Markel closed up 0.8% Thursday as the market digested what the specialty insurer and financial holding company had to say.
Let's dig deeper to see what drove Markel's business as it kicked off the new year.
IMAGE SOURCE: THE MOTLEY FOOL.
Markel results: The raw numbers
| Metric | Q1 2017 | Q1 2016 | Year-Over-Year Growth |
| --- | --- | --- | --- |
| Operating revenue | $1.412 billion | $1.377 billion | 2.6% |
| Net income to shareholders | $69.9 million | $160.4 million | (56.4%) |
| Net income per diluted share | $3.90 | $11.15 | (65%) |
DATA SOURCE: MARKEL CORPORATION.
What happened with Markel this quarter?
For perspective, consensus estimates predicted net income of $4.50 per share on revenue of $1.43 billion. As a financial holding company, however, a better way to gauge Markel's success is by looking at book value per share. Book value per common share outstanding at the end of the quarter was $620.30, representing 2.3% growth from $606.30 at the end of 2016 and up 5.2% from $589.86 at this time last year.
Looking closer at insurance operations, Markel's consolidated underwriting combined ratio this quarter was 100%, meaning it broke even on every dollar in premiums it wrote, compared to 89% last quarter (when it earned $11 for every $100 in premiums it wrote) and 88% in the same year-ago period. More specifically, consolidated underwriting results included:
93% from U.S. insurance
88% from international insurance
132% from reinsurance operations
Of course, one of those isn't like the others. Reinsurance operations included $85 million of adverse development (equivalent to adding 38 points on the reinsurance combined ratio) primarily due to a decrease effective last month in the Ogden rate -- its first change since 2001 -- from 2.5% to negative 0.75%. The Ogden rate is used to calculate lump sum awards in U.K. bodily injury cases. So when this rate was reduced, it increased expected claims payments for those cases, which in turn required Markel management to increase loss reserves accordingly.
"Otherwise," noted Markel executive chairman Alan Kirshner, "our underwriting results were in line with our expectations."
Turning to Markel's investment operations,net investment income increased 9.9%, to $100.4 million, driven by a combination of dividends, higher short-term interest rates, and interest from Markel's fixed income portfolio.
Total invested assets (including investments, cash and equivalents, and restricted cash and equivalents) were $19.34 billion at the end of the quarter, up from $19.06 billion at the end of 2016. Equity securities comprised $5.04 billion of that total, or 26%, up from $4.75 billion, or 25% of total invested assets last quarter.Fixed maturities comprised 51.7% of invested assets, and short-term investments, cash and cash equivalents comprised the remaining 22.3%.
Also, net unrealized gains (net of taxes) were $1.9 billion at the end of March, up from $1.7 billion last quarter. Keep in mind Markel's co-CEO and chief investment officer, Tom Gayner, prefers to buy shares of high-quality businesses he can own for long periods of time. In doing so, he can let the power of compounding returns do its work without the hefty tax bill he would otherwise incur should he sell.
Finally, we can't forget Markel Ventures, the moniker under which Market's non-insurance, non-investing portfolio of businesses operate. Markel Ventures first-quarter operating revenue increased only slightly from the same year-ago period, to $286.9 million, including:
an 8.1% decline in manufacturing business revenue, to $177.1 million
17% growth in non-manufacturing business revenue, to $109.8 million
On the bottom line, Markel Ventures' net income to shareholders declined 0.5%, to $14 million, and its earnings before interest, taxes, depreciation, and amortization (EBITDA) increased 1.3%, to $41.7 million.
What management had to say
During the subsequent conference call, Gayner said this about Markel Ventures:
"Returns on our investment portfolio drove growth in book value for the quarter and we continued to see positivecontributions from ourMarkel Venturesoperations," added Kirshner. "We remain focused on building long-term shareholder value by exercising underwriting discipline and will only write business that supports our underwriting profit targets."
Looking forward
Markel doesn't provide specific quarterly financial guidance, but that's not terribly surprising given its relentless focus on creating long-term financial value while all but shunning many investors' tendency to react to short-term fluctuations. With that in mind, it was equally unsurprising to see shares of Markel close higher in spite of its underperformance relative to the market's expectations.
10 stocks we like better than MarkelWhen investing geniuses David and Tom Gardner have a stock tip, it can pay to listen. After all, the newsletter they have run for over a decade, Motley Fool Stock Advisor, has tripled the market.*
David and Tom just revealed what they believe are the 10 best stocks for investors to buy right now... and Markel wasn't one of them! That's right -- they think these 10 stocks are even better buys.
Click here to learn about these picks!
*Stock Advisor returns as of April 3, 2017
Steve Symington owns shares of Markel. The Motley Fool owns shares of and recommends Markel. The Motley Fool has a disclosure policy.