Mark Zuckerberg Thinks Elon Musk is Wrong on AI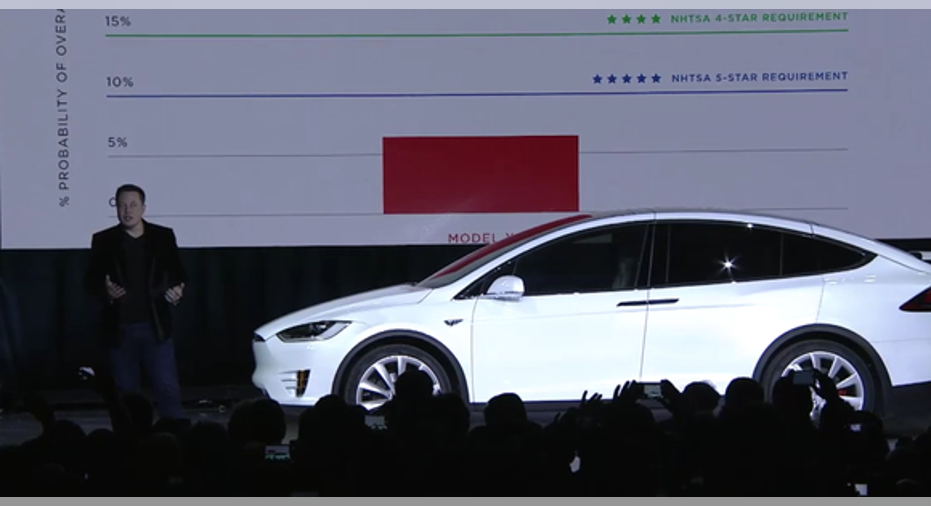 Tesla CEO Elon Musk introduces the Model X. Source: Tesla.
FamedentrepreneurElon Musk has been a regular Chicken Little when it comes to artificialintelligence. The billionaire founder of both Tesla and SpaceX has spokenout about the dangers of the emerging technology on several occasions in recent years, warning that it could bringdisastrousconsequences for all of humanity.
Facebook's CEO Mark Zuckerberg isn't buying it. In an interview with Germany's Axel Springer (via Business Insider), the founder of the social networkcharacterizedMusk's warnings as "hysterical." While the discussion may seem somewhat nebulous, bordering on the realm of science fiction, artificial intelligence is one of Facebook's central prerogatives, and it could become fundamental to the company's business model in the years ahead.
It's nothing to worry aboutZuckerberg touched on several subjects in his conversation with Axel Springer's CEO Mathias Dpfner, but one of the more interesting points of the discussion centered on artificial intelligence.
Two different business modelsMusk's companies are pursuing a wide variety of interesting new technologies, but none center around artificial intelligence. Tesla, for example, remains committed to changing the automotive industry, slowly shifting the market from traditional internal combustion engines to electric cars. Tesla's challenges relate to its battery technology, its distribution network, and the world's long-entrenched addiction to fossil fuels. Better batteries and more favorable laws surrounding dealer networks would benefit the company. Tesla's autopilot software does, somewhat ironically, represent a form of artificial intelligence, but outside of it's self-driving aspirations, it's not clear how artificial intelligence would help drive Tesla's core business forward.
Facebook, in contrast, is committed wholeheartedly. "Artificial intelligence is a long-term effort for us," Zuckerberg said on the company's most recent earnings call. "But we're already using it in lots of ways. Right now, our Moments app is using face recognition to help you share pictures with your friends. We're using AI to show the most relevant content in news feeds, filter spam and messaging, and even help blind people understand what's in their friends' photos by reading explanations of them aloud."
AI also factors heavily into Facebook's bet on chatbots. Earlier this month at its F8 developer conference, Facebook announced an aggressive new effort to court businesses for its messenger platform. By leaning on the power of AI, businesses can create chat bots to interact with their customers. Zuckerberg touched on how AI could factor into Messenger's long-term future on the company's most recent earnings call.
For now, the differing views of Musk and Zuckerberg isn't having an effect on Facebook's business, but that may not always be the case. "I'm increasingly inclined to think that there should be some regulatory oversight [for artificial intelligence technology], maybe at the national and international level," Musk said. The last thing Facebook needs is government regulators clamping down on Messenger or Newsfeed.
For now, Facebook's AI efforts remain relatively pedestrian, but the company's ambitions are much broader. For long-term Facebook shareholders, the discussion surrounding AI may be just as relevant as the company's most recent quarterly earnings report.
The article Mark Zuckerberg Thinks Elon Musk is Wrong on AI originally appeared on Fool.com.
Sam Mattera has no position in any stocks mentioned. The Motley Fool owns shares of and recommends Facebook and Tesla Motors. Try any of our Foolish newsletter services free for 30 days. We Fools may not all hold the same opinions, but we all believe that considering a diverse range of insights makes us better investors. The Motley Fool has a disclosure policy.
Copyright 1995 - 2016 The Motley Fool, LLC. All rights reserved. The Motley Fool has a disclosure policy.