Mark the season of romance with some special chocolates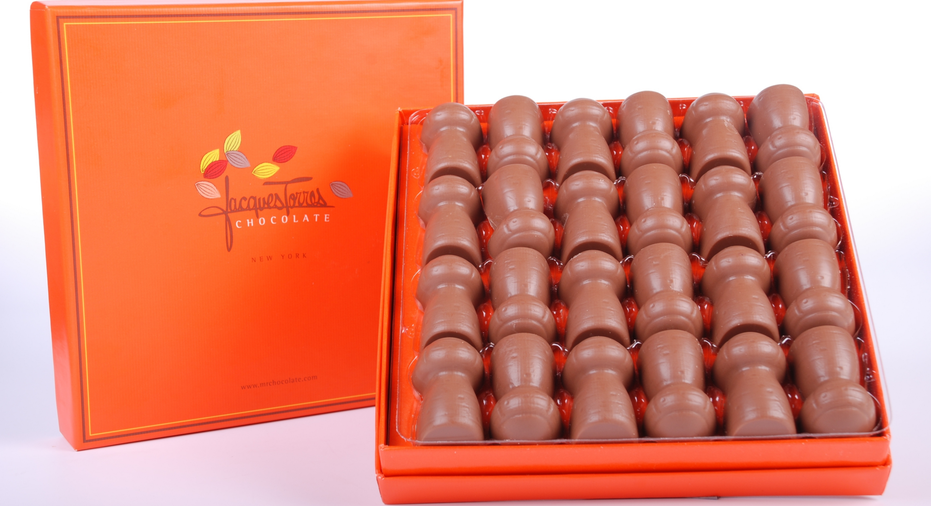 Got a chocolate lover? Why not mark the season of romance with something special just for them.
With an ancient love connection — the Aztecs believed chocolate was an aphrodisiac — and built-in marketing opportunities that include Valentine's Day, the purveyors of chocolate offer their wares in a variety of price ranges, flavor combinations and just plain fun factor.
Some suggestions:
THE BUBBLY
The folks over at Jacques Torres offer 10- and 20-piece boxes of truffles ($20 and $48 respectively) that contain milk chocolate, fresh cream and Taittinger Brut La Francaise Champagne. Yes, the real deal! Uncommongoods offers a Champagne bottle crafted out of dark chocolate that is filled with silver-wrapped truffles that contain a bit of the bubbly, all handmade, for $62.
With Champagne and chocolate forever intertwined in the romance department, gift basket pairings are everywhere. Make sure to check out websites and read reviews.
THE PLAYFUL
Sometimes, one needs a gift of Peeps to make all the sugar worthwhile, so take advantage of the little packets of red and pink hearts and other specialty items on offer this season from the makers of the marshmallow mainstay. Peeps are especially nice if your holiday is more Galentine's Day than Valentine's Day. They just make certain people smile. Packs of mini hearts are available for $3.75. A two-pack of larger pink hearts goes for $9.91. Look for the company's four-pack of vanilla-flavored chicks on a stick in Valentine's hues of white, pink and red.
Got a Candy Corn fanatic? Give the gift of Cupid Corn in a 2-pound bag, $12.95. It's red, pink and white.
THE FRUITY
Yes, we're talking chocolate-dipped strawberries, either DIY or ordered ahead. A box of 12 dipped in semisweet chocolate from Edible Arrangements costs $19. A dozen in a milk and dark chocolate mix from Godiva runs $80. Look around to go even fancier with added embellishments, full coverage rather than just the tips and other flavors, including Belgian white chocolate.
Fruity bouquets are also available. So are other fruits with a kiss of chocolate. Bissingers offers 12 Valencia orange slices dipped in dark chocolate using glaceeing techniques for $43.
If you feel like going DIY, buy a chocolate fountain , slice up your loved one's favorite fruit and have at it.
THE SENTIMENTAL
Partial to See's Candies? Check the website after Jan. 18 for Valentine's Day specials. A heart-shaped box in a tuxedo theme and stuffed with the company's best chocolates has been available in the past. How about personalizing some M&Ms for your beloved?
Hershey offers its chocolate Kisses by occasion, including pink ones. Lots of other name brands like Kit Kat will be offering up special-issue goodies for Valentine's Day, if you're looking to not break the bank. Little grab-and-go's like these are a great complement to a larger gift.
MISCELLANEOUS YUMMINESS
Lots of handcrafted boxes of chocolates are available online and off with fancy and colorful decorations that may not be all about love but are special nonetheless. If you're lucky, you'll have a high-end chocolate maker nearby to shop offline, but if not, search around online for just the right box and flavor profiles. MarieBelle sells a 25-piece caramel collection with flavors ranging from banana flambe to matcha green tea for $52. They're beautifully decorated, handmade and preservative-free.
In luxury, La Maison du Chocolat offers a vast range of packaging and combinations year round. One, a robin's-egg blue hatbox, sells for $210 and is filled with a 3.2-pound mix of truffles , bars and other delights in both dark and milk chocolate.
Loads of local artisanal chocolate exists, including some breakout Brooklyn brands. New York maker Raaka sells bars and gift packs online, including a box of 100 8-gram, pink, sea-salt minis that are 71 percent dark chocolate with a blend of cacao form Zorzal Cacao in the Dominican Republic and Alto Beni Cacao Company in Bolivia. They're fruity, nutty, and also vegan, gluten-free and soy-free. The box turns into a cute tabletop dispenser.
Raaka will also put together a gift of three bars in whatever flavors you choose. They make limited-batch Ginger Snap at 70 percent cacao, Bourbon Cask Aged at 82 percent and Cabernet Sauvignon at 68 percent, for $19.95.