MannKind Corporation Was Obliterated in November -- Here's Why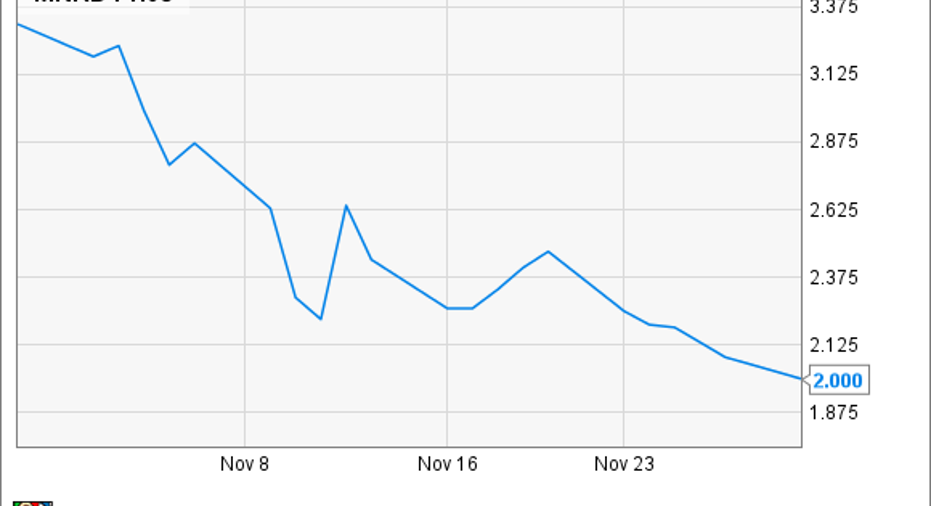 Shares of MannKind , a drug developer focused on developing therapies to treat diabetes, collapsed in November by 40% based on data from S&P Capital IQ. The culprit behind the steamrolling can be traced to the company's third-quarter earnings release, a proposed dual listing, and the departure of its CEO.
MannKind's first problem came on Nov. 9 when it announced its third-quarter results. Although operating expenses decreased to $26 million from $38.3 million in the prior-year quarter, Afrezza, the company's inhaled diabetes drug that's licensed to Sanofi , generated flat sequential quarterly sales of $2.2 million. It's unclear whether it's pricing, a lack of insurance coverage, or a lack of adequate physician or consumer education that's holding Afrezza back, but in the early going Afrezza is looking like a flop. Ultimately this is weighing on MannKind's shrinking cash pile and ballooning debt.
Secondly, concurrent with its earnings release, MannKind announced plans to list up to 50 million shares of common stock on the Tel Aviv Stock Exchange. Such a move was expected to raise north of $100 million. Ultimately, interested parties only purchased 13,852,435 shares, or roughly $36.2 million before fees were deducted. The move did buy MannKind additional time, but its access to capital appears to be shrinking.
Lastly, MannKind announced on Nov. 19 that its CEO, Hakan Edstrom, was resigning, putting Alfred Mann temporarily back in the driver's seat. Some saw this as a positive, but the timing of Edstrom's departure has to be a bit concerning with the company's outlook clouded.
Image source: MannKind.
The big question left to be answered is whether MannKind's woes will continue or if the company's fortunes could turn.
Although Afrezza offers improved convenience and rapid efficacy relative to standard insulin injections, the product simply isn't selling -- and that's bad news for MannKind. Even with its recent cash raise, the company could struggle to fund itself into 2017. On top of simply losing money, it's also running a tab with licensing partner Sanofi for its portion of shared losses. This debt continues to grow on a quarterly basis, and it shows little sign of slowing.
Adding fuel to the fire, Sanofi could walk away from MannKind in a matter of weeks. Walking away would mean enduring a loss in excess of $300 million (i.e., up-front and collaboration fees paid to MannKind) on Sanofi's part, but it would save Sanofi the long-term hassle of developing a drug that may not be economically feasible. If Sanofi walks away, MannKind's costs could head even higher as it takes on all aspects of marketing Afrezza.
In short, MannKind remains a stock that I believe is better off avoided.
The article MannKind Corporation Was Obliterated in November -- Here's Why originally appeared on Fool.com.
Sean Williamshas no material interest in any companies mentioned in this article. You can follow him on CAPS under the screen nameTMFUltraLong, track every pick he makes under the screen nameTrackUltraLong, and check him out on Twitter, where he goes by the handle@TMFUltraLong.The Motley Fool has no position in any of the stocks mentioned. Try any of our Foolish newsletter servicesfree for 30 days. We Fools may not all hold the same opinions, but we all believe thatconsidering a diverse range of insightsmakes us better investors. The Motley Fool has adisclosure policy.
Copyright 1995 - 2015 The Motley Fool, LLC. All rights reserved. The Motley Fool has a disclosure policy.