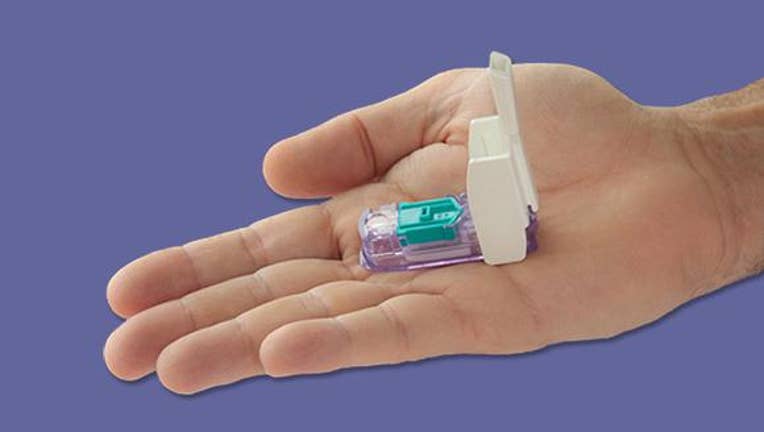 What: Shares of MannKind Corp. shed more than 30% of their value this morning on extraordinary volume after the company announced that the French drugmaker Sanofi terminated its license and collaboration agreement for the inhaled insulin product Afrezza. Per the press release, thelicense agreement will officially expire in its entirety by July 4, 2016.
Image source: MannKind.
So what: This news isn't entirely surprising given that Sanofi reported that Afrezza's net sales came in at a meager $5.5 million, at current exchange rates, for the first nine months of 2015. Sanofi apparently couldn't overcome the significant barriers to the drug's commercial uptake, such as the sluggish reimbursement from payers and the reluctance of some doctors to prescribe the medicine.
Now what: Going forward, MannKind can either choose to try to seek out another big pharma partner or market the drug on its own. Unfortunately, there may be little interest from big pharma regarding Afrezza at this stage. After all, if Sanofi can't successfully market a diabetes product, it's highly doubtful anyone else can do a better job, implying that MannKind may be forced to take over the drug's commercialization.
Having said that, MannKind's present financial position is tenuous, to put it mildly. According to S&P Capital IQ, the company's current ratio was 0.27 at last count, meaning that it's already struggling to meet its current financial responsibilities. With its share price falling below $1 after this news, MannKind also can't easily tap the public markets for additional funds. That's why I'm content to watch this falling knife from the safety of the sidelines.
The article MannKind Corp.'s Stock Craters After Sanofi Throws in the Towel on Afrezza originally appeared on Fool.com.
George Budwell has no position in any stocks mentioned. The Motley Fool has no position in any of the stocks mentioned. Try any of our Foolish newsletter services free for 30 days. We Fools may not all hold the same opinions, but we all believe that considering a diverse range of insights makes us better investors. The Motley Fool has a disclosure policy.
Copyright 1995 - 2016 The Motley Fool, LLC. All rights reserved. The Motley Fool has a disclosure policy.