Macy's sees happy holidays and shares boom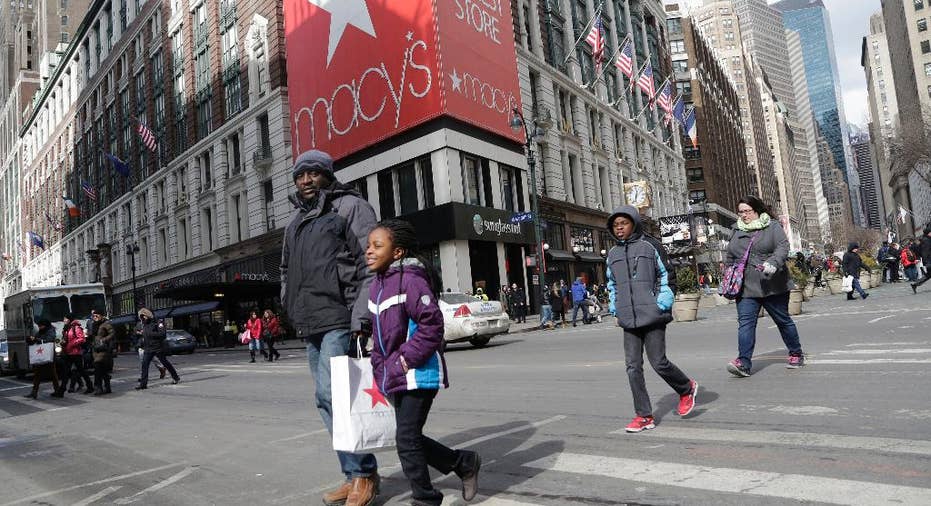 Macy's is raising its sales outlook for the year after it saw an improvement in its business in the third quarter, a trend that it expects to continue.
Macy's had been a stellar performer after the recession but has seen slower sales growth in the past year and a half as it faces stiffer competition online and from rivals like T.J. Maxx.
Under CEO Terry Lundgren, the company has sought growth opportunities, like the acquisition of upscale beauty brand Bluemercury and particular attention to its exclusive assortments in fashion. In time for the holiday shopping season, it launched an Apple shop last month at its Herald Square store. That marks the first U.S. department store with a hub devoted to the brand. Beyond the Apple shop, it's highlighting consumer tech at 180 stores, rolling out a display of smart watches.
Macy's, which will be led by a new chief executive early next year, has also launched its own off-price chain and is testing an artificial intelligence tool that would free up sales assistants to provide higher levels of customer service.
"The trends we saw in the third quarter give us confidence that we can deliver our expectations for the fourth quarter and our guidance for fiscal 2016," said Lundgren in company statement. Third-quarter results were an improvement from the first half of the year and merchandising strategies continue to gain traction, he said.
Still, Macy's faces challenges heading into the holiday season, the most important time of the year for retailers. The company is opening an hour earlier on Thanksgiving this year with hopes of building momentum.
Macy's reported earnings of $17 million, or 5 cents per share, for the quarter ended Oct. 29. That compares with $118 million, or 36 cents per share in the year-ago period. Excluding special charges, the company earned 17 cents, compared with 56 cents last year.
Analysts polled by FactSet expected 41 cents.
Net sales slipped to $5.63 billion, down 4.2 percent, but were about in line with expectations.
Revenue at stores opened at least a year fell 3.3 percent, the seventh consecutive quarterly decline.
Macy's expects that sales at stores opened at least a year will be down 2.5 percent to 3.0 percent, compared to the previous guidance of a decline in the range of 3 percent to 4 percent.