Macau's Hottest New Casino -- Why Melco Crown's Studio City Is So Important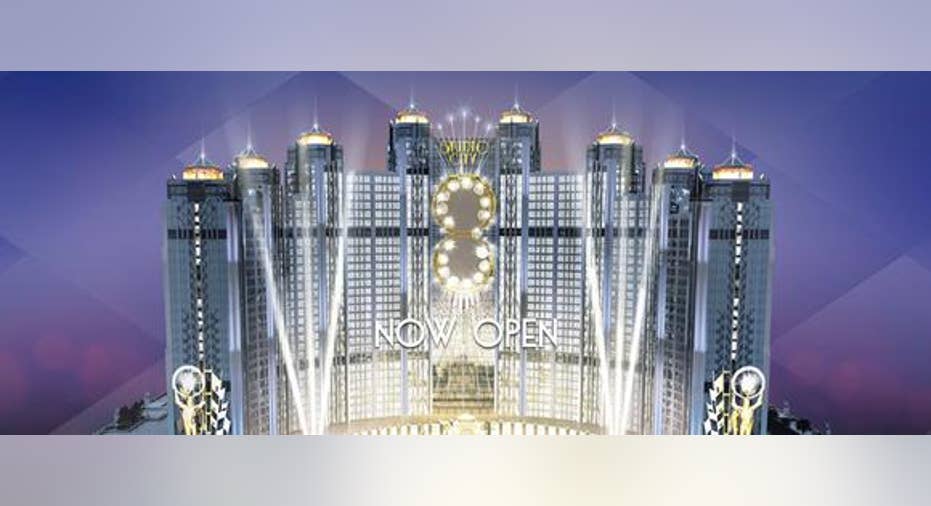 Studio City's star-studded opening night. Photo: Melco Crown
Melco Crown officially opened Macau's newest casino and integrated resort (meaning much more than just gambling) on Oct. 27. The opening event, including guests such as Martin Scorsese, Robert De Niro, and Leonardo DiCaprio, as well as a guest performance by Mariah Carey, created a huge buzz for the gambling company that has suffered in Macau's slump along with all other gambling companies on the island. While it's not likely that this one resort is going to bring back Macau's golden age, here's why Studio City is so important for Melco Crown's long-term growth.
Macau's hottest new casino is barely a casino"Today marks the start of a new era of leisure destination entertainment for Macau and Asia," saidMelco Crown Entertainment CEO Lawrence Ho. "It is the realization of our long-held vision to develop a leisure and entertainment destination that has no equal in Macau."
Studio City is the first of its kind in Macau, a Hollywood-themed resort that focuses more on non-gambling entertainment than on gambling. The Macau government has allotted only 250 gambling tables to the resort, and only 200 were allowed to start, with 50 more scheduled for next year as the government seeks to slow Macau's overall gambling table growth to around 3% a year. Compare that with Melco Crown's City of Dreams casino down the strip that has around 450 gambling tables.
Studio City. Image: Melco Crown.
So what does Studio City have instead of gambling?Studio City has 1,600 rooms, plenty of dining, bars, and clubs, and, of course, a ton of shopping. It also has a 427-foot Ferris wheel and a "House of Magic" theater that showcased world-famous magician performers during opening weekend. Melco Crown has also started a partnership with Time Warner -owned Warner Bros. to create a family-friendly fun center at the resort, complete with a Batman flight simulator.
Focus on the mass marketVIP gambling revenue is what has driven Macau's incredible rise over the past decade, as high-ranking mainland Chinese officials and wealthy business tycoons came to play in private rooms betting huge sums. As of summer 2014, when Macau was at its peak, gambling revenue made up around 90% of Macau's total tourism economy.
However, as the Chinese government started to crack down on shady activity by VIP players, Macau became a target, and many of the services promoting this VIP play were shut down. Furthermore, restrictions were put in place to limit the amount of time a person could spend in Macau. That decision led to a sudden quick decline in VIP gambling revenue for the casinos in Macau.
Even before this push by the Chinese government, the mass market was still seen as holding the long-term growth potential for Macau, just as it's been for Las Vegas, which now has a much more diversified entertainment economy than it did in decades past. In 2014, gambling made up less than a third of Las Vegas' total tourism economy.
Studio City is going all in on this mass-market bet with fewer gambling tables, none of which are designated VIP, and many family-friendly amenities. Other reasons to bet on Studio City's mass-market appeal is that it's positioned near the Lotus Bridge, an immigration point between mainland China and Macau. It will also be near a stop on Macau's new Light Rapid Transit line, a light-rail line opening in Macau soon.
Is Studio City enough to bet on Melco Crown?Studio City isn't the only new casino that's been in the works the past few years. In 2016, Las Vegas Sands will be opening the Parisian resort, which will probably have as many as 3,000 hotel rooms and many special amenities itself. Then later in 2016 or in early 2017, both MGM Resorts International and Wynn Resorts plan to open their own massive new resorts right across the street from Studio City.
Of course, Macau is still hurting. November marked the 18th month in a row of declining year-over-year gambling revenue in Macau, which is down from $45 billion total in 2013 to what is expected to come in at under $30 billion for 2015. Still, Macau's total gambling revenue in October was the highest revenue volume since May, and even more important, it was the first time mass-market gambling brought in more revenue than the VIP segment. Gambling revenue still continues to slide, but it's apparent that there's a future in the mass market and that once a bottom is reached from the decline of VIP gambling revenue, the companies left supporting the masses could have a lot to gain back.
For Melco Crown, the recent third quarter was its first in over a year of posting higher earnings from the prior quarter. Studio City's mass-market focus, as well as renewed support from the government to increase Macau's diversified entertainment economy, including easing travel restrictions and continued support of advancements such as digital passports for easy transit in and out, will help that mass market to continue to grow. But be prepared. Make this bet with the long term in mind, as there is still likely to be a lot of short-term pain ahead.
The article Macau's Hottest New Casino -- Why Melco Crown's Studio City Is So Important originally appeared on Fool.com.
Bradley Seth McNew owns shares of Las Vegas Sands.. The Motley Fool recommends Time Warner. Try any of our Foolish newsletter services free for 30 days. We Fools may not all hold the same opinions, but we all believe that considering a diverse range of insights makes us better investors. The Motley Fool has a disclosure policy.
Copyright 1995 - 2015 The Motley Fool, LLC. All rights reserved. The Motley Fool has a disclosure policy.