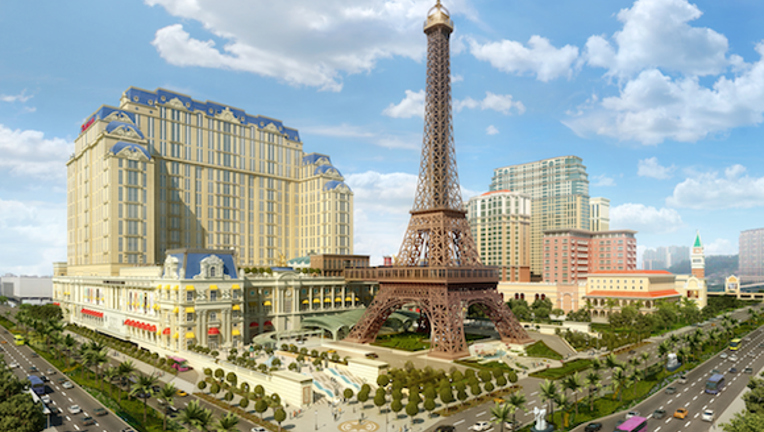 Wynn Palace, which will open in 2016. Image source: Wynn Resorts.
Macau has seemed to be on a path to recovery over the past six months, after the region's gaming revenue took a steep decline starting in early 2014. But in March, gaming revenue took another sharp dip, falling 16.3% from a year ago and 7.9% from February to $2.25 billion.
This falloff comes at a bad time for Macau's gaming companies, which were already struggling with weak results. Melco Crown opened Studio City late last year, and Wynn Resorts , Las Vegas Sands , and MGM Resorts are all building new properties in Macau. If revenue doesn't start to grow soon, when thoseresorts open, they'll be cannibalizing business from existing properties.
Don't panic about Macau yet While March's results weren't great, they aren't worth panicking over either. Gaming revenue can be volatile month to month in Macau, and the region is coming off a strong February, which included the Chinese New Year holiday.
Nor was the decline entirely surprising. In early March, analysts at Bernstein predicted that gaming revenue would drop 18% to 24% during the month, so results were actually slightly better than expectations.
The bigger question long-term is whether therevenue trend is going up or down. This week, Paulo Martins Chan, the head of Macau's Gaming Inspection and Coordination Bureau, said "the most difficult times are now behind us." March's results suggest that he may have come to that view a bit early.
The Parisian. Image source: Las Vegas Sands.
Why March's numbers are such a big deal I mentioned that Melco Crown opened Studio City last year. That was a decent expansion for the region, but the property only has 250 table games; it's only the tip of the iceberg in terms of what's coming.
Wynn Resorts is planning to open Wynn Palace in the middle of this year, while Las Vegas Sands' The Parisian is due to debut late this year or in early 2017, and the MGM Cotai will open its doors in 2017. Together, these properties could add up to 1,500 gaming tables to the 14,578Macau had at the end of 2015.
If we don't see a pickup in revenue soon, the new resorts could siphon meaningful revenue away from existing properties, and make everyone in Macau less profitable. So all companies involved have reason to prefer a rising tide in gaming revenue.
Watch Macau cautiously Long term, I still think Macau provides an attractive investment opportunity for investors. But they may want to steer toward safer companies like MGM Resorts, which has a base in the growing Las Vegas market, or Wynn Resorts, which has the best growth opportunity in Macau, given its single resort today.
One month doesn't make a trend, but March ran counter to the tale of a growth trend in Macau; for gaming investors, that has to be a little worrisome in a key year for the region.
The article Macau's Hot Streak Goes Cold in March originally appeared on Fool.com.
Travis Hoium owns shares of Wynn Resorts, Limited. The Motley Fool recommends Wynn Resorts, Limited. Try any of our Foolish newsletter services free for 30 days. We Fools may not all hold the same opinions, but we all believe that considering a diverse range of insights makes us better investors. The Motley Fool has a disclosure policy.
Copyright 1995 - 2016 The Motley Fool, LLC. All rights reserved. The Motley Fool has a disclosure policy.