Luxottica and Essilor Create Eyewear Giant in $49B Deal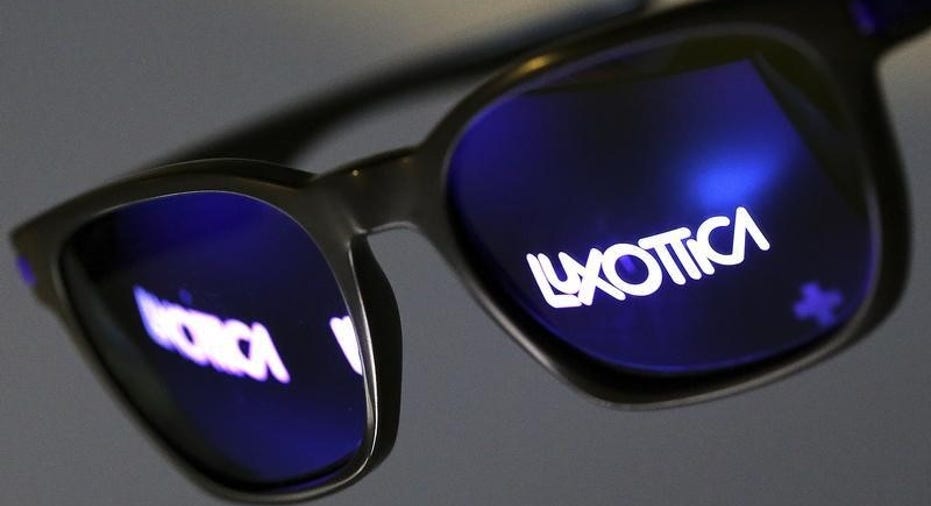 Italy's Luxottica and France's Essilor have agreed a 46 billion euro ($49 billion) merger to create a global powerhouse in the eyewear industry with annual revenue of more than 15 billion euros, they said in a statement on Monday.
The deal, one of Europe's largest cross-border tie-ups, brings together Luxottica, the world's top spectacles maker with brands such as Oakley and Ray-Ban, with Essilor, the world's leading manufacturer of ophthalmic lenses.
"Finally ... two products which are naturally complementary -- namely frames and lenses -- will be designed, manufactured and distributed under the same roof," Luxottica's 81-year-old founder Leonardo Del Vecchio said in a statement.
Shares in both companies were up 14 percent at 0814 GMT (03:14 a.m. ET).
By merging, the companies will be better positioned to take advantage of strong demand in a $95 billion market expected to achieve continued growth because of an aging global population and increasing awareness about eye care in Asia and Latin America.
The companies said the deal is expected to bring annual revenue benefits and cost savings in the range of 400 million euros to 600 million euros in the medium term.
Del Vecchio, who returned to the helm of Luxottica two years ago after taking a back seat for the previous decade, will be CEO and executive chairman of the merged EssilorLuxottica, which will be listed in Paris.
Del Vecchio will take a stake of between 31 percent and 38 percent in the merged group through his family holding Delfin, becoming the biggest shareholder. Voting rights will be capped at 31 percent.
Essilor Chairman and CEO Hubert Sagnieres will be executive vice-chairman and deputy CEO, with the same powers as the chairman and CEO.
In a call with journalists on Monday, Sagnieres said the companies' combined operations will be able to offer a much faster service to their customers.
Delfin will contribute its 62 percent stake in Luxottica at a ratio of 1 share in the Italian group for every 0.461 Essilor shares. The French lens maker, a long-time supplier to the Italian group, will launch a mandatory exchange offer on all remaining Luxottica shares at the same ratio, with the aim of delisting Luxottica's shares.
GROWING MARKET
Luxottica and Essilor, which have a market value of about 24 billion euros and 22 billion euros respectively, had explored a possible tie-up a few years ago.
Luxottica said in September 2014 that discussions had taken place in 2013 but were dropped for a number of reasons, including shareholding governance issues.
The companies expect rapid growth in the global eyewear market, saying that at least 2.5 billion people in the world still suffer from uncorrected vision problems.
Luxottica has been dogged by management upheaval in recent years, raising questions over Del Vecchio's succession plans and strategy. Some insiders have said a merger could help settle such issues.
A year ago Luxottica announced the departure of its third chief executive in 17 months when Adil Mehboob-Khan, a former Procter & Gamble executive, stepped down and Del Vecchio tightened his grip on the group by taking on executive powers.
Long-standing CEO Andrea Guerra quit in 2014 after a rift with Del Vecchio. His successor, Enrico Cavatorta, left only six weeks into the job, also because of differences with Del Vecchio.
Since taking the lead, Del Vecchio has stepped up investments to boost Luxottica's retail network and expanded its lens manufacturing business.
However, revenue and profit growth have slowed in a tough U.S. market that contributes 59 percent of Luxottica's revenue while Del Vecchio has sought to increase control over pricing by limiting online discounts.
Mediobanca advised Luxottica on the deal, with Essilor advised by Rothschild.
($1 = 0.9413 euros)
(Additional reporting by Gianluca Semeraro in Milan; Writing by Silvia Aloisi and Valentina Za; Editing by Peter Cooney, Simon Cameron-Moore and David Goodman)