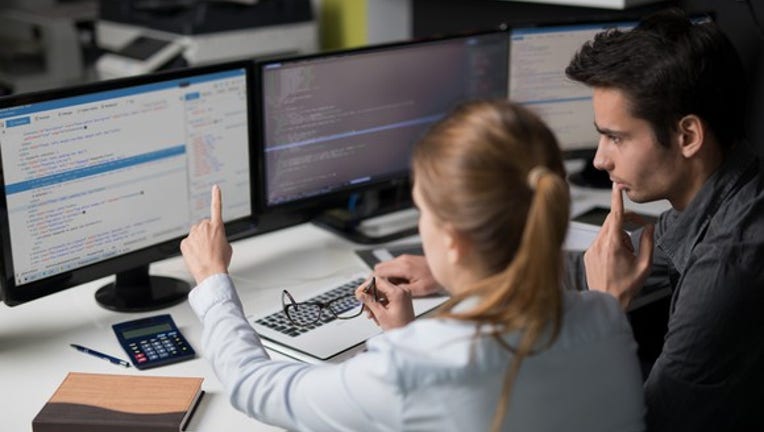 Luxoft Holding(NYSE: LXFT)announced strong fiscal fourth-quarter results on Monday, after the market closed. Similar to its modest post-earnings drop in February, shares of the software development specialist fell 3.6% on Tuesday as investors absorbed the news.
Keeping in mind that shares are still up more than 12% so far in 2017, let's take a closer look at how Luxoft ended its fiscal year, as well as what we should expect from the company going forward.
Image source: Getty Images.
Luxoft Holding results: The raw numbers
| Metric | Fiscal Q4 2016* | Fiscal Q4 2015 | Year-Over-Year Growth |
| --- | --- | --- | --- |
| GAAP revenue | $204.1 million | $169.2 million | 20.6% |
| GAAP net income | $13.7 million | $14.6 million | (6.2%) |
| GAAP earnings per diluted share | $0.40 | $0.43 | (7%) |
Data source: Luxoft Holding.*For the quarter ended March 31, 2017.
What happened with Luxoft Holding this quarter?
Revenue climbed 22% on a constant-currency basis.
On an adjusted (non-GAAP) basis -- which excludes items such as stock-based compensation and acquisition expenses -- net income climbed 14.4% year over year to $21.5 million. Adjusted earnings per diluted share increased 12.5% to $0.63.
Quarterly adjusted earnings before interest, taxes, depreciation and amortization (EBITDA) increased 10.2% to $29.2 million.
That brought full fiscal-year revenue to $785.6 million, with adjusted EBITDA of $133.8 million, or 17% of revenue, and adjusted earnings per diluted share of $2.89.
Luxoft's full-year guidance -- which was reiterated last quarter--called for full fiscal-year revenue of at least $781 million, adjusted EBITDA margin of 17% to 19%, and adjusted earnings of at least $2.85 per share.
Revenue by industry vertical included:
0.5% growth in financial services revenue to $116 million.
29.5% growth from automotive and transport to $29.4 million.
132.6% growth in telecom revenue to $23.1 million.
61.4% growth from technology to $14.5 million.
$9.6 million in revenue from the recently broken-out healthcare market.
17.3% growth in travel and aviation to $6.1 million.
20.4% growth from energy to just over $4 million.
$1.4 million in revenue from all other market verticals.
Top-three and top-five client concentration has declined roughly 10% over the past year. Luxoft's top 10 accounts now represent roughly 66% of total revenue, down from 74% a year ago.
Productivity (annualized revenue) per engineer climbed 2.5% year over year to $78,265.
The company generated free cash flow of $98 million this fiscal year.
What management had to say
Luxoft CEO Dmitry Loschinin stated:
Looking forward
For the full fiscal year ending March 31, 2018, Luxoft expects revenue of at least $943 million, good for growth of at least 20% year over year. Luxoft also anticipates that adjusted EBITDA margin will remain steady in the 17% to 19% range, which should translate to GAAP EPS of at least $1.90 and adjusted EPS of at least $3.26. By comparison -- and though we don't typically pay close attention to Wall Street's demands -- consensus estimates called for higher adjusted earnings of $3.48 per share on revenue of $968 million.
Combined with Luxoft's year-to-date share-price appreciation, this explains the market's immediate muted negative reaction. At the same time, Luxoft's chosen verbiage leaves some wiggle room for the company to over-deliver on its guidance. So all things considered, I think Luxoft investors should be pleased with their company's progress as it kicks off a new fiscal year.
10 stocks we like better than Luxoft HoldingWhen investing geniuses David and Tom Gardner have a stock tip, it can pay to listen. After all, the newsletter they have run for over a decade, Motley Fool Stock Advisor, has tripled the market.*
David and Tom just revealed what they believe are the 10 best stocks for investors to buy right now... and Luxoft Holding wasn't one of them! That's right -- they think these 10 stocks are even better buys.
Click here to learn about these picks!
*Stock Advisor returns as of May 1, 2017
Steve Symington has no position in any stocks mentioned. The Motley Fool recommends Luxoft Holding. The Motley Fool has a disclosure policy.