Losses Mount at Liquidity Services as Business Challenges Continue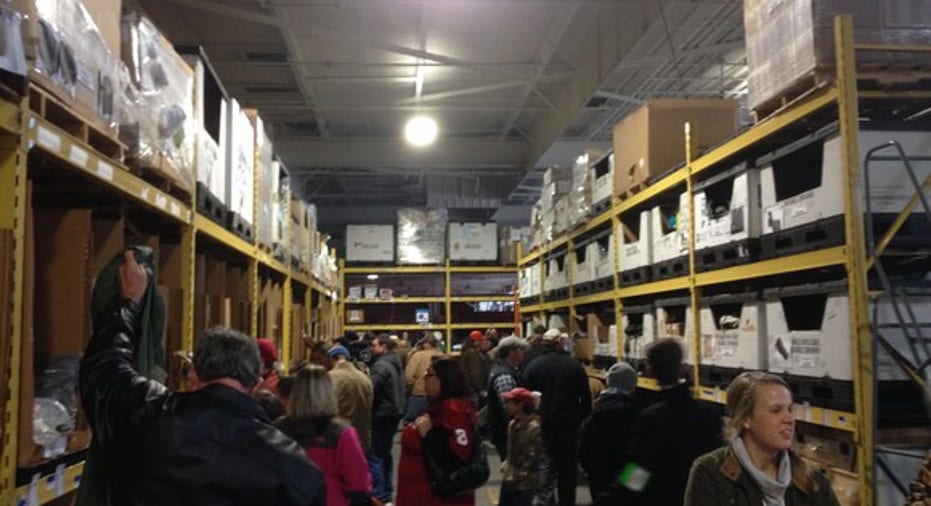 Liquidity Services (NASDAQ: LQDT) has tried to make a business out of taking goods that government and private-sector companies no longer want or can't sell on their own and turning them into profit. Other companies in certain specialized segments have seen success with that business model, but Liquidity Services has faced an uphill battle lately in trying to make the most of its relationship with the U.S. Department of Defense and other clients. Coming into Thursday's fiscal first-quarter financial report, Liquidity Services investors were braced for bigger losses despite a slight rise in revenue, and that's exactly what the company reported.
Let's look more closely at Liquidity Services to see how it fared and what investors can expect for 2017 and beyond.
Image source: Liquidity Services.
Liquidity Services sees more red ink
Liquidity Services' fiscal first-quarter results at least showed a few signs of improvement from previous periods. Revenue was actually up 7.5% to $70.8 million, and that was better than the roughly 6% growth rate that most investors were looking to see. However, adjusted net losses nearly doubled from year-ago levels to $6.8 million, and that worked out to adjusted per-share loss numbers of $0.22. That wasn't quite as bad as the consensus forecast for a $0.29 per share loss.
Looking more closely at the results, Liquidity Services' internal metrics were mixed. The number of registered buyers that the company had climbed to 3.02 million, which was up by about 5% from the year-ago quarter. However, completed transactions were down 3% to 129,000, and the number of auction participants during the quarter was down 3% to 544,000.
Liquidity Services also continued to see an ongoing shift in its business away from its Defense Department relationship toward other lines of business. The company was quite pleased to note that gross market value climbed 12% in the commercial and state and local government businesses, noting that the segment produced organic growth in sales for the first time in eight quarters. Moreover, the company sees the move as critical to its future success, especially in light of the changes that it has had to make to its Defense Department contracts. That was evident in the GMV mix across its business lines with its surplus-contract purchase model falling by nearly a third to less than 10% of GMV and only 22% of total revenue.
CEO Bill Angrick was upbeat about how Liquidity Services did. "We are pleased with our progress made this quarter," Angrick said, "despite the headwinds related to changes in our DoD contracts. The CEO referred to growth in its other businesses as "a significant milestone in the advancement of our transformation strategy" and continued to see expanded service offerings that could capture more business going forward.
Can Liquidity Services recover fully?
In particular, Liquidity Services sees the future of its LiquidityOne transformation initiative playing out throughout 2017. As Angrick said, "We anticipate the launch of our next marketplace in the summer of 2017," and using its new customer management module, Liquidity Services thinks it can continue to build up the commercial and state and local government businesses to reach their full potential.
However, Liquidity Services will still labor under difficult conditions stemming from its previous reliance on the Department of Defense. The company said that higher pricing terms and lower volumes from the DoD surplus contract will hurt profitability for the year, and poor pricing in the DoD scrap contract is making Liquidity Services particularly cautious in its near-term outlook.
As a result, for the fiscal second quarter, Liquidity Services expects an adjusted net loss of $0.21 to $0.30 per share, with gross market value coming in at between $150 million to $170 million. Those numbers do include ongoing spending toward its business initiatives, but they nevertheless are quite a bit worse than most investors following the stock were expecting to see.
Liquidity Services' shareholders weren't happy with the news, and the stock fell 5% in pre-market trading following the announcement. With so many headwinds against it, Liquidity Services needs to accelerate its attempts to improve its fundamental business if it wants to regain the confidence of investors going forward.
10 stocks we like better than Liquidity ServicesWhen investing geniuses David and Tom Gardner have a stock tip, it can pay to listen. After all, the newsletter they have run for over a decade, Motley Fool Stock Advisor, has tripled the market.*
David and Tom just revealed what they believe are the 10 best stocks for investors to buy right now... and Liquidity Services wasn't one of them! That's right -- they think these 10 stocks are even better buys.
Click here to learn about these picks!
*Stock Advisor returns as of February 6, 2017
Dan Caplinger has no position in any stocks mentioned. The Motley Fool recommends Liquidity Services. The Motley Fool has a disclosure policy.