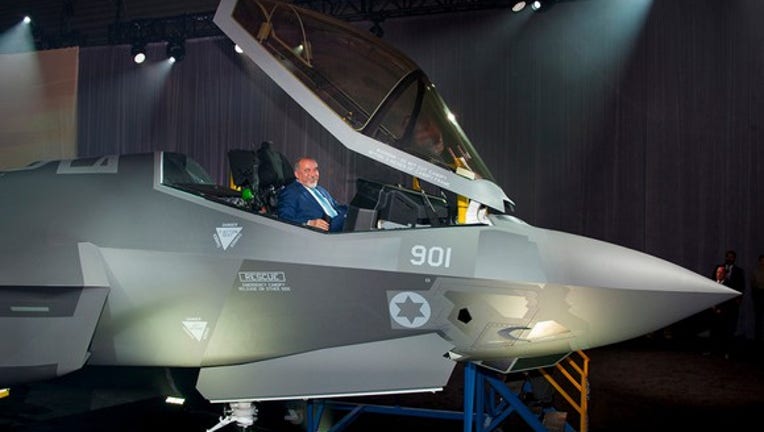 Last week, the Israeli Air Force more than doubled the size of its fleet of Lockheed Martin (NYSE: LMT) F-35 stealth fighter jets. Of course, that was easier than it sounds.
Israel took possession of its first two F-35s when they touched down at an air force basein the Negev last December. Last week, three more of the Lockheed Martin jets arrived at the Nevatim Air Force Base, more than doubling the F-35 composition of Israel's "Golden Eagle" squadron to five fighters. In the months and years ahead, Israel intends to acquire 45 more F-35s, with new jets arriving every few months until it has 50 F-35s total.
Israel's Minister of Defense Avigdor Lieberman in the first Israeli Air Force F-35 in June 2016. Image source: Lockheed Martin.
Israeli "awesomeness"
Israel plans to buy 50 F-35A conventional takeoff and landing (CTOL) stealth fighters from Lockheed, paying $110 million per plane for its first 33 F-35s, with prices dropping subsequently. (Admittedly, "paying" may be overstating the case. Israel will be using a big chunk of the $38 billion, 10-year military aid package that Congress recently approved for it to pay for its F-35s.)
Soon after taking possession, the Israelis will be modifying the aircraft, adding local components and transforming them into a variant it will call the F-35I "Adir." ("Adir" translates from Hebrew as "the mighty one" or, in modern slang, "awesomeness.")
And Israel is part of a steadily lengthening line of international buyers queuing up to purchase the F-35.
An awesome global fighter
In addition to the United States, eight other nationspartnered with Lockheed Martin to develop the F-35 for use by their Air Forces. And recently, even more countries -- not partners in the plane's development -- have expressed an interest in acquiring F-35s for their air forces.
Israel is among them, as are Japan and South Korea. And even more recently, Belgium has expressed an interest in exchanging its aging F-16 fighter jetsfor shiny new F-35s. So far, Lockheed has built and delivered "more than 200" F-35s globally. And in total, Lockheed Martin says partner and nonpartner countries have confirmed plans to acquire "nearly 700 F-35s," on top of the 2,443 planes that the United States military intends to buy for itself. That puts the anticipated size of F-35 deployments, worldwide, at well over 3,100 aircraft.
Here's a quick rundown of the major players to date, and how many F-35s they're planning to buy:
Country
Planned Purchases to Date
Australia
72F-35As
Belgium
No decision yet made
Canada
65 F-35As planned, but may buyBoeing

(NYSE: BA)

F-18s instead
Denmark
27F-35As
Israel
50 F-35As
Italy
60 F-35As, 30 F-35Bs
Japan
42F-35As
Netherlands
Up to 37 planned, but only 8 authorized so far
Norway
52 F-35As planned, but only 22 authorized so far
South Korea
40F-35As
Turkey
100 F-35As
United Kingdom
138F-35Bs
United States
1,763 F-35As, 353 F-35Bs, and 327 F-35Cs
Data source: Lockheed Martin.
Many buyers, but only one indispensable buyer
So as you can see, viewed in the most favorable light, and assuming all of the F-35 program partners and all of the non-partnered foreign buyers follow through on their announced intentions, total non-U.S. purchases could add up to 713 aircraft. (Or they might not. If Canada, for example, ultimately pulls out of the program, that would drop the number of non-U.S. F-35 orders well below 700.)
Still, with Pentagon purchases making up 78.5% of all anticipated F-35 sales, the U.S. really is the "indispensable buyer" in this project. Cancellations or reductions in purchases by any other country would incrementally hurt the economics of the program, making it harder for Lockheed Martin to achieve scale of production and drive the F-35's price down. By the same token, though, new international buyers could emerge to take their place. In addition to Belgium, for example, Lockheed Martin is said to be in talks with both Spain and Switzerland about possibly acquiring the F-35.
Meanwhile, so long as the U.S. remains "all-in" on the F-35, this program should remain viable.
10 stocks we like better than Lockheed MartinWhen investing geniuses David and Tom Gardner have a stock tip, it can pay to listen. After all, the newsletter they have run for over a decade, Motley Fool Stock Advisor, has tripled the market.*
David and Tom just revealed what they believe are the 10 best stocks for investors to buy right now... and Lockheed Martin wasn't one of them! That's right -- they think these 10 stocks are even better buys.
Click here to learn about these picks!
*Stock Advisor returns as of April 3, 2017
Rich Smith has no position in any stocks mentioned. The Motley Fool has no position in any of the stocks mentioned. The Motley Fool has a disclosure policy.