Look Out NVIDIA, Intel Is Setting Its Sights on the AI Industry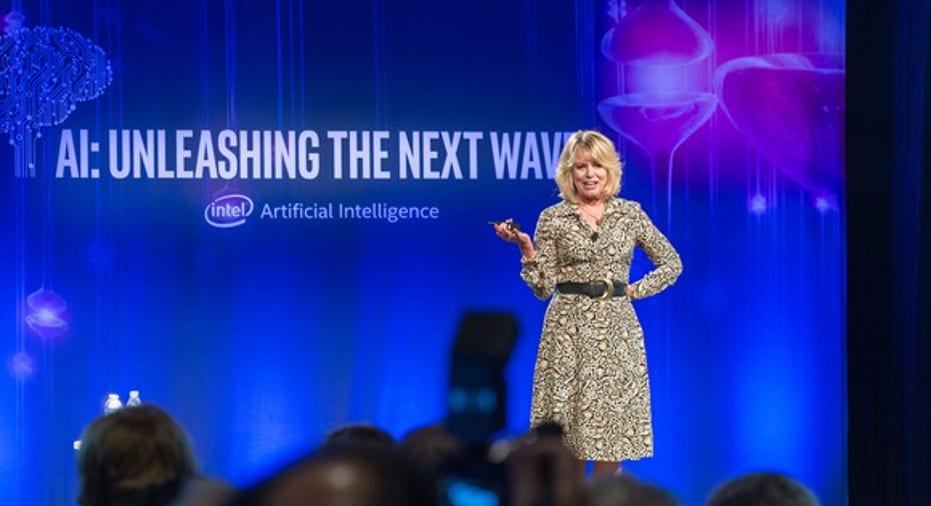 Intel Corporation (NASDAQ: INTC) announced last week that it would spend $15.3 billion to acquire Israeli computer vision and machine learning specialist Mobileye N.V. (NYSE: MBLY) in a move that will take the company further into the field of autonomous vehicles. Mobileye developed machine-vision software that would detect obstructions or hazards that a driver might not see to employ "collision avoidance technology" -- all with a single camera. Its technology has evolved to employ a full set of cameras in pursuit of autonomous driving. Intel appears to be pursuing an end-to-end solution in self-driving cars, from software to hardware.
This acquisition, along with several other recent moves by the CPU giant, indicate that the company is no longer content to cede the enormous potential of the artificial intelligence (AI) and autonomous driving markets, and it is taking the fight to the one company that has the most to lose:NVIDIA Corporation (NASDAQ: NVDA), the industry leader in graphics processing technology, which has experienced staggering growth as a result of the AI revolution.
NVIDIA GPU Hyperscale Accelerator. Image source: NVIDIA.
PC market slowing
Intel's CPUs have been the company's flagship product for years, but that market has been falling along with worldwide demand for personal computers. Shipments of PCs were down 6% in 2016, the fifth consecutive year of such declines. Successful penetration into new markets has been a priority for the company, which has made numerous acquisitions to bolster its AI credentials and allow the company to better compete in the market with NVIDIA.
GPU Market booming
In its most recent quarter, NVIDIA saw its data center revenue triple to $296 million from just $97 million in the prior-year quarter, largely because of the deployment of its GPUs in AI applications. The massive parallel processing capabilities of the graphics processors made them the early choice for AI applications. But Intel controls an estimated 99% of the non-AI data center market and is positioning itself to succeed in AI as well.
AI Nervana
Before this week's Mobileye acquisition, AI start-up Nervana was Intel's most high-profile move in the space to date. Nervana's unique approach was the development of an application specific integrated circuit (ASIC) called the Nervana Engine, which eliminated elements from the GPU not necessary for AI processing. Coupled with a reengineered memory, the company claimed it could achieve 10 times the computing power than what was currently available on GPUs. Intel believes this product, combined with its existing platforms, will be able to compete directly with NVIDIA in AI applications.
Intel Unleashing the Next Wave of AI. Image source: Intel.
Soon after acquiring Nervana, Intel announced several additional products tailored for AI. Its Lake Crest CPU chip was designed for the workloads necessary to train deep neural networks and increase its mathematics operations by 10 times.The next generation of the company's Xeon Phi processor, codenamed Knights Mill, was customized for deep learning, and it would produce four times better performance than the previous version. These products are scheduled to begin shipping in mid-2017.
Intel has made numerous other acquisitions in the AI space: cognitive computing company Saffron focused on deep learning and data analytics;Itseez, a software company specializing in autonomous driving, drones, and cameras;and Movidius, which provides system-on-a-chip technology used in computer vision and AI deep learning. These acquisitions further illustrate that Intel is intent on increasing its foothold in this nascent but growing industry.
Final thoughts
Much of NVIDIA's recent growth resulted from the adoption of its GPUs in AI applications. In its most recent quarter, revenue from its data center and auto segments -- where AI revenue is reported -- totaled $424 million, nearly 20% of the top line.Intel doesn't break out revenue from AI or autonomous driving, so no apples-to-apples comparison is available. However, the company reported revenue of $16.4 billion in its most recent quarter, which illustrates that while similar gains from AI would only move the needle slightly for Intel, they would have a much greater impact on NVIDIA. So while the emerging technology represented by AI presents a long runway for growth and both companies stand to gain, depending on how things shake out, NVIDIA has much more to lose.
10 stocks we like better than IntelWhen investing geniuses David and Tom Gardner have a stock tip, it can pay to listen. After all, the newsletter they have run for over a decade, Motley Fool Stock Advisor, has tripled the market.*
David and Tom just revealed what they believe are the 10 best stocks for investors to buy right now...and Intel wasn't one of them! That's right -- they think these 10 stocks are even better buys.
Click here to learn about these picks!
*Stock Advisor returns as of February 6, 2017.
Danny Vena has the following options: long January 2018 $25 calls on Intel. The Motley Fool owns shares of and recommends Nvidia. The Motley Fool recommends Intel. The Motley Fool has a disclosure policy.