Lockheed Beware: Boeing Gives Navy a Cut-Price Deal on New Fighter Jets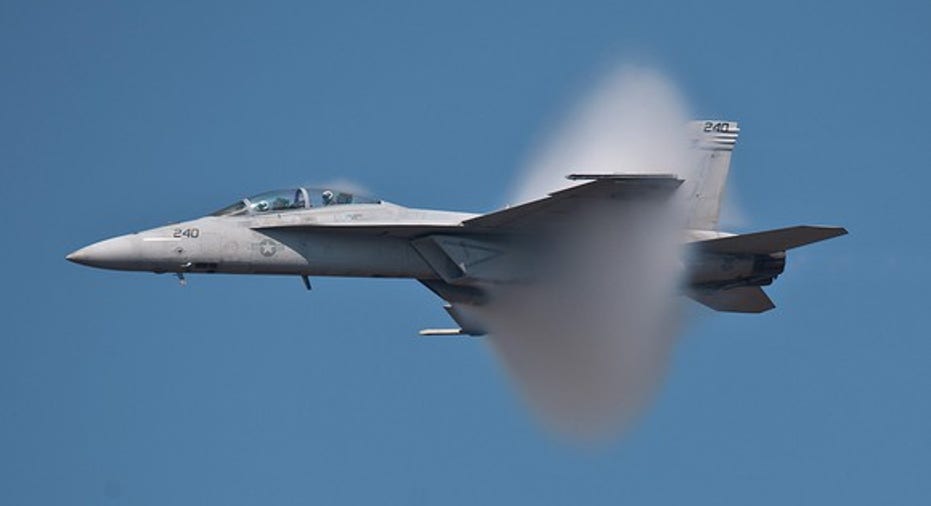 According to the military hardware experts at BGA-Aeroweb, the average flyaway cost on a Boeing (NYSE: BA) F/A-18-E/F Super Hornet fighter jet is $60.9 million. Upgrade that warbird to an electronic warfare specialist like Boeing's EA-18G Growler, and you can expect to pay much more -- $80.4 million per copy.
But has Boeing got a deal for you!And by "you," I mean the U.S. taxpayer.
Boeing breaks the price barrier with big new fighter jet sale. Image source: Boeing.
Boeing's (hopefully not) going-out-of business sale
Late last month, in its daily digest of contracts awarded to its favorite defense contractors, the U.S. Pentagon announced that it has just placed an order with Boeing to deliver to the U.S. Navy "seven Lot 40 EA-18G aircraft and associated airborne electronic attack kits and five F/A-18E aircraft."Going by BGA's prices, you might expect an order of this size to set the Pentagon back a good $867.3 million. But in fact, the Pentagon says this entire order for 12 brand new fighter jets is going to cost it only $678.7 million -- a $188.6 million savings on the sticker price.
That's a big savings for the taxpayer -- about 22% below list. Indeed, even on the off chance the Pentagon forgot to include the $119.4 million cost of the 24 F414-GE-400 engines manufactured by General Electric (NYSE: GE), which are essential to the operation of the planes, that price would still be $69.2 million below the price you'd ordinarily expect these planes to cost, based on the price Boeing quoted. Even in the unlikely scenario where the Pentagon is ordering airplanes from Boeing in one contract and their essential engines from General Electric in another, Boeing would still be giving the Pentagon a not inconsiderable 8% discount off of its list prices.
Why would Boeing do something crazy like that?
"Crazy Boeing's discount fighter jets -- our prices are so low, it's insane!"
The answer should be obvious to anyone who's been following President Donald Trump's Twitter rants against the high cost of military aircraft produced by Boeing and Lockheed Martin (NYSE: LMT).
In January, Trump boasted proudly of how he had negotiated a $600 million discount off the cost of 90 new F-35 fighter jets from Lockheed Martin. Presto chango... all of a sudden, an airplane that candidate Trump had derided as "not very good" has morphed into a "fantastic new F-35 jet fighter," praised by the President in his recent address before Congress. Not to put too fine a point on it, but all of a sudden, Trump has stopped talking about getting Boeing to build him a "comparable F-18 Super Hornet," and started talking up Lockheed Martin's F-35, instead.
This means that Boeing needs to act fast if it's to capitalize on delays in production of the F-35 by selling the Pentagon more F/A-18s and EA-18Gs to fill the fighter gap in naval aviation and deny Lockheed F-35 sales down the road. One way to sweeten the deal and encourage the Navy to buy its planes, instead of Lockheed's, of course, is to offer the Navy a big discount for buying its Super Hornets and Growlers today, rather than wait for Lockheed Martin to ramp up production of the F-35 tomorrow.
And that's just what Boeing is doing.
What it means to investors
Why is Boeing doing this? I see two reasons. First and foremost, a fighter jet sale in the hand is worth two in the bush. While Boeing would certainly prefer to maintain its historical 9.8% profit margin in fighter jets (which are more than twice as profitable as its commercial airplane revenues), it may be better to take a hit on profit margin than to get no sales -- and profits -- from selling no fighters at all. Second, even sold at a lower margin, Boeing can hope to "make up the difference" later on from as it maintains, services, and upgrades the planes in the years after sale.
That is, after all, a big part of the defense refocus that Boeing defense head Leanne Caret laid out for investors last year. And now, Boeing has 12 more planes in the pipeline, working to feed maintenance, servicing, and upgrades work into this revenue stream.
10 stocks we like better than BoeingWhen investing geniuses David and Tom Gardner have a stock tip, it can pay to listen. After all, the newsletter they have run for over a decade, Motley Fool Stock Advisor, has tripled the market.*
David and Tom just revealed what they believe are the 10 best stocks for investors to buy right now... and Boeing wasn't one of them! That's right -- they think these 10 stocks are even better buys.
Click here to learn about these picks!
*Stock Advisor returns as of February 6, 2017
Rich Smith has no position in any stocks mentioned. The Motley Fool owns shares of General Electric. The Motley Fool has a disclosure policy.