LL Bean boosting production of iconic boot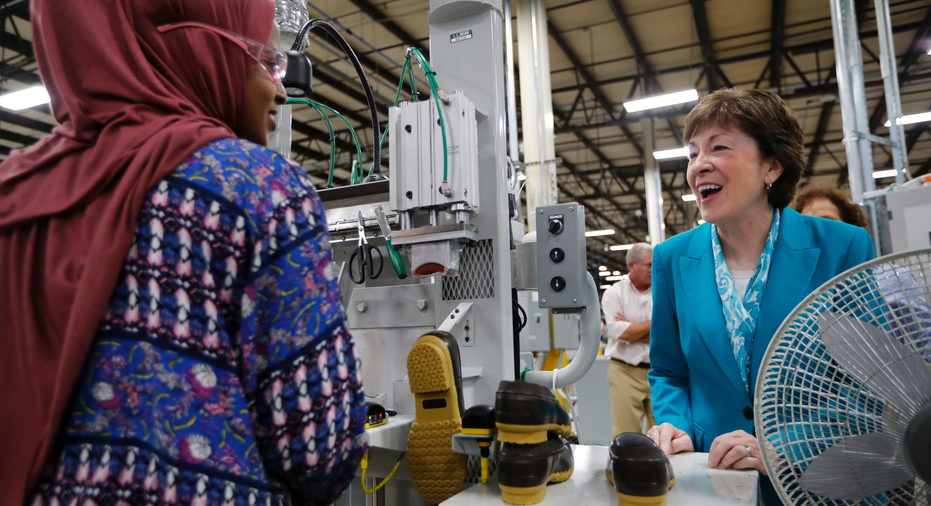 L.L. Bean hopes to give the boot to backlogs of its most iconic product.
The Maine-based retailer is expanding production to keep up with demand for its leather-and-rubber "duck boot" with a new manufacturing center with another machine used to make the rubber soles. The company also plans to hire more than 100 additional production workers at two locations in Maine.
"With the addition of the second molding machine here, we've significantly increased our capacity for Bean boot production," said Steve Smith, the company's president and CEO, told workers and guests Thursday.
The old boot has done more than soldier on: Annual sales have grown from fewer than 100,000 pairs a decade ago to this year's projection of 750,000 pairs. The company hopes to hit the 1 million mark next year.
The boots have been so popular that backlogs have been commonplace around the holiday shopping season, something that's going to change.
The 106,000-square-foot (9,847-square-meter) building doubles the production space in Lewiston, which is home to two of the company's three injection-molding machines used to make the rubber soles. The other molding machine is in Brunswick, where the leather uppers are stitched to complete the boots.
The new production center gives L.L. Bean flexibility for boot production to provide for "new innovations and designs that our customers are craving," Smith said. It also provides room to expand production of other products, as well.
All told, L.L. Bean plans to hire about 160 additional production workers, including about 40 in Lewiston, Maine's second-largest city, bringing the total to more than 700 workers, said Carolyn Beem, a company spokeswoman.
L.L. Bean's original "hunting shoe" was first designed and manufactured more than 100 years ago, and they're synonymous with the brand.
There's a giant boot outside the main store in Freeport, and there are two Bootmobiles rolling around North America. There's even a Bootmobile in Japan.
The "Made in the USA" label is rare in shoe-making these days. Well-known Maine brands like G.H. Bass, Sebago and Dexter are now made overseas. But L.L. Bean had made a decision to production of the boots in Maine.
"L.L. Bean manufacturing is both our history and our future. Unfortunately not too many companies can say that anymore," said company Chairman Shawn Gorman, great-grandson of founder Leon Leonwood Bean.