LKQ Keeps Riding the Auto Boom Higher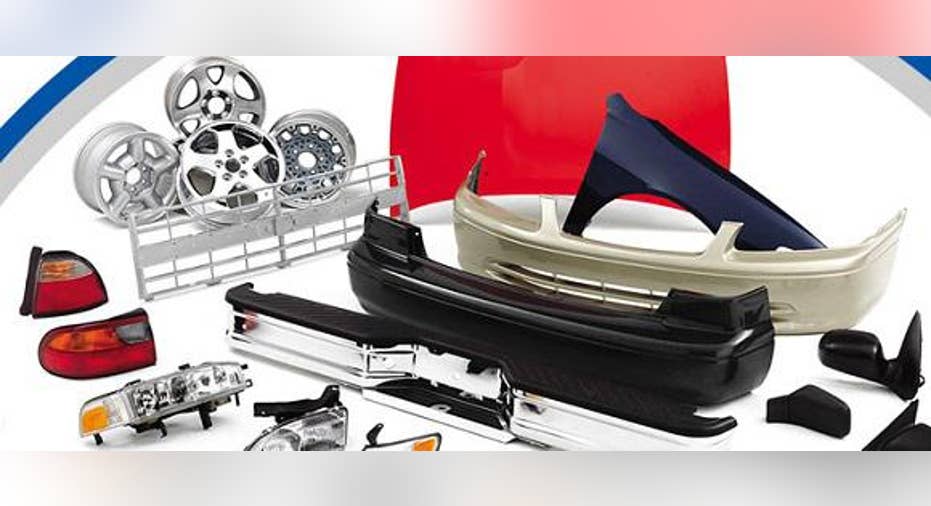 Image source: LKQ.
Auto-parts specialist LKQ isn't a household name for most people, but it has been a beneficiary of the boom in the automotive industry over the past couple of years. As a producer of alternatives to new original-equipment parts as well as glass products for original-equipment manufacturers, LKQ has aimed to become an increasingly important player in the industry. Coming into Thursday's first-quarter financial report, LKQ investors wanted to see evidence that the company was successfully taking advantage of favorable conditions, and as we've seen in past quarter, the parts maker was largely able to satisfy investor expectations. Let's take a closer look at the latest from LKQ and whether it can sustain its forward momentum into the future.
LKQ isn't tapping on the brakesLKQ's first-quarter results were solid and didn't have any surprises for those who've followed the stock closely. Revenue rose 8% to $1.92 billion, coming in $10 million above the consensus forecast among investors. Adjusted net income jumped 10% to $128.7 million, and that produced adjusted earnings of $0.42 per share, matching investor expectations for the auto-parts company.
In taking a closer look at the financials, the results from LKQ's primary business segments showed some changes compared to past quarters. North American revenue was the most sluggish of the three, rising just 4%. Moreover, segment EBITDA in North America actually fell 1% from year-ago levels. By contrast, the European business was solid, rising 12% even while dealing with headwinds from the strong U.S. dollar. Profits in Europe jumped by nearly a quarter, with EBITDA margins jumping a full percentage point to come much closer to the company's overall average. Specialty parts continued their solid performance, posting impressive 20% revenue growth and seeing segment EBITDA rise by 25%.
Playing only a minimal role in this quarter's results was LKQ's acquisition of Rhiag-Inter Auto Parts Italia. Rhiag operates more than 250 distribution centers and 10 warehouse locations, serving more than 100,000 customers in 10 European countries, and the acquisition will clearly heighten LKQ's presence in the European market. Rhiag focuses on aftermarket spare parts for passenger cars and commercial vehicles, and LKQ used its expanded credit facilities to finance the deal.
CEO Robert Wagman highlighted the importance of LKQ's strategic vision. "Our first quarter results were impressive," Wagman said, "and I believe that our recently completed strategic acquisitions, credit facility amendment, and European bond offering position us to continue delivery of organic and acquisition-related revenue growth." The CEO pointed to mild weather in hurting growth rates somewhat, yet organic growth of 6.3% companywide and 10.8% in specialty parts was noteworthy.
Can LKQ keep driving higher?In addition to the Rhiag closing in March, LKQ also recently completed its acquisition of Pittsburgh Glass Works in April. The purchase didn't affect LKQ's first-quarter financials, but it dramatically enhances LKQ's position in the automotive glass market. Pittsburgh Glass has about 120 distribution locations that serve more than 7,000 glass retailer shops in North America, and it also has a dozen manufacturing, fabrication, and assembly facilities.
Because of those deals, LKQ updated its guidance for 2016. The company still expects organic revenue growth of 6% to 8%, but adjusted net income increases of about $55 million should produce a range of between $545 million and $570 million. That should boost earnings per share by about $0.17 on an adjusted basis, producing a new guidance range of $1.76 to $1.86 per share.
For long-term investors, LKQ's most recent results won't be particularly exciting, but they do show the company's forward progress in establishing itself as a growing force in the auto-parts and materials industry. With its recent strategic moves, LKQ should see its future gains accelerate, and if things go well, the business should remain on an upward trajectory for the foreseeable future.
The article LKQ Keeps Riding the Auto Boom Higher originally appeared on Fool.com.
Dan Caplinger has no position in any stocks mentioned. The Motley Fool owns shares of and recommends LKQ. Try any of our Foolish newsletter services free for 30 days. We Fools may not all hold the same opinions, but we all believe that considering a diverse range of insights makes us better investors. The Motley Fool has a disclosure policy.
Copyright 1995 - 2016 The Motley Fool, LLC. All rights reserved. The Motley Fool has a disclosure policy.