LKQ Climbs After Posting Record Revenue, Earnings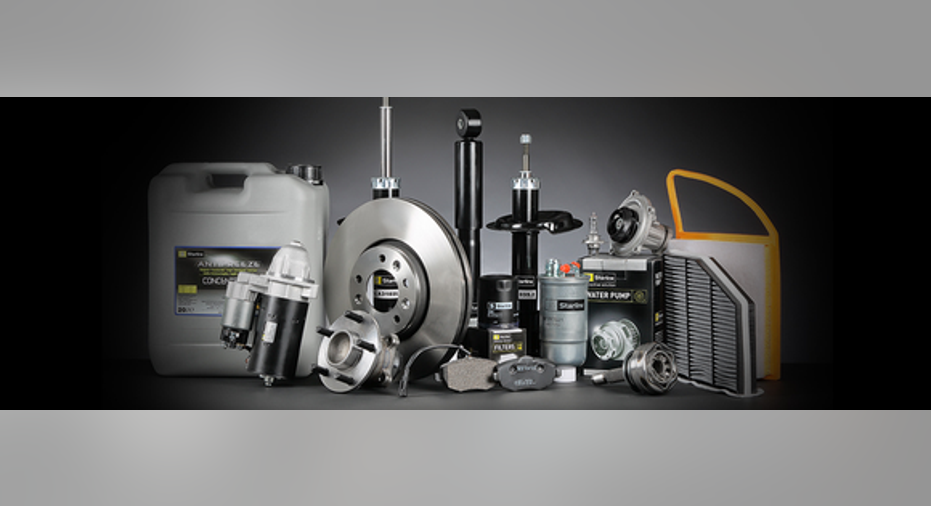 Auto parts are a critical part of the economy, and LKQ (NASDAQ: LKQ) plays a little-known but important role in the industry. Favorable conditions in the auto industry have helped companies like LKQ lately, and many believe the parts specialist is in a position to grow even more in the future.
Coming into Thursday's first-quarter financial report, LKQ investors really wanted to see confirmation that the parts specialist's pace of growth could remain at impressive levels. LKQ even managed to outpace many expectations, and its favorable outlook for the future made shareholders even more comfortable with their investment. Let's take a closer look at LKQ to find out what it saw last quarter and what's coming down the road.
Image source: LKQ.
LKQ starts 2017 strong
LKQ's first-quarter results delivered on all fronts. Revenue was up 22% to $2.34 billion, setting a new record for the company and topping the 20% growth rate that investors had wanted to see. Net income jumped 22% to $136.3 million, and after making some one-time modifications, adjusted earnings of $0.49 per share exceeded the $0.46 per share consensus forecast among those following the stock.
Taking a closer look at the numbers, the sales growth patterns we've seen in recent quarters repeated themselves this time around. LKQ boasted 10% revenue growth in its key North American business, but the big gains once again came from Europe, where revenue climbed by more than half from year-ago levels. The specialty business saw the slowest revenue growth, but even there, 7% gains were better than what LKQ saw last quarter. Acquisitions played a key role in growth throughout the company, with about six percentage points of sales gains coming organically compared to 19 percentage points from acquisitions, offset slightly by three percentage points of downward foreign exchange pressure.
Segment profits fared better than in past quarters. In North America, pre-tax operating earnings were up 15%, while European profits climbed by more than a third. Specialty gains were limited to 6%. The results show that LKQ still hasn't figured out how to squeeze all of the profit possible from its sales gains.
Strategically, LKQ continued to make moves. The company finalized the divestiture of its PGW automotive glass manufacturing business, and it acquired parts recycling and specialty products businesses both in the U.S. and in Sweden. Eastern European growth also continued with the opening of 12 new operations.
What's ahead for LKQ?
CEO Robert Wagman had good things to say about LKQ's performance. "I am proud of our ability to deliver excellent top line and bottom line growth," Wagman said, "achieving record revenue and earnings in the first quarter of 2017." The CEO called out the increases in margin performance during the quarter, and global revenue growth in parts and services created good business opportunities for LKQ. Even with mild weather, which can act as a deterrent to some repair activity, LKQ was satisfied with the growth it saw.
LKQ also made some incremental changes to its guidance that show its optimism about the future. The company still wants to see organic revenue growth of 4% to 6%, but it raised its adjusted income from continuing operations projections upward by $5 million to a new range of $565 million to $595 million. Similarly, LKQ boosted its earnings-per-share guidance by $0.02, now expecting between $1.82 and $1.92 per share.
LKQ shareholders were pleased with the results, and the stock climbed more than 3% for the day after the morning announcement. As long as healthy industry conditions persist, LKQ has put itself in position to keep profiting from its work and to find new ways to expand its business strategically.
10 stocks we like better than LKQWhen investing geniuses David and Tom Gardner have a stock tip, it can pay to listen. After all, the newsletter they have run for over a decade, Motley Fool Stock Advisor, has tripled the market.*
David and Tom just revealed what they believe are the 10 best stocks for investors to buy right now...and LKQ wasn't one of them! That's right -- they think these 10 stocks are even better buys.
Click here to learn about these picks!
*Stock Advisor returns as of April 3, 2017.
Dan Caplinger has no position in any stocks mentioned. The Motley Fool owns shares of and recommends LKQ. The Motley Fool has a disclosure policy.