Littoral Combat Ship Failures Multiply -- but Won't Sink Lockheed Martin's Stock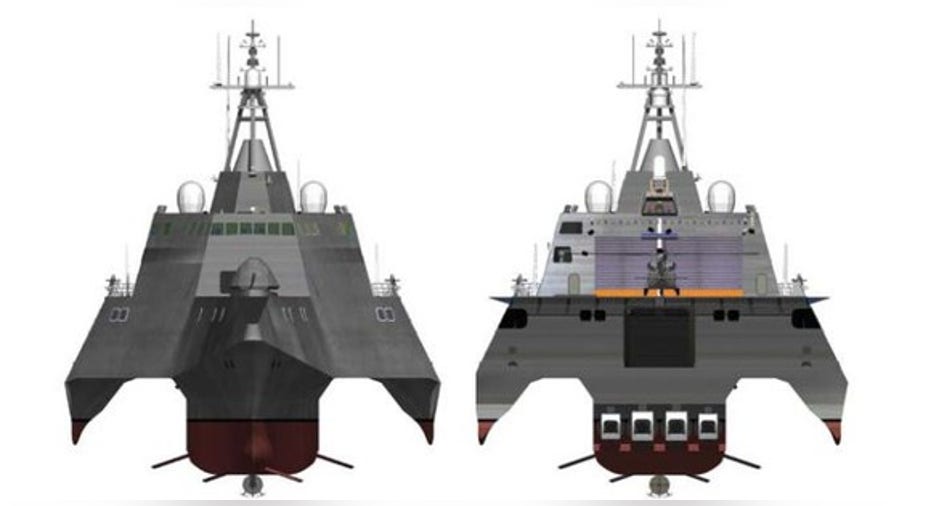 Front and rear views of Austal's Littoral Combat Ship -- sans ocean. Image source: Austal USA.
America's Littoral Combat Ship fleet is in trouble -- and Lockheed Martin (NYSE: LMT) and Austal (NASDAQOTH: AUTLY) have only themselves to blame for it.
The Littoral Combat Ship -- better known as the "LCS" or more recently, the "frigate" -- is arguably the Navy's smallest class of capital warship today. She's built in two main variants: the 378-foot, 3,500-ton monohull Freedom-classdesign built by Lockheed Martin, and a competing 418-foot, 3,100-ton trimaran Independence-classdesigned by General Dynamics (NYSE: GD) and its Australian partner, Austal (which has since taken over construction of the ship).
Future plans call for the Navy to down-select and further tweak just one of these designs to build at some unspecified date in the future. But for now, these are the two LCS ships available. But here's the problem:
Neither of the existing LCS designs seems to work very well.
How important is LCS to the Navy?
Since the U.S. Navy ordered its first Littoral Combat Ship back in 2004 -- USS Freedom (LCS 1), the lead ship of the Lockheed variant's class -- Lockheed, General Dynamics, and Austal have built and launched a combined 13 LCSes. In fact, the 13th ship of the class, USS Wichita(LCS 13), slid into the Menominee River in Wisconsin just last week. The Navy has awarded contracts for the construction of 13 more LCSes of both types.
Those contracts will take the LCS program about 65% of the way toward its eventual goal of building a total of 40 Freedom-class, Independence-class, and...whatever they'll name the new frigate class vessels. And it's hard to overemphasize how important this project is to the Navy.
Once all of the LCSes and frigates have been built, they will comprise nearly 15% of the Navy's current 276-shipbattle fleet. This will make LCSes (and their frigate twins) the third most numerous ship class after the Navy's destroyers and attack submarines.
Troubled waters
Here's the problem. Last week, one of the General Dynamics / Austal-built Independence-class LCSes -- USS Montgomery (LCS 8), to be precise -- suffered two engineering failures in the course of just 24 hours of operations. First, says the Navy, a "seawater leak [was detected] in the hydraulic cooling system. Later that day, Montgomery experienced a casualty to one of its gas turbine engines."
These failures put two of the vessel's four propellers out of action, necessitating an immediate return to port -- but that's not even the worst part.
Montgomery is, in fact, the fifth LCS in the Navy's fleet to suffer engine-related failures in just the past year (and the second in the last month!). To date, failures have been reported aboard:
USSMilwaukee (LCS 5) -- a clutch failure in December 2015
USS Fort Worth (LCS 3) -- $23 million worth of damage to both the vessel's diesel engines in January of this year.
USS Freedom (LCS 1) -- a seawater leak in July necessitated replacement of one diesel engine.
USSCoronado (LCS 4) -- an "engineering casualty" during the vessel's first deployment necessitated a return to base in August.
and now USS Montgomery (LCS 8) has failed as well.
These failure reports are coming so fast and furiously that you really need to make a list just to keep track of who's breaking down when. (If it helps, odd-numbered LCSes are broken ships built by Lockheed Martin. Even numbers are failures for General Dynamics and Austal).
What it means for investors
So, what does this litany of lamentation mean for investors in the companies involved? In two words, it means risk -- and opportunity.
Up until last month, LCS problems had been confined to Lockheed Martin-built ships alone, with gremlins occupying the crew complements aboard only the "odd-numbered" ships. That seemed bad news for Lockheed, as the Navy contemplates the future of the LCS program -- to whom it should award the final batch of LCS contracts, and whom it should hire to build the "frigates" that will succeed the LCSes. Lockheed's failures seemed to favor Austal on future contract awards.
That said, for Lockheed Martin, LCS is still a relative ripple in a revenue stream that S&P Global Market Intelligence puts at $49 billion annually. In contrast, Austal has both more to gain from improving its quality control, and also more to lose. Already, difficulties meeting U.S. Navy construction standards helped to push Austal into a full-year loss for fiscal 2016 -- and that was before the boats it built in cooperation with General Dynamics began breaking down.
Now, two General Dynamics-and-Austal-built boats have been added to the list of LCS failures. As Austal transitions into the lead role building Independence-class ships, it runs the risk of losing any advantage it once had over Lockheed Martin in the race to win future LCS and frigate contracts. And with GAO figures pricing each LCS at roughly $655 million, every boat Austal builds for the Navy is worth more than half a year's revenue to the company.
Austal needs to find its problems, and fix them -- and quick.
A secret billion-dollar stock opportunity The world's biggest tech company forgot to show you something, but a few Wall Street analysts and the Fool didn't miss a beat: There's a small company that's powering their brand-new gadgets and the coming revolution in technology. And we think its stock price has nearly unlimited room to run for early, in-the-know investors! To be one of them, just click here.
Fool contributorRich Smithdoes not own shares of, nor is he short, any company named above. You can find him onMotley Fool CAPS, publicly pontificating under the handleTMFDitty, where he's currently ranked No. 280 out of more than 75,000 rated members.
The Motley Fool has no position in any of the stocks mentioned. Try any of our Foolish newsletter services free for 30 days. We Fools may not all hold the same opinions, but we all believe that considering a diverse range of insights makes us better investors. The Motley Fool has a disclosure policy.