Little Rock drops Amazon bid in ad: 'It's not you, it's us.'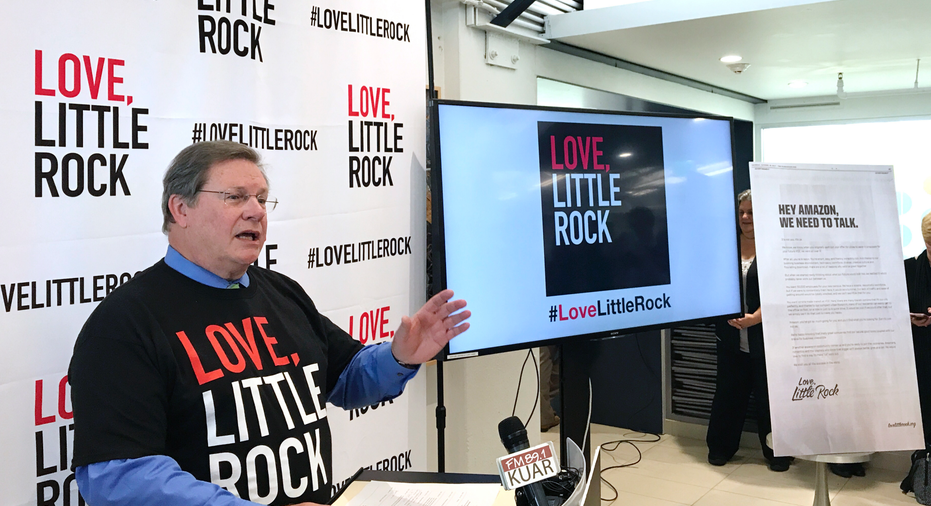 Arkansas' capital city pre-emptively broke up with Amazon Thursday rather than submit a long-shot bid for the e-commerce giant's second headquarters, telling the company in a full-page newspaper ad: "It's not you, it's us."
The Seattle-based tech giant set off a nationwide race for its business last month with a call for bids, and Little Rock Mayor Mark Stodola had said his city would pursue the project. But on Thursday, the Little Rock Regional Chamber of Commerce ran a full-page ad in the Washington Post — which is owned by Amazon CEO Jeff Bezos — explaining why it wasn't pursuing the project after all.
The ad said the city didn't meet Amazon's requirement for on-site mass transit, but said residents can easily get to work "on foot, on a bike or just by a quick drive." Little Rock also couldn't meet other requirements cited by the company, including that the location be within 45 minutes of an international airport.
"Amazon, you've got so much going for you, and you'll find what you're looking for," the chamber said in its ad. "But it's just not us."
Cities across the U.S. and Canada are clamoring at the prospect of landing Amazon's second headquarters — and with it, investments topping $5 billion. Amazon says the project could create as many as 50,000 new full-time jobs. Thursday was the deadline for proposals to be submitted. Aside from incentives, cities touted factors such as the number of sunny days they have, while trying other approaches such as Birmingham, Alabama's use of giant replicas of Amazon's Dash Buttons to send one of more than 600 pre-generated tweets to the company.
"We saw cities hocking their arms and all their economic development money in this," Stodola told reporters.
The Little Rock chamber did not say how much it paid for the ad or another gimmick — flying a banner over Amazon's Seattle headquarters. The city and the chamber launched a promotional campaign tied to the decision to not seek Amazon, dubbed "Love, Little Rock," that touts the city's amenities.
Little Rock isn't the only city to openly forgo a chance at Amazon's headquarters. San Antonio, Texas, told Bezos in an open letter earlier this month that "blindly giving away the farm isn't our style."
___
Follow Andrew DeMillo on Twitter at www.twitter.com/ademillo