Littelfuse Reports Strong Earnings Growth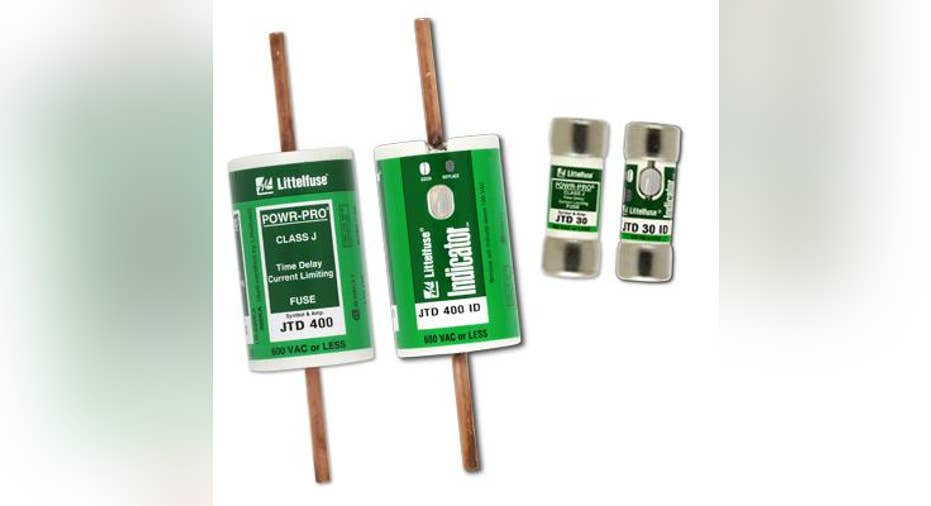 Circuit protection product provider Littelfuse reported its first-quarter results before the market opened on May 5. Revenue was toward the high end of the company's previous guidance, and adjusted earnings per share came in above the company's own expectations.
Here's what investors need to know about Littelfuse's results.
The raw numbers
| | Q1 2016 | Q1 2015 | Growth (YOY) |
| --- | --- | --- | --- |
| Sales | $219.4 million | $210.3 million | 4.3% |
| Net Income | $19.3 million | $20.0 million | (3.5%) |
| GAAP EPS | $0.85 | $0.88 | (3.4%) |
| Adjusted EPS | $1.38 | $1.08 | 27.8% |
Data source: Littelfuse Q1 earnings report.
What happened with Littelfuse this quarterThe automotive and industrial segments drove growth, while currency effects and one-time charges had a negative effect on Littelfuse's results.
Image source: Littelfuse.
Total revenue increased by 6% year over year adjusted for currency.
Electronics sales fell 1% year over year but increased 1% adjusted for currency. Strong sensor sales partially offset lower semiconductor sales.
Automotive sales rose 9% year over year, or 11% adjusted for currency. Strong sales in Asia and Europe drove the increase in revenue.
Industrial sales increased by 7% year over year, or 9% adjusted for currency. Fuses and custom products were areas of strength.
Littelfuse completed the $350 million acquisition of the PolySwitch business from TE Connectivity in March. The company's income statement does not include any contribution, but $13 million in one-time charges related to the acquisition reduced GAAP earnings.
Littelfuse provided second-quarter guidance for both its core business as well as the new PolySwitch business.
Core business sales are expected to be in the range of $265 million to $277 million, representing 6% year-over-year growth at the midpoint.
PolySwitch sales are expected between $35 million and $37 million. Littelfuse cited unfavorable market trends and a one-time distributor inventory rebalancing as negative factors.
Core business adjusted earnings are expected between $1.48 and $1.62 per share, representing 17% year-over-year growth at the midpoint.
The PolySwitch business is expected to be roughly break-even on an adjusted basis.
What management had to sayLittelfuse CEO Gordon Hunter pointed to an improved currency environment as one reason margins improved during the quarter:
Hunter also commented on the PolySwitch business:
Looking forwardWhile currency continued to reduce Littelfuse's growth rate during the first quarter, the size of the impact has declined. Currency knocked off 3.5 percentage points of revenue growth during the previous quarter, compared to less than 2 percentage points during the first quarter.
Excluding costs associated with the PolySwitch acquisition, Littelfuse posted strong earnings growth driven by solid growth in its Automotive and Industrial segments. For now, the PolySwitch business isn't producing a profit on an adjusted basis, despite Littelfuse claiming that the deal would be immediately accretive to earnings when it was first announced. The problems with the business appear to be temporary, though, and with about $10 million in annual cost synergies expected to be realized beginning next year, it likely won't be long until the business is contributing to earnings.
The article Littelfuse Reports Strong Earnings Growth originally appeared on Fool.com.
Timothy Green has no position in any stocks mentioned. The Motley Fool recommends Littelfuse. Try any of our Foolish newsletter services free for 30 days. We Fools may not all hold the same opinions, but we all believe that considering a diverse range of insights makes us better investors. The Motley Fool has a disclosure policy.
Copyright 1995 - 2016 The Motley Fool, LLC. All rights reserved. The Motley Fool has a disclosure policy.