Lithium Stock Investors: Albemarle's Q4 Earnings Reflect a Still-Hot Lithium Market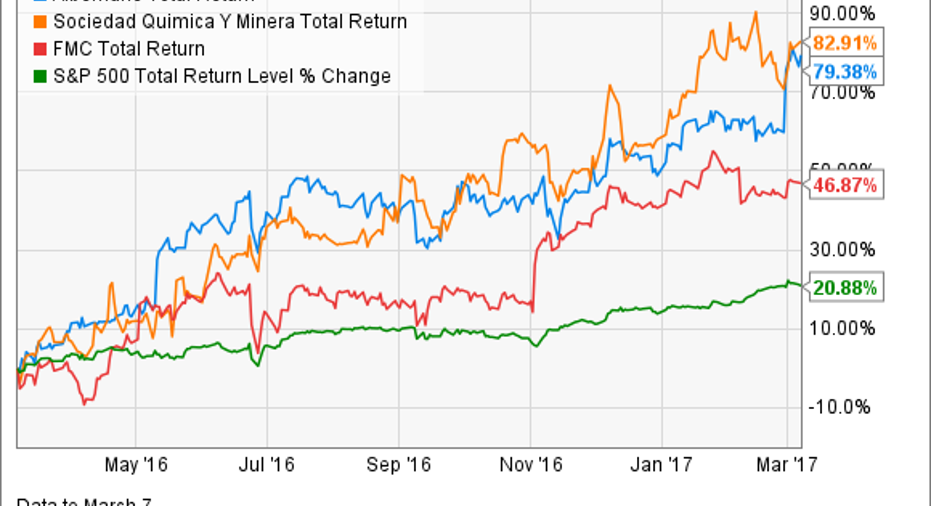 Albemarle Corporation(NYSE: ALB),the world's largest supplier of lithium, reported fourth-quarter and full-year earnings and 2017 guidance on Feb. 28 that delighted the market, which sent shares soaring nearly 10% the day earnings were released.
The Charlotte, North Carolina-based specialtychemical company's quarterly revenue dipped 3.6% year over year to $696.7 million -- meeting analysts' estimates -- while adjusted earnings per share (EPS) declined 19% to $0.78, beating Wall Street's consensus of $0.73. EPS based on generally accepted accounting principles (GAAP), which got a boost from the sale of the Chemetall business, came in at $5.30, versus $1.55 in the prior-year period.The revenue decline was driven by the company's divestitures totaling $70.9 million, partially offset by higher sales volumes, higher prices, and more favorable product mixes in certain businesses, as well as favorable currency exchange impacts.
For the full-year 2016, revenue declined 5.3% to $2.68 billion, GAAP EPS popped 89% to $5.68 -- boosted by divestitures -- and adjusted EPS rose 1.4% to $3.57.
Image source: Getty Images.
Albemarle's stock has returned more than 79% over the one-year period through Tuesday, crushing the S&P 500's nearly 21% return. The stock has been fueled by strength in the company's lithium business, as demand for lithium has considerably risen, along with its price, since early 2016. The primary driver is increasing demand for rechargeable lithium-ion batteries for electric vehicles and for other energy storage uses.
The stocks of the three largest lithium suppliers that are listed on a major U.S. stock exchange have been on a tear since 2016. Data by YCharts.
Albemarle's results by business
| Segment | Q4 2016 Revenue* | Change (YOY) | Q4 2016 Adjusted EBITDA* | Change (YOY) |
| --- | --- | --- | --- | --- |
| Lithium and advanced materials | $278.3 million | 30% | $102.5 million | 31.6% |
| Bromine specialties | $194.5 million | 13.4% | $46.9 million | 11.2% |
| Refining solutions | $193.1 million | (3.7%) | $57.3 million | 8.8% |
Data source: Albemarle.*Segment revenue and adjusted EBITDA do not add up to the company's totals because there is a tiny "other" category and a considerable corporate category. Total adjusted EBITDA rose 7.4% year over year to $187.4 million; excluding divestitures, adjusted EDITDA increased 12%. YOY = year over year.
Lithium and advanced materials' sales and EBITDA increased primarily due to increased lithium sales volumes and higher prices. The segment's results also benefited from a small favorable currency exchange impact.
Drilling further down into this segment by product line shows how powerfully lithium continues to perform:
| Product Line | Q4 2016 Revenue | Change(YOY) | Q4 2016 Adjusted EBITDA | Change(YOY) |
| --- | --- | --- | --- | --- |
| Lithium | $208.2 million | 49.7% | $89.1 million | 56% |
| Performance catalyst solutions (PCS) | $70.1 million | (6.6%) | $13.4 million | (35.4%) |
Data source: Albemarle. YOY = year over year.
Bromine specialties' sales and EBITDA primarily benefited from higher sales volumes, but also got a boost from currency exchange.
Refining solutions' sales decline was primarily driven by lower sales volumes and unfavorable pricing impacts. Its increase in EBITDA wasprimarily driven by higher equity income from Albemarle's joint venture Nippon Ketjen Company Ltd., which benefited from higher sales volumes and a favorable sales mix. Nippon Ketjen is a 50-50 joint venture between Albemarle and Sumitomo Metal Mining Company.
What management had to say
CEO Luke Kissam summarized in the press release the company's main financial accomplishments in 2016: "Our three reportable segments again delivered strong results in the fourth quarter capping a year in which our three [general business units] delivered adjusted EBITDA growth of $96 million, an increase of 13% compared to 2015. Full year adjusted EBITDA growth of 34% in Lithium and 21% in Refining Solutions was especially impressive."
Kissam also commented on key strategic initiatives Albemarle completed in the quarter in order to accelerate its transformation into a premier, high-growth specialty chemicals company:
A sunny 2017 outlook
Albemarle provided full-year 2017 guidance as follows:
| Metric | 2017 Guidance | 2016 Result | Projected Year-Over-Year Change |
| --- | --- | --- | --- |
| Revenue | $2.8 billion to $2.95 billion | $2.68 billion | 4.5% to 10.1% |
| Adjusted EBITDA | $800 million to $840 million | $758.2 million | 5.5% to 10.8% |
| Adjusted EPS | $4.00 to $4.25. | $3.57 | 12% to 19% |
Data source: Albemarle.
For context, for the full-year 2016, Albemarle's year-over-yearrevenue declined 5.3% and adjusted EPS edged up 1.4%. And going into the earnings release, analysts were projecting the company would postadjusted EPS of $4.07 on revenue of $2.78 billion in 2017. With the company's outlook rosier than Wall Street expected, the majority of analysts revised their numbers upward.
Based on Albemarle's sunny 2017 outlook, its actions in 2016 -- including divesting of certain lower-growth businesses and strengtheningits lithium position -- appear to have set it up for solid financial performance in 2017.
10 stocks we like better than AlbemarleWhen investing geniuses David and Tom Gardner have a stock tip, it can pay to listen. After all, the newsletter they have run for over a decade, Motley Fool Stock Advisor, has tripled the market.*
David and Tom just revealed what they believe are the 10 best stocks for investors to buy right now... and Albemarle wasn't one of them! That's right -- they think these 10 stocks are even better buys.
Click here to learn about these picks!
*Stock Advisor returns as of February 6, 2017
Beth McKenna has no position in any stocks mentioned. The Motley Fool owns shares of Albemarle. The Motley Fool has a disclosure policy.