LinkedIn's Engagement Is Soaring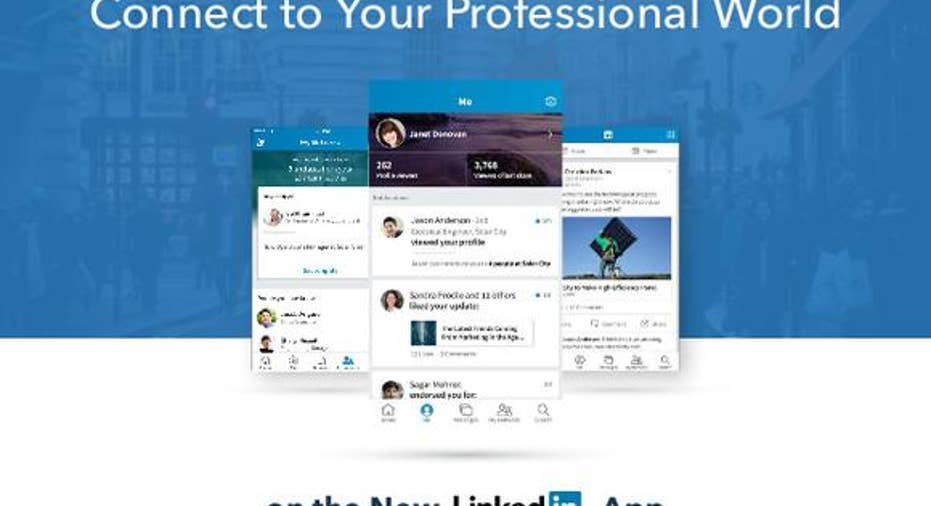 LINKEDIN'S NEW MOBILE APP HELPED DRIVE ENGAGEMENT. IMAGE SOURCE: LINKEDIN.
After it reported fourth-quarter earnings, one big concern surrounding LinkedIn was that user engagement was stalling. Unique visiting members didn't budge from 100 million per month, and member page views per month declined sequentially, from 38 billion to 37 billion.
But LinkedIn put those concerns to rest with its first-quarter report. Unique visiting members climbed 6% sequentially to 106 million per month, increasing nearly as much as all of 2015. Member page views per month saw their best sequential increase ever, increasing by 8 billion to 45 billion. LinkedIn's engagement is soaring and enabled it to handily beat the Street's expectations and improve its outlook for 2016.
Mobile leading the wayOne of the biggest drivers for engagement is LinkedIn's new mobile experience. In December, LinkedIn revamped its mobile app focusing more on feeds of information, messaging, and search. Last quarter was the first full quarter where these changes had an impact.
The move to focus more on feeds allows LinkedIn to show more sponsored update ads. While sponsored update ads come at the cost of traditional display-ad inventory, the former are typically more valuable. Facebook , for example, experiences higher average ad prices on mobile because it doesn't show the right-hand column display ads.
Indeed, sponsored-updates revenue increased 80% and now accounts for 56% of LinkedIn's marketing-solutions business. Premium display advertising revenue declined 30%.
And users aren't just browsing through feeds on mobile. They're applying for jobs. LinkedIn saw a 50% increase in job applications coming from mobile in the first quarter. This boost directly benefits LinkedIn's hiring business. Hiring revenue increased 27% year over year.
A larger percentage of Internet browsing is happening in mobile than ever before. Data from comScore indicates that desktop browsing declined year over year during the first quarter, while mobile browsing continued to soar. As such, improving engagement on mobile is key to continued growth.
Driving resultsThey say the best way to help yourself is by helping others, and that's exactly what LinkedIn is doing. It's successfully made LinkedIn a more interesting destination on the Web for its users, which drives more people to share content, engage with content others have posted, and use its products or click on its ads. For advertisers, LinkedIn's product improvements drove higher click-through rates, producing a better return on investment. And job posters saw 20% more visitors to their listings compared with last year.
All this led to better-than-expected revenue for LinkedIn in the first quarter, but there's still room for improvement. LinkedIn is sitting on tons of unique data about its users and their professional interests. It shut down the one product that was really tapping into that data when it announced its fourth-quarter results. Its plan now is to let advertisers use their own data, which can retarget potential customers on LinkedIn or help businesses find new customers similar to their existing customer base. Both offer potential value improvements for LinkedIn's sponsored-content business.
Additionally, LinkedIn has an opportunity to integrate its learning and development business more closely with its flagship site. The company is already experimenting with LinkedIn Learning Paths, which aggregate content around a subject relevant to users' professions and interests. It can also integrate Lynda.com content with certain LinkedIn subscription packages and vice versa.
The improved engagement helped LinkedIn beat expectations, but it's important to remember that expectations were relatively low after the company's dismal fourth-quarter results. While it's nice to see a return to unique visiting-member and page-view growth, even LinkedIn's improved outlook for 2016 is below what analysts were projecting before its fourth-quarter earnings release. So while the stock might not have deserved the 40% price cut it saw after fourth-quarter earnings, it might not reach back to those levels for some time.
The article LinkedIn's Engagement Is Soaring originally appeared on Fool.com.
Adam Levy has no position in any stocks mentioned. The Motley Fool owns shares of and recommends Facebook and LinkedIn. Try any of our Foolish newsletter services free for 30 days. We Fools may not all hold the same opinions, but we all believe that considering a diverse range of insights makes us better investors. The Motley Fool has a disclosure policy.
Copyright 1995 - 2016 The Motley Fool, LLC. All rights reserved. The Motley Fool has a disclosure policy.