Lingering Crisis in Cairo Dims Egypt's Economic Outlook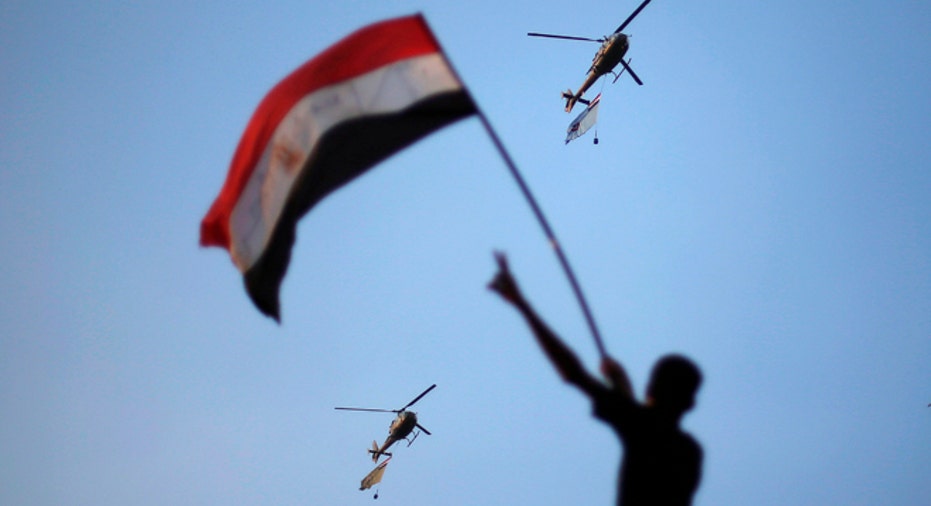 With Egypt's economy still licking its wounds from the 2011 revolution, the latest political stalemate gripping Cairo and capturing the world's attention threatens to further cloud the country's already-murky economic outlook.
Now the onus is on political and military leaders to resolve the impasse that has driven millions of Egyptians back into Tahir Square before even more damage is done to the country's $538 billion economy.
The political conflict between President Mohamed Morsi and his opponents threatens to do further damage to Egypt's pivotal tourism industry, drag down already-depleted foreign-exchange reserves and increase the country's painfully-high inflation rate north of 8%.
"The economic backdrop has deteriorated and will continue to do so until some semblance of political stability is seen," Brown Brothers Harriman emerging-market currency strategists Win Thin and Ilan Solot wrote in a note on Tuesday.
Wall Street investors are closely monitoring the situation in Cairo as Egypt is an important U.S. ally that serves as a key buffer between Israel and its Middle Eastern rivals.
Post-Revolution Economic Blues
The economic impact of the political strife in Egypt is already being felt.
The ongoing political stalemate "makes the economic outlook bleak," Schehrazade Rehman, a George Washington University professor, wrote in an email.
The lack of political stability casts serious doubt on Egypt's hard-fought $4.8 billion loan agreement with the International Monetary Fund, which was necessitated by the damage done to Egypt's economy during the revolution.
Thin and Solot said the IMF deal is "dead in the water" because now the agency "cannot count on the current government to deliver on any program targets."
While the IMF had been projecting Egypt's gross domestic product would grow 2% this year and 3.3% in 2014, Thin and Solot warn both "seem too optimistic."
"The situation feels like a bit of a deadlock where it's hard for any of the three parties involved to back down without losing face."
Egypt is facing serious headwinds from slumping consumption and industrial production as well as stifling inflation, which soared 8.2% year-over-year in May, up from 8.1% in April and 7.6% in March.
"This is clearly not going in the right direction. The poor will get hit more and things will get worse," said Rehman. "After a revolution, economic conditions always get worse. It takes years to recover -- so this is not unexpected."
Tourism Fallout Looms
Meanwhile, the political uncertainty threatens to weigh on Egypt's crucial tourism sector, which accounts for about 11% of GDP and approximately 2.8 million jobs.
Rehman warned of "terrible consequences" for the tourism industry.
According to a March 2013 report by the World Economic Forum, Egypt's travel and tourism business already ranked behind dangerous countries like Pakistan, Yemen and Chad in terms of security and safety.
"Foreign tourism has dried up, removing a much-needed source of foreign currency and FX reserves continue to erode steadily," Thin and Solot said.
While Egypt's foreign reserves totaled $36 billion in December 2010, they plummeted as low as $13.5 billion in March 2013. Reserves rose to $16 billion in May thanks to a recent cash injection of $3 billion from Qatar and a $2 billion interest-free loan from Libya.
"Yet without an IMF program along with some political certainty that could help alleviate investor concerns a bit, reserves are likely to continue bleeding," Thin and Solot said. "Egypt has always imported a large portion of [its] food and energy needs, and so any prolonged shortage of foreign reserves will have a huge impact on the economy."
Investor Confidence Shaken
After retreating 5.1% in the first quarter, Egypt's stock market dropped another 9.6% last quarter, leaving it down 14.2% during the first six months of 2013.
Thin and Solot warned that foreign investors are being hit by a "severe shortage of dollars" that is making it very difficult to repatriate their Egyptian pounds. "Until investor confidence has been re-established, the pound's slide is likely to continue," they said.
So far the crisis in Egypt doesn't appear to be seriously impacting U.S. stock prices, although some market participants do see limited effects.
Art Cashin, director of NYSE floor operations at UBS (NYSE:UBS), told clients in a note that "bids began to cancel and the Dow began to slip back toward 15,000" on Monday as TVs showed large-scale demonstrations in Egypt and rumors circulated about the army taking action.
"Egypt continues to heat up, and we are watching the situation there nervously more out of interest for preserving human life than anything that will affect major markets," Michael Block, chief strategist at Rhino Trading Partners, wrote in a note.
Still, the problems in Egypt threaten to spill over into the energy markets, weighing on global growth.
Crude oil settled at fresh 13-month highs of $99.60 a barrel on Tuesday after rallying 1.64%, its largest one-day gain in a month. Oil has jumped $3.04 a barrel, or 3.15%, this week alone.
Now What?
One key variable in the Egypt equation is the role of the U.S., which has serious leverage in the form of $1.5 billion in annual aid.
The State Department on Tuesday said the U.S. is committed to allowing the democratic process to take place in Egypt and denied reports that Washington has been pushing Morsi to hold early elections.
Instead of an outright coup, the Egyptian Army imposed a 48-hour deadline on Monday for Morsi to reach a power-sharing deal with his political opponents before it would enact an unspecified roadmap.
According to Reuters, the Army roadmap would suspend the Egyptian constitution, dissolve the Islamist-dominated parliament and be followed by presidential elections.
"If the government is smart it will strike a political compromise with the Army, but again no one is sure of the Army's agenda," said Rehman.
"The situation feels like a bit of a deadlock where it's hard for any of the three parties involved to back down without losing face," Thin and Solot said.
Thin and Solot said one potential "face-saving resolution" would be for the military to allow Morsi to keep the presidency, "but with his presidency seriously curtailed."