Like Conscious Capitalism? You'll Love These 3 Stocks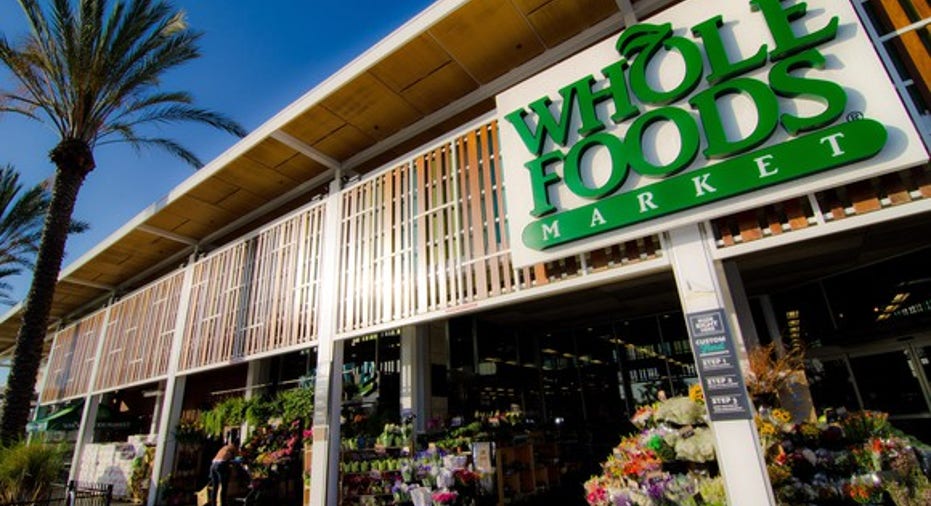 Image source: Whole Foods.
Companies that practice conscious capitalism aim to serve all stakeholders. While generating profits for investors is important, customers, employees, suppliers, communities, and the environment are important as well. Very few companies are able or willing to get away from the idea that profit is the only thing that matters.
We asked three of our top Foolish contributors to discuss three companies that have embraced the concepts of conscious capitalism while still providing exceptional financial performance for investors. Here's what they had to say.
Costco: good jobs and low prices
: According to the Bureau of Labor Statistics, the median hourly wage for retail salespersons in the U.S. was $10.47 in May. While minimizing labor costs may allow a retailer to offer lower prices to its customers, it can also lead to poor customer service, low employee morale, and high employee turnover. These negative side effects can raise costs despite lower wages.
Warehouse club Costco doesn't view its employees as simply a cost to be minimized. The company pays wages that are well above typical levels. Starting wages at Costco are currently $13.00 to $13.50 per hour, and after four years an employee can earn as much as $22.50 per hour. On top of generous wages, Costco offers part-time and full-time employee benefits, including health insurance and access to the company's employee stock purchase plan.
Costco is able to pay its employees well for one reason: volume. Costco marks up its products by no more than 15%-- a strategy that drives sales by putting its prices far below those of traditional retailers. Costco generates nearly triple the revenue per employee ofWal-Mart, allowing the company to generate slim but consistent profit margins despite its low prices.
Costco exists not only to generate profits, but also to save its customers money and to provide its employees with high-quality jobs. Costco could increase its profits temporarily by raising prices or slashing pay, but such moves would erase the competitive advantages that Costco has built up over its decades in business.
Gilead: deeply committed to improving global healthcare
: Big pharma and biotech are frequently demonized in the media for the high cost of their products. Although some of this criticism is well-deserved -- especially of drugmakers that primarily buy older drugs and subsequently raise their prices by jaw-dropping amounts -- the pharma business as a whole is poorly understood by the general public. In a nutshell, the cost of bringing an entirely new type of drug to market is astronomical, which is the underlying reason that drugmakers essentially charge what the market will bear while a drug is still under patent protection.
Gilead Sciences , for example, has taken a ton of heat for the price tags of its hepatitis C drugs Harvoni and Sovaldi, and has even been accused by some of price-gouging. A deeper look, though, shows that Gilead's management is concerned about more than the company's bottom line. In 2015,Gilead was ranked No. 1 byThe Chronicle of Philanthropyfor charitable giving, with the biotech handing out nearly $500 million in donations to various healthcare organizations around the world. That's a substantial sum of money to advance the cause of global healthcare, illustrating Gilead's profound commitment to improving the lives of patients with life-threatening diseases.
Whole Foods: the original conscious capitalist
:It's hard to talk about "conscious capitalism" without thinking of organic grocery specialist Whole Foods Market . Its co-founder and co-CEO, John Mackey (who, in the interest of full disclosure, is also a member of The Motley Fool's board of directors), helped popularize the philosophy with his book of the same name, co-authored with Raj Sisodia.
Suffice it to say that Whole Foods management strives to run the business while keeping the principles of conscious capitalism at its core. These include: maintaining industry-leading quality standards for the natural and organic products it sells; recognizing its "customers are the most important stakeholders [...] and the lifeblood of our business"; driving a number of initiatives to empower its employees to "support team member happiness and excellence"; working to advance environmental stewardship through sustainable agriculture; and promoting a healthier lifestyle for its stakeholders through healthy-eating education.
The company aims to nearly triple its store base to 1,200 locations, which excludes any incremental contribution from its newersmall-format,value-oriented 365 concept stores. So, collectively these principles should continue to drive market-beating returns for shareholders over the long term.
The article Like Conscious Capitalism? You'll Love These 3 Stocks originally appeared on Fool.com.
John Mackey, co-CEO of Whole Foods Market, is a member of The Motley Fool's board of directors. Timothy GreenandGeorge Budwell have no position in any stocks mentioned. Steve Symington owns shares of Whole Foods Market. The Motley Fool owns shares of and recommends Costco Wholesale, Gilead Sciences, and Whole Foods Market.Try any of our Foolish newsletter services free for 30 days. We Fools may not all hold the same opinions, but we all believe that considering a diverse range of insights makes us better investors. The Motley Fool has a disclosure policy.
Copyright 1995 - 2016 The Motley Fool, LLC. All rights reserved. The Motley Fool has a disclosure policy.