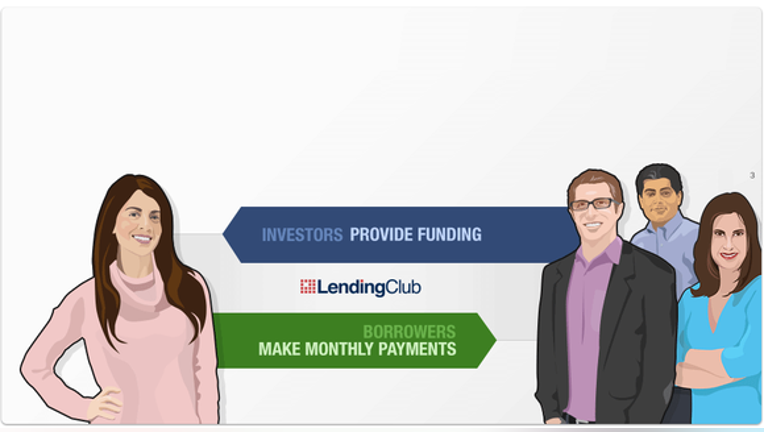 Investors in Lending Club (NYSE: LC) are hoping for a turnaround. The stock trades under $6 per share, but had traded as high as $25 back in late 2014 after its IPO. Investors have shorted about 20% of the floatbecause they believe that the company is not yet out of its rut stemming from last year's scandal and could fall prey to competition as the fintech revolution evolves. Clues to which side is right may be found in the company's upcoming earnings report. Here's what to look out for.
source: Lending Club
Originations and revenue
Lending Club, for those unfamiliar, spent 2016 trying to boost internal controls and upgrade the quality of its borrowers so lenders would return to the platform. As such, originations plummeted from $2.75 billion in the year-ago quarter to $1.95 billion in the next quarter after scandal broke out last May. The third and fourth quarters of 2016 showed mild growth from the bottom at $1.97 billion and $1.99 billion, respectively, but still far below the peak.
The company guided $117 million to $122 million in revenue for the first quarter, which is down slightly from the $129 million in the fourth quarter, but this was affected by two factors. One, the company benefited from a one-time revenue adjustment in the fourth quarter, and two, the company tightened credit standards in January, which eliminated the riskiest 6% of its loans. Adjusting for these measures, revenue is likely to be in line with the fourth quarter. Adjusted EBITDA loss is also expected to be in-line, at $5-$10 million.
Investors eventually want to see growth, and the company did guide to $565-$595 million in revenue for 2017, which would be 14-20% growth. Investors should watch if the company hits its first quarter guidance and maintains its outlook for the rest of the year.
A miss could mean one of two things: a) it is being very conservative in its lending and marketing spend, which could be a good thing long-term, or b) it is losing loans to new competition. Last fall, Goldman Sachs rolled out its new online lending platform Marcus. According to a recent Wall Street Journal article, the platform has originated $1 billion in loans in the first six months. That's far below Lending Club's originations, but bears watching.
Securitizations
Lending Club revealed it would be looking to securitize its loans for institutional buyers starting in the second quarter. Securitizing loans means cobbling loans together in a single, trade-able product that gets rated by a rating agency and sold to institutions. Lending Club has usually just allowed its lenders to buy fractions of loans through its platform, but the company said it was looking to do roughly $100 million in securitizations per quarter going forward.
The company will use roughly $100 million from its balance sheet (which had $803 million in cash at the end of 2016) to hold these loans before they are sold to an instituitional buyer. The company expects this to commence in the second quarter and will generate $10-15 million in revenue this year.
Banks hanging around?
On that note, the securitization product seems aimed at repairing relationships with institutional buyers, which are less flighty than retail or hedge fund lenders. Banks were the main segment that fled the platform after the troubles last May, but Lending Club has taken big steps to deepen its relationships with Wall Street, with hires from Blackrock, the largest asset manager in the world, Morgan Stanley,and JP Morgan.
Banks came back to the platform in the fourth quarter, funding $615 million in originations, more than double the $265 million in originations banks made in the third quarter, but well below the $947 million originated in the year ago quarter, before the scandal. Investors should watch if the psoitive trend continues.
Elevated Costs
The aforementioned hires did not come cheap, so Lending Club expects its stock-based compensation (not included in adjusted EBITDA) to remain elevated, due to the early vesting of options, for the first half of the year. At the same time, the company is investing in new products, such as auto loans, which launched late last year, and boosted marketing costs. The company also estimates an extra $20 million in the quarter for legal expenses related to the issues from last year's scandal. Investors should watch if these costs have stayed within guidance.
Summing it up
Lending Club is still in turnaround mode, so investors need to keep an eye on the company's sales, cost control, and the mix of institutional clients this quarter. There likely won't be a definitive answer to the turnaround thesis unless there is a large miss on the top line or restatement of the full-year guidance, but long-term investors need to scan the details to get a sense of how the company is progressing.
10 stocks we like better than LendingClubWhen investing geniuses David and Tom Gardner have a stock tip, it can pay to listen. After all, the newsletter they have run for over a decade, Motley Fool Stock Advisor, has tripled the market.*
David and Tom just revealed what they believe are the 10 best stocks for investors to buy right now... and LendingClub wasn't one of them! That's right -- they think these 10 stocks are even better buys.
Click here to learn about these picks!
*Stock Advisor returns as of May 1, 2017
Billy Duberstein owns shares of LendingClub. The Motley Fool has no position in any of the stocks mentioned. The Motley Fool has a disclosure policy.