Latest Burst of Buying Turns Dow Positive for '11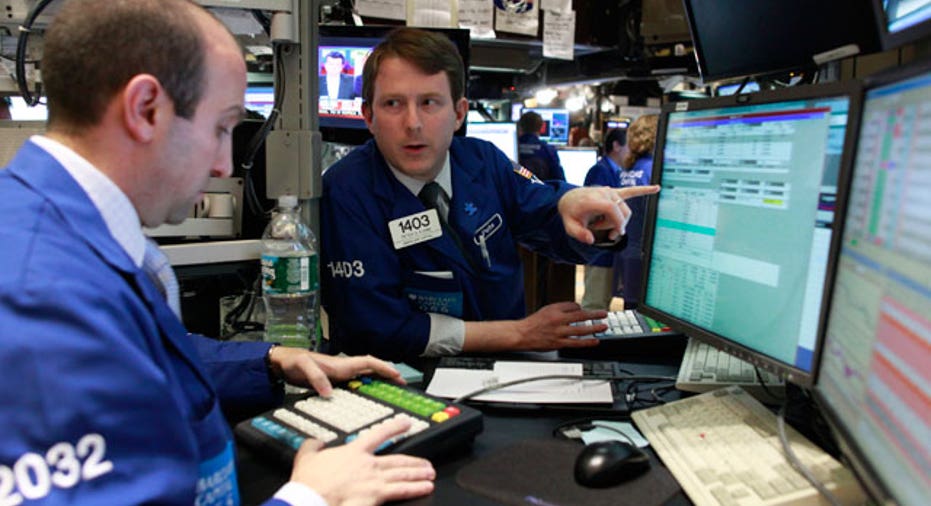 FOX Business: The Power to Prosper
Growing optimism about the outlook for stocks sent the Dow leaping about 200 points Wednesday afternoon, leaving them on pace to close in the green on the year for the first time in more than a month.
Today's Markets
As of 2:43 p.m. ET, the Dow Jones Industrial Average jumped 199.20 points, or 1.74%, to 11615.65, the Standard & Poor's 500 gained 22.76 points, or 1.90%, to 1218.30 and the Nasdaq Composite leaped 40.40 points, or 1.56%, to 2623.67. The FOX 50 added 16.10 points, or 1.84%, to 890.55.
The triple-digit rally comes after the markets mostly paused on Tuesday, preserving their big October rally and 330-point Columbus Day surge. If the blue chips close above 11577, they will have returned to positive territory on the year after having spent more than a month in the red.
Some were surprised Wall Street managed to open in the green on Wednesday given Alcoa's (NYSE:AA) earnings dud and Slovakia's initial rejection of the euro-zone rescue fund.
"I think that's a testament to the shift in investor psychology in a week's time frame. If this had hit a week ago, we wouldn't have seen the strength we started off with," said Michael James, managing director of equity trading at Wedbush Securities. "The market continues to be dominated by traders and trader sentiment. As we've seen, that sentiment can shift from bearish to bullish in a pretty short time frame."
U.S. stocks hit session highs after the Slovak opposition leader said it has reached a deal to ratify the $600 billion rescue fund that is seen at stabilizing Europe's debt debacle. The comments come after the Slovak Parliament rejected the measure, which has been passed by 16 of the 17 euro-zone nations.
Underscoring expectations the rescue fund will eventually be approved, the euro rallied 1.2% to one-month highs against the dollar and European banks like Deutsche Bank (NYSE:DB) advanced. In fact, the KBW Banking Index soared about 3%, doubling the broader markets' gains.
Votes in favor of the stronger rescue fund and pledges to recapitalize the continent's banks have sent global stocks soaring in recent days.
"Expectations for backstopping of European financials have made people feel a little more optimistic that the downside has been somewhat contained in Europe," said James.
Wall Street managed to shrug off Alcoa's disappointing start to earnings season as the aluminum maker disclosed a third-quarter profit of 15 cents a share, widely missing forecasts for 22 cents. Alcoa, which is traditionally the first major U.S. company to report results, did post stronger-than-expected revenue growth of 21% to $6.4 billion.
The markets have turned their attention toward key earnings reports on Thursday from banking giant JPMorgan Chase (NYSE:JPM) and search titan Google (NASDAQ:GOOG). Beverage and food giant PepsiCo (NYSE:PEP) also posted stronger-than-expected results on Wednesday.
Wall Street has also benefited from receding fears about a double-dip recession in the U.S. Those concerns have faded as recent indicators show stronger-than-expected growth in employment, manufacturing activity and retail sales.
"The economic data out of the U.S. has been pretty decent and suggests we are not in a recession," David Joy, chief market strategist at Ameriprise Financial, told FOX Business. Joy, who said he has a year-end S&P target of 1250, down from 1345 previously, added, "There is a chance to break out to the upside here, but we have some heavy lifting to do."
The markets didn't have any kneejerk reaction to the release of the minutes from last month's Federal Reserve meeting, which showed policymakers saw "significant" risk to economic growth and have differing views about how monetary policy can fix the situation.
The S&P 500 closed Tuesday with its largest six-session rally since March 2009, while the Nasdaq Composite has jumped about 11% since hitting 2011 lows on October 3. However, both indexes remain in negative territory year-to-date.
Almost all 30 Dow stocks advanced on Wednesday, led by JPMorgan and Wal-Mart (NYSE:WMT). The index's weakest players were McDonald's (NYSE:MCD) and Alcoa.
In the commodities complex, crude oil snapped a five-day winning streak, sinking 23 cents a barrel, or 0.27%, to $85.78. Gold jumped $21.60 a troy ounce, or 1.30%, to $1,681.90.
Corporate Movers
PepsiCo (NYSE:PEP) narrowly surpassed estimates with a non-GAAP profit of $1.31 a share on a 13% rise in revenue to $17.58 billion. The food and beverage giant also backed its 2011 EPS growth target.
Research in Motion's (NASDAQ:RIMM) BlackBerry outage has spread to North and South America, deepening a third day of disruptions for the struggling company. Outages have been reported in the Middle East, Africa, Brazil, Chile and Argentina.
Liz Claiborne (NYSE:LIZ) leaped more than 30% after saying it has unloaded its namesake and Monet jewelry brands to J.C. Penney (NYSE:JCP) in a $267.5 million deal. Liz Claiborne said it is also exploring options for a new name.
Hewlett-Packard (NYSE:HPQ) is reconsidering a planned spinoff of its PC division due to new analyses that show it may be ill advised, The Wall Street Journal reported. The biggest concern is about the impact on H-P's buying power with component makers.
Global Markets
London's FTSE 100 gained 0.85% to 5441.80, Germany's DAX jumped 2.21% to 5994.47 and France's CAC 40 soared 2.42% to 3229.76.
In Asia, the Japanese Nikkei 225 fell 0.40% to 8738.90 and Hong Kong's Hang Seng leaped 1.04% to 18329.50.