Last Week's Best Healthcare ETF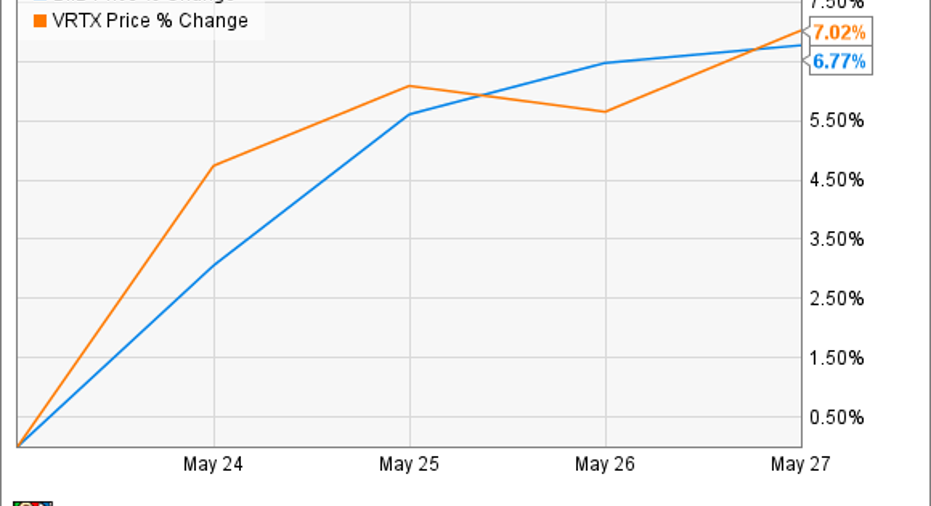 It was a great week for the healthcare sector. Many of the most-popular exchange-traded funds that focus on the space soared, gaining at least 2% during the last few trading days. Several of these ETFs even put up market-beating performances.
One fund in particular -- theiShares Nasdaq Biotechnology -- was this week's best healthcare ETF. This fund gained 3.80% during the period, far outpacing the returns of theS&P 500.
What's going on inside this ETF that caused it to outperform?
Breaking it down
Here's a look at some of this fund's key statistics.
iShares Nasdaq Biotechnology ETF key statistics
| | |
| --- | --- |
| Inception Year | 2001 |
| Number of Holdings | 189 |
| Net Assets | $6.8 billion |
| Average P/E Ratio | 21 |
| Yield | 0.27% |
| Expense Ratio | 0.48% |
DATA SOURCE: ISHARES.
With more than $6 billion in net assets, the iShares Nasdaq Biotechnology is one of the largest healthcare ETFs out there. Investors likely are drawn to this fund's broad diversification and low expense ratio, making it an easy way to gain broad-based exposure to the U.S. biotechnology and pharmaceutical space.
However, this fund may not be as diversified as you would expect from holding a position in 192 different companies. In fact, when you take a closer look at this fund's top 10 holdings, you can see that it's fairly concentrated.
Have a look for yourself to see what I mean.
| Company | Symbol | % Assets |
| --- | --- | --- |
| Amgen | AMGN | 8.16 |
| Biogen | BIIB | 8.11 |
| Celgene | CELG | 7.83 |
| Regeneron Pharmaceuticals | REGN | 7.44 |
| Gilead Sciences | GILD | 7.30 |
| Alexion Pharmaceuticals | ALXN | 3.93 |
| Vertex Pharmaceuticals | VRTX | 3.89 |
| Illumina | ILMN | 3.56 |
| Mylan NV | MYL | 3.55 |
| Incyte | INCY | 2.97 |
SOURCE: ISHARES.
Add them up, and more than 55% of this fund's assets are concentrated in just these top stocks. That fact makes the fund susceptible to exaggerated price swings if a few of its top holdings make a big move -- which is exactly what happened this week.
What went right this week?
The short answer to that question is -- everything. Every single one of this fund's top holdings ended the trading week in the green, which doesn't happen all that often. In fact, it was such a good week for the IBB that only a single one of its top-10 holdings actually trailed the market's returns!
However, two companies really drove the fund's outperformance this week:Biogen and Vertex Pharmaceuticals . Both of these companies gained more than 6%.
BIogen's stock jumped on news that the FDA approved its once-a-month drug for treating relapsing for multiple sclerosis. The drug is called Zinbryta, and was co-developed by Biogen and AbbVie. In clinical trials, Zinbryta demonstrated superior efficacy at reducing relapses and brain lesions when compared to Avonex, another one of Biogen's products.
On the downside, the drug's approval came with a boxed warning. Patients who use Zinbryta will be at a higher risk of liver injury, and will have to undergo monthly liver-function tests while using the drug. For that reason, access to the drug will be restricted.Still, the approval was good news for Biogen, and shares took off in response.
The reason behind Vertex Pharmaceutical's stock jump isn't quite clear, as there wasn't any news released to justify the move. Perhaps the stock is simply rebounding from its awful start to the year. Analysts have been reducing their growth-and-profit estimates for the company all year long, which has put a lot of selling pressure on the stock. Even after including this weekly move, Vertex's shares are down more than 28% year to date.
Still, investors have a number of catalysts to look forward to later this year that could get the stock back on track. Orkambi, its newest cystic fibrosis treatment, is currently under regulatory review for use in children in the U.S. ages six to 11, who have two copies of theF508 delmutation.
The company has requested a priority review, and if granted, could reduce the approval time to six months. If all goes well, it could add another 2,400 patients to Orkambi's addressable market, a sizable number for this orphan drug.
Now what?
Biotechnology stocks have been dreadful performers in 2016, so it was great to see that they rallied so strongly this week. The best time to invest in thissector is when it is out of favor, so it could be a great time for investors to consider adding money to the space. With a large number of holdings and a cheap expense ratio, the IBB may be the way to go.
The article Last Week's Best Healthcare ETF originally appeared on Fool.com.
Brian Feroldi owns shares of Gilead Sciences.Like this article? Follow him onTwitter where he goes by the handle@Longtermmind-setor connect with him on LinkedIn to see more articles like this.The Motley Fool owns shares of and recommends Celgene, Gilead Sciences, Illumina, and Vertex Pharmaceuticals. The Motley Fool owns shares of Regeneron Pharmaceuticals. The Motley Fool recommends Biogen and Mylan. Try any of our Foolish newsletter services free for 30 days. We Fools may not all hold the same opinions, but we all believe that considering a diverse range of insights makes us better investors. The Motley Fool has a disclosure policy.
Copyright 1995 - 2016 The Motley Fool, LLC. All rights reserved. The Motley Fool has a disclosure policy.