Last gasp for hog farm suit: 'We don't want to be hostages'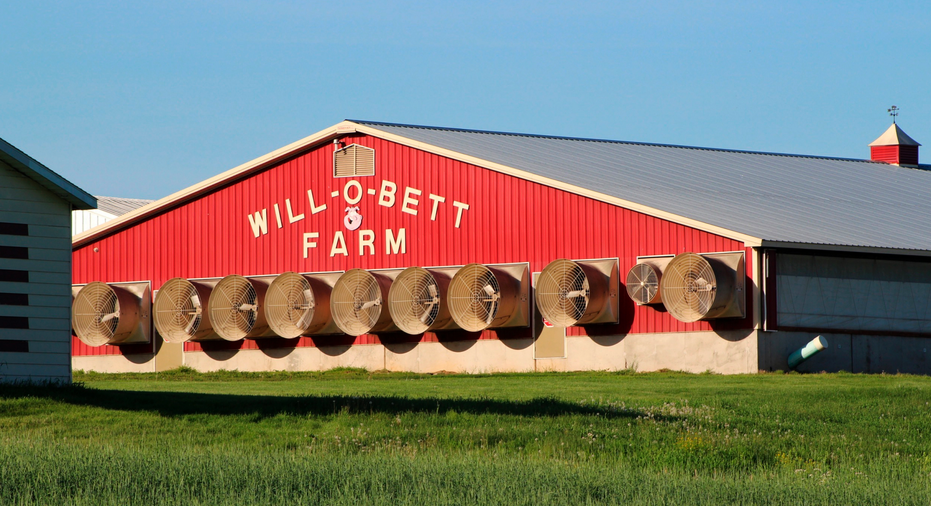 When the wind blows a certain way, residents know to head inside. Quickly. They claim the stench from an industrial hog farm on the edge of town is unbearable.
The gigantic "finishing" barn confines as many as 4,800 hogs. That many animals produce a lot of waste, and it's what Will-O-Bett Farm does with the liquid manure — applying tens of thousands of gallons to nearby farm fields — that prompted a nasty legal dispute with neighbors.
Pennsylvania law shields farms from most suits making a nuisance claim, helping Will-O-Bett prevail in the lower courts. The Pennsylvania Supreme Court must now decide whether it will hear the case after plaintiffs filed a last-gasp appeal this month.
"People spent their entire life working to pay the mortgage and they can't go outside now and sit on their own deck and have a glass of wine because it's putrid here," said Malcolm Plevyak, a recycling company owner so upset over the hog farm that he ran for and won local office.
Will-O-Bett's owner, Paul Dagostin, declined comment, citing the pending litigation. His lawyer, Lou Kozloff, called the plaintiffs' claims hyperbolic and unsubstantiated in a legal filing that asked the Supreme Court to decline the case. State regulators have found the farm to be in compliance and said it voluntarily implemented an odor-control plan even though it wasn't legally required.
Industrial farms known as concentrated animal feeding operations allow for more efficient production of beef, pork, poultry, dairy and eggs. They've also stoked concerns about animal welfare as well as air and water pollution. Lawsuits are common, including one filed in North Carolina that recently resulted in a federal jury verdict of nearly $51 million — later slashed to $3.25 million — against the hog-production division of Virginia-based Smithfield Foods.
Will-O-Bett, a 63-year-old family farm just outside Berwick, population 10,000, began raising hogs in 2013 under contract for Country View Family Farms, which is part of a conglomerate that includes the Hatfield Quality Meats brand of pork products. The farm fattens them from 60 pounds when they arrive to 270 pounds when they leave for slaughter.
Will-O-Bett stores the manure in a 1.6 million-gallon underground tank. The manure is applied to farm fields as fertilizer in spring and fall. The 40,000-square-foot barn that confines the hogs is ventilated frequently, neighbors say, with 10 gigantic fans pointed in the direction of town. The plaintiffs' lawsuit says about 1,500 residents live within a mile of the farm, which is also near schools, churches and a hospital.
The complaints began as soon as residents caught the first whiff.
Residents say they're forced indoors when the breeze carries the odor their way, unable to mow the lawn, tend the garden or use the pool. They say they can't open their windows or hang their wash out to dry.
"We want to enjoy our property," said John Molitoris, who lives down the street from Will-O-Bett. "We don't want to be hostages."
Molitoris and more than 100 other residents sued the farmers and Country View, but a judge cited the state's right-to-farm law in summarily dismissing their claims. A state appeals court agreed.
"We do not doubt that the plaintiffs are genuinely aggrieved by the odors associated with the Will-O-Bett's expanded/altered operation," Senior Judge Eugene B. Strassburger III wrote for Superior Court in March. "However, our Legislature has determined that such effects are outweighed by the benefit of established farms investing in expansion of agricultural operations in Pennsylvania."
State regulators, meanwhile, says Will-O-Bett has complied with all regulations. The Department of Environmental Protection has gotten numerous complaints about the farm over the years, but its inspectors have yet to find a single violation. The Department of Agriculture says the farm complies with its odor-management plan.
Neighbors have asked the high court to intervene, a longshot in the best of circumstances. The court accepts a fraction of the appeals it receives.
"I'm not doing it for money," said Kip McCabe, another plaintiff. "I just want the smell to stop."
Five years after Will-O-Bett began raising large numbers of hogs, other residents seem to have made their peace with the farm — or at least become resigned to it. The "NO PIG FACTORY' signs once found on many lawns have mostly disappeared. Most of the original plaintiffs have dropped out of the appeals.
Stacy Banyas said she's gotten used to the pigs.
"I don't know that it bothers me that much," said Banyas, pushing a stroller with her 3-month-old daughter on a night when the springtime air smelled of freshly mown grass, not pig waste. "I don't know that there's anything we can do about it, either."