Las Vegas strike would have far-reaching effect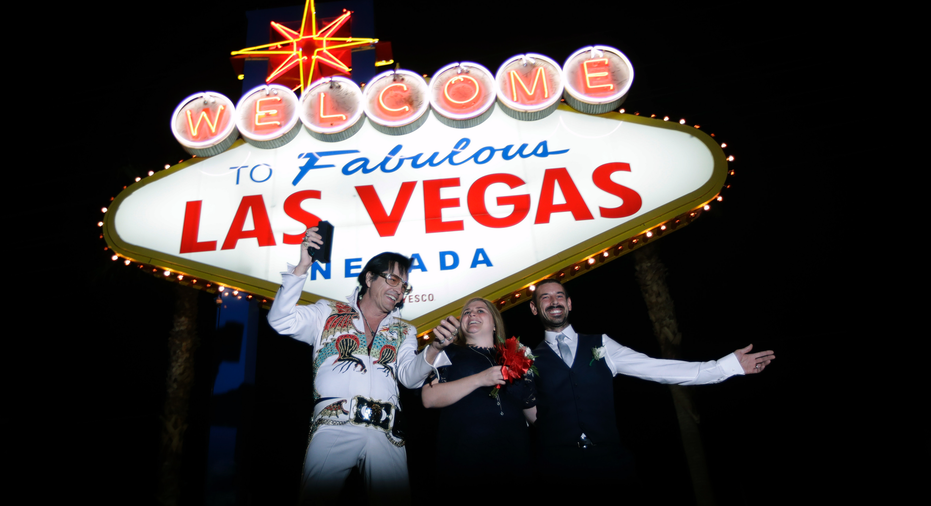 What happens in Las Vegas could have a ripple effect across the country if 50,000 casino-hotel workers employed at more than 30 of the city's world-famous resorts go on strike at any time starting next week.
If members of the union that includes hotel and food workers don't show up to work, it could cost the destination millions and lead to travel woes for anyone taking a vacation or business trip to Sin City. It could also send casinos looking for temporary workers amid low unemployment rates.
Analysts declined Wednesday to weigh in on the financial impact that a strike could have on casino operators. But the casinos and hotels aren't the only ones who would feel the squeeze; local and state governments stand to lose millions from the impact on tourism.
The last time casino-hotel workers went on strike across Las Vegas, the job action lasted 67 days and cost workers and the city more than $1 million a day each in lost wages and revenues, not counting gambling losses. The price could be much higher this time if the two sides can't reach agreements: The city has 90,000 more hotel rooms and gets an additional 29 million visitors a year.
David Fiorenza, who teaches urban economics at Villanova University, said local and state governments will start to notice a hit to their sales tax revenue if the strike lingers. And if hotel stays decrease, there will be less revenue from the local hotel tax.
Fiorenza doesn't expect an immediate impact on the number of people visiting Las Vegas if a strike happens, but it will affect bookings if the strike lasts more than a few days.
"People who already booked to go out there are not going to cancel," he said.
But the strike is a lingering worry for those still planning summer vacations.
"What happens during the summer in Las Vegas is you get a lot of people who are traveling. They say 'We are going to visit family in California, and then, we'll go on a trip to Las Vegas,'" said Michael McCall, a Michigan State University professor of hospitality business. "This would deter them. That's going to shut down everything."
The contracts of 50,000 members of the Culinary Union who work at 34 different casino-resorts on the Las Vegas Strip and downtown Las Vegas are set to expire at midnight May 31. Half of those workers cast ballots Tuesday, a majority of whom authorized a strike at any time starting June 1. Individual casino-operating companies and the union have failed to reach agreements through negotiations that began in February.
Union officials say workers want to increase wages, protect job security against the increasing use of technology at hotel-casinos, and strengthen language against sexual harassment.
MGM Resorts International and Caesars Entertainment operate more than half the properties that would be affected by a strike. Both companies have said they expect to reach agreements with the union.
However, Fiorenza said major casinos have contingency plans and he expects them to find ways to continue operating if a strike does happen, such as using managers in front-line jobs and bringing in workers from outside the area.
Operators that have casino-hotels in other states likely have begun sending notices to some workers on those properties to draw them to Las Vegas temporarily, McCall said. It would be hard to hire short-term replacement workers locally because unemployment is low in Las Vegas.
The last citywide strike was in 1984. As the strike deadline loomed, the agency responsible for promoting the destination responded by working up a $158,000 advertising campaign that included a chef saying "Las Vegas, we're open and cooking," and a showgirl saying "Las Vegas, we're open with a lot to show you."
Statistics from the Las Vegas Convention and Visitors Authority show visitation did not decline overall that year, with about 12.8 million traveling to this desert oasis. The agency on Wednesday said it is monitoring the situation but would not say whether it expects visitation to decrease in the event of a strike.
More than 42.2 million people visited the destination last year.
Eric Brasure of Newark, Delaware, is planning a trip to Las Vegas to attend a Star Trek convention in the summer. He said he supports the union, and on Wednesday retweeted on his podcast's account a list of the hotel-casinos that would be affected by the strike.
"I fully intend to support the strike by not patronizing any casino where workers are striking," Brasure said in a Twitter message.
Before Tuesday, the union last voted for a strike in 2002 but reached a deal before employees walked out.
___
Associated Press journalist Annika Wolters in Phoenix and AP Business Writer Josh Funk in Omaha, Nebraska, contributed to this report.
___
Follow Regina Garcia Cano on Twitter at https://twitter.com/reginagarciakNO