Las Vegas Sands Corp.'s Best Casino in 2015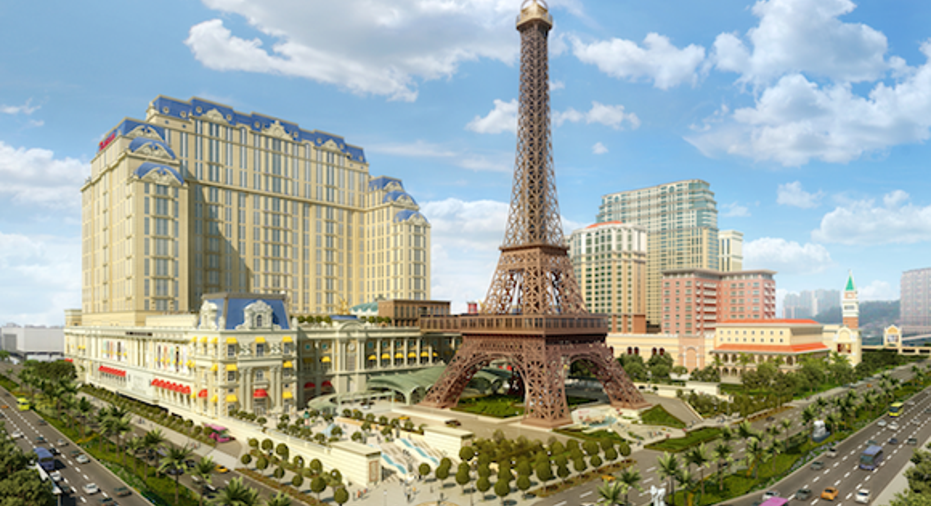 The Parisian in Macau, which Las Vegas Sands hopes to open in late 2016. Image: Las Vegas Sands.
The year 2015 wasn't a good one for the gaming industry, in general. Macau's gaming revenue has fallen 35% so far this year, and for companies like Las Vegas Sands and Wynn Resorts , which generate most of their revenue in Macau, that resulted in plummeting stock prices. Both companies were even wildly outperformed by U.S.-centric MGM Resorts .
Even with the poor performance on the market, there were some bright spots for Las Vegas Sands. And one of those is a casino often overlooked in its portfolio.
The Las Vegas Sands casino you've never heard of Sands Bethlehem is Las Vegas Sands' smallest casino, and it's also the only one that improved performance in 2015. In the first three quarters of the year, the resort generated $101.5 million in EBITDA, a proxy for cash flow, up 20.5% from a year ago.
The Pennsylvania resort has benefited from a location near some of the largest cities on the East Coast, like Philadelphia and New York. It's been one of the resorts that's driven the state into the No. 2 spot for gaming in the country, behind only Nevada.
Ironically, it's the success of resorts like Sands Bethlehem that has enticed Wynn Resorts and MGM Resorts to both begin construction on new casinos in Massachusetts, where combined, they're spending more than $2 billion to build resorts. Like Macau, Las Vegas Sands was a leader in this new and growing East Coast gaming market, and Wynn and MGM are following its lead.
Sands Bethlehem was definitely a rising star in Las Vegas Sands' portfolio this year; but it wasn't the biggest star by a wide margin.
Marina Bay Sands in Singapore. Image: Las Vegas Sands.
Las Vegas Sands' biggest casino in 2015 On a relative basis, Sands Bethlehem was the company's best performing casino in 2015. But it didn't come anywhere near making the most money. That title goes to Marina Bay Sands, which generated $1.17 billion in EBITDA in the first three quarters of the year.
Despite being negatively affected by the same trends that have hurt Macau, Marina Bay Sands hasn't had the same downturn. So far this year, EBITDA is down just 13% compared to 37% at Venetian Macau, and 34% at Sands Cotai Central in Macau.
Marina Bay Sands hasn't had a flawless year, as you can see by declining EBITDA, but it remains Las Vegas Sands' biggest cash generator and a key property for the company's long-term health.
Will 2016 see a recovery Looking forward, Las Vegas Sands' performance in 2016 depends largely on macro trends in its gaming markets more than it does the company's individual performance. Pennsylvania has been a bright spot this year, while Las Vegas and Singapore have held up fairly well despite fewer Asian high rollers visiting. Macau's recovery depends on Chinese gamblers coming back in droves, something they failed to do in 2015.
Sands Bethlehem and Marina Bay Sands may have been the best casinos for Las Vegas Sands in 2015, but Macau is where its most important casinos are in 2016. Those casinos will drive the stock higher or lower for the year.
The article Las Vegas Sands Corp.'s Best Casino in 2015 originally appeared on Fool.com.
Travis Hoium owns shares of Wynn Resorts, Limited. The Motley Fool has no position in any of the stocks mentioned. Try any of our Foolish newsletter services free for 30 days. We Fools may not all hold the same opinions, but we all believe that considering a diverse range of insights makes us better investors. The Motley Fool has a disclosure policy.
Copyright 1995 - 2015 The Motley Fool, LLC. All rights reserved. The Motley Fool has a disclosure policy.