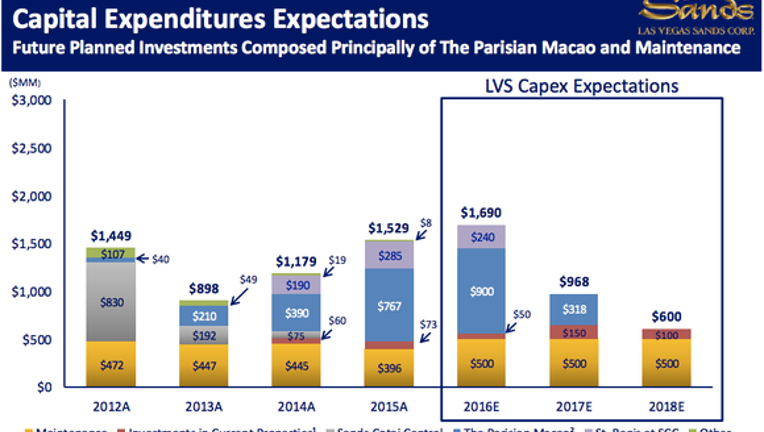 Image source: Getty Images.
Las Vegas Sands is operating in a challenging environment: Gaming demand in Macau is declining due to economic and regulatory factors, which is putting pressure on casino operators in the region. On the other hand, gaming is a profitable business, and Las Vegas Sands stock is yielding 6.1%. Is it time to make a contrarian bet on this casino stock?
Playing a tough hand
Economic growth in China is decelerating lately, which is weigning on gaming and entertainment in Macau. In addition, government authorities have imposed a series of restrictions and limitations on Macau gamblers to combat illegal money laundering through casinos, making things even harder for companies in the business. According to data from the Macau Gaming Inspection and Coordination Bureau, monthly revenues from games of fortune declined 9.6% in May, while the accumulated decline in the first five months of 2016 amounts to 11.9%.
In this context, Las Vegas Sands reported a 9.8% decline in revenue during the first quarter of 2016, to $2.72 billion, versus $3.01 billion in the first quarter of 2015. The company is keeping costs under control, so hold-normalized property EBITDA (that is, earnings before interest, taxes, depreciation, and amortization that have been adjusted for the impact of some table-game-related variances) increased 0.9% to $1.03 billion on the back of improving profit margins. Nevertheless, revenue is still moving in the wrong direction, and this is a reason for concern among investors.
It's important to keep in mind that competitors such as Wynn Resorts and MGM are doing just as poorly as Las Vegas Sands in Macau, or perhaps even worse. This shows that the company is being hurt by the difficult conditions in the sector as opposed to experiencing company-specific problems.
Wynn Resorts produced $997.7 million in sales during the first quarter of 2016, falling by 8.5% from $1.09 billion in the same quarter last year. This was the result of a 13.8% decline in sales in Macau, while revenues in Las Vegas increased 0.7%. Wynn Resorts registered a 7% decline in adjusted property EBITDA during the quarter.
MGM has a smaller presence in Macau than Las Vegas Sands or Wynn Resorts do, and the company produced $2.2 billion in revenue net of promotional allowances last quarter, a decrease of 5% year over year. On the other hand, performance in Macau was dismal, as MGM China registered a 23% decline in revenue and a 26% contraction in adjusted EBITDA during the period.
Is the dividend sustainable?
Las Vegas Sands has delivered impressive dividend growth over the last several years -- dividend payments have increased at an average annual rate of 30% from 2012 to 2016. And even as the business faces headwinds, management announced a 10% dividend increase for 2016.
The company produced $3.5 billion in operating cash flow over the trailing-12-month period, and capital expenditures absorbed $1.5 billion of that money, leaving Las Vegas Sands with nearly $2 billion in free cash flow. Dividend payments amounted to $2.76 billion, so the company is paying dividends in excess of free cash flow, which can be a red flag.
However, dividend sustainability should be analyzed from a dynamic, as opposed to static, perspective. The picture doesn't look very pretty, but the movie is different. Las Vegas Sands is scheduled to finish construction work at The Parisian and St. Regis resorts in 2016, and this should free up financial resources.
Capital expenditures are expected to decline from $1.69 billion in 2016 to $968 billion in 2017, and to only $600 million in 2018. Even assuming that operating cash flow remains stable at $3.5 billion, the company would still be able to generate $2.9 billion in free cash flow by 2018 -- more than enough to cover $2.7 billion in dividend payments.
Image source: Las Vegas Sands.
The real game changer, of course, would be improving performance in Macau. Management highlighted in the last conference call that the company is gaining market share in its main market, profit margins are improving, and demand is looking better in the important mass gaming market. During the first-quarter earnings call, CEO Sheldon Adelson remarked:
It's still too early to say that Las Vegas Sands is out of the woods, and the company will remain a risky investment until things turn for the better on the revenue front. However, management comments indicate that the worst may be over in Macau, and reduced capital expenditures should make dividend payments more sustainable over the middle term.
For investors who are willing to assume the risk, Las Vegas Sands stock looks like a smart bet with plenty of upside potential.
The article Las Vegas Sands' 6% Dividend Yield: Time to Buy? originally appeared on Fool.com.
Andrs Cardenal has no position in any stocks mentioned. The Motley Fool owns shares of Wynn Resorts, Limited. Try any of our Foolish newsletter services free for 30 days. We Fools may not all hold the same opinions, but we all believe that considering a diverse range of insights makes us better investors. The Motley Fool has a disclosure policy.
Copyright 1995 - 2016 The Motley Fool, LLC. All rights reserved. The Motley Fool has a disclosure policy.