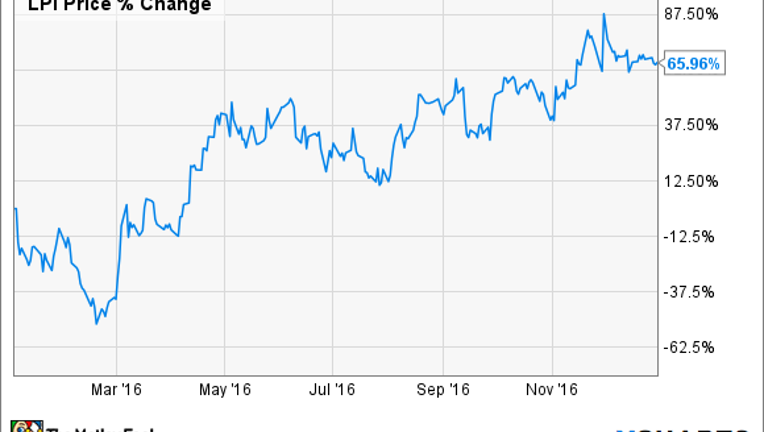 Image source: Getty Images.
Last year marked the emergence of the Permian Basin as one of America's leading oil growth plays. Producers spent billions of dollarslocking up acreage in the region to gain access to its hydrocarbon-soaked rocks. That spending spree, along with rising oil prices, fueled big rallies in the stock prices of Permian Basin drillers, including Laredo Petroleum (NYSE: LPI):
Given the continued interest in the basin and what the company sees for 2017, its stock could still have plenty left in the tank to keep flying high in 2017.
What happened last year?
Like most oil companies, Laredo Petroleum initially took a cautious approach in 2016, setting its capital budget 39% below 2015's level at $345 million, with $280 million of that amount earmarked toward drilling more wells. While that spending level projected to be 20% to 25% above anticipated cash flow, Laredo expected its production to decline. However, thanks to a combination of rising oil prices, falling costs, increased well productivity, and asset sales, Laredo increased its budget up to $420 million, which would enable it to boost output by 10%.
Laredo Petroleum also took advantage of its strong balance sheet and stock price to lock up some additional acreage within its current footprint in the Midland Basin. The company spent $125 million to add 9,200 net acres, which works out to roughly $13,500 per acre. That price was very reasonable compared to what rivals paid for acreage in the region last year.
For example, Parsley Energy (NYSE: PE) spent $215 million for 8,711 acres, or $25,000 apiece, for land in the Midland in April and $400 million for 9,140 acres, or a gaudy $44,000 apiece, for more properties in August. Meanwhile, SM Energy (NYSE: SM) paid $980 million for roughly 25,000 acres in August, or $39,500 an acre. SM Energy then ponied up $1.6 billion for 37,500 acres in October, which worked out to an astounding $45,000 per acre. These prices suggest that Laredo got a steal when it bought acreage right next door to its own, enabling it to drill longer wells, which is one of the keys to higher drilling returns.
Image source: Getty Images.
What to expect in 2017
With oil prices stabilizing and a sizable resource position, Laredo Petroleum plans to accelerate its production growth rate in 2017. The company recently announced plans to spend $530 million in capex, including $450 million on drilling and completion activities. This capital should enable it to drill enough wells to grow output by more than 15% year over year. The company plans to primarily fund that capital through internally generated cash flow, though it does have a virtually untouched $815 million credit facility to bridge any gaps between cash flow and capex.
While that is a healthy growth rate, Laredo Petroleum does trail many of its similarly sized peers in the region. For example, Parsley Energy expects output to grow a remarkable 60% next year. That is off a base of roughly 38,000 barrels of oil equivalent per day (BOE/d), which isn't that far off from Laredo's third-quarter output of 51,276 BOE/d. Parsley Energy, though, anticipates outspending cash flow to achieve this growth as it remains committed to "pulling value forward" on its legacy and newly acquired acreage. Meanwhile, the larger PDC Energy (NASDAQ: PDCE) expects output to grow 40% this year to between 82,200 to 90,400 BOE/d. Furthermore, PDC Energy only plans to outspend cash flow through the first half of the year, before becoming cash flow neutral by the second half at current prices.
Image source: Getty Images.
One reason Laredo Petroleum is growing slower than its rivals is that it has been unwilling to pay big bucks for needle-moving acquisitions. PDC Energy, for example, spent $1.5 billion to enter the Permian Basin last year by acquiring 57,000 acres in the Delaware Basin and then another $118 million earlier this year for 4,500 bolt-on acres. Meanwhile, Parsley Energy has been an acquisition machine, and just announced two more acquisitions totaling $607 million for another 23,000 net acres.
Laredo, meanwhile, has chosen to focus on improving its drilling returns, which could make it an attractive acquisition target, especially considering how hot the Permian is right now. We have already seen one publicly trade Permian producer, Clayton Williams Energy (NYSE: CWEI), snag a multibillion-dollar payday by selling out to the highest bidder. In addition, Laredo's founder and CEO has already successfully sold several oil companies over his 30-year career, so it would not be a surprise to see him join Clayton Williams and cash in on a hot market.
Investor takeaway
Laredo Petroleum is in the right place at the right time. It currently controls a prime position in America's hottest oil play, which will allow it to deliver double-digit production growth this year while living close to cash flow. That growth alone could push Laredo's stock price even higher. Meanwhile, there's potentially even more upside potential if its management team decides that now's the time to cash out.
10 stocks we like better than Laredo Petroleum When investing geniuses David and Tom Gardner have a stock tip, it can pay to listen. After all, the newsletter they have run for over a decade, Motley Fool Stock Advisor, has tripled the market.*
David and Tom just revealed what they believe are the 10 best stocks for investors to buy right now... and Laredo Petroleum wasn't one of them! That's right -- they think these 10 stocks are even better buys.
Click here to learn about these picks!
*Stock Advisor returns as of January 4, 2017
Matt DiLallo has no position in any stocks mentioned. The Motley Fool has no position in any of the stocks mentioned. The Motley Fool has a disclosure policy.