Lamborghini joins the boom in supercar SUVs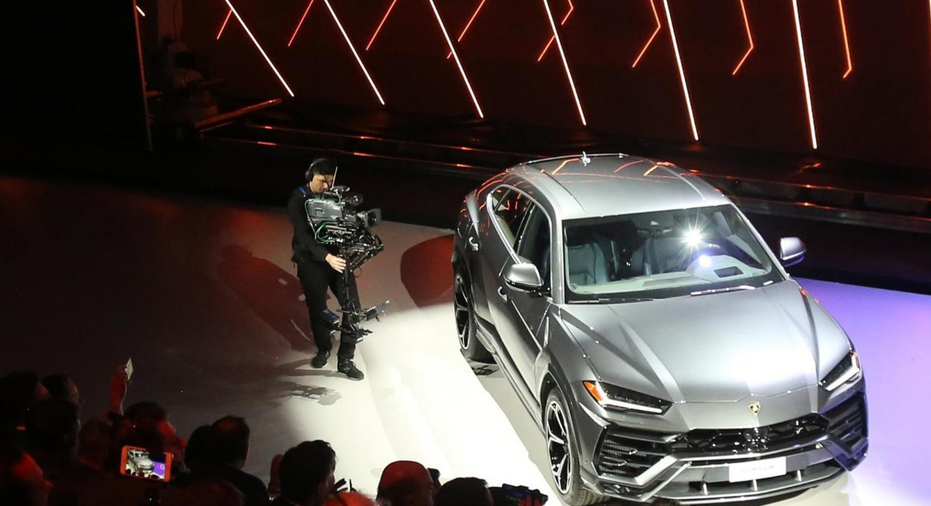 Supercar makers have long known that parked next to that snarling Lamborghini, a racing-red Ferrari, or stately Bentley at some of the globe's toniest addresses is a practical SUV. With the sport utility vehicle market growing by leaps and bounds, they increasingly want in on the profits.
Lamborghini unveiled the once-improbable Urus SUV on Monday at its headquarters in Sant'Agata, Italy, where the supercar maker owned by the Volkswagen group is expanding the factory to meet utility vehicle demand.
The Urus enters a luxury field crowded with the Mercedes G-Class, the Bentley Bentayga and the trailblazing Porsche Cayenne — and soon to be joined by Aston Martin, Rolls Royce and in all probability, Ferrari.
Yianni Charalambous placed an order even before he saw the Urus in person Monday. He expects to park it next to his Lamborghini Aventador supercar come September.
"I wanted a double-Lamborghini garage," Charalambous said, growing impatient while a technical glitch delayed the unveiling ceremony on the Sant'Agata factory floor.
"I have always had a four-by-four. And I have always had a Lamborghini," the Londoner said. "I have had Range Rovers. I wanted something different."
Lamborghini dabbled in the SUV market in the 1980s and 1990s with the boxy LM 002, which sported a body shape not all that different from the Hummer's. But the Hummer's lower price was hard to beat. Lamborghini ended up only building a few hundred of the LM 002.
"Now we live in a different world," John Giunta, a Lamborghini dealer in Sarasota, Florida, said. "The lines of this is more modernized, and something of this price point can survive now."
The 32 Lamborghini dealers in the United States already have orders ranging from 10 to 25, Giunta said. In the U.S., the Urus starts at $200,000 (168,718 euros.) The European base price is just under 171,500 euros ($203,322.)
The Urus boasts the high center-of-gravity which has made SUVs so popular, but Lamborghini chief engineer Maurizio Reggiani said that the height can be adjusted to a lower drive for the track or higher for off-road performance.
The Urus can go from 0 to 100 kilometers per hour (62 mph) in 3.6 seconds and brake from 100 kilometers an hour to a stop in 33.7 meters (111 feet.) At a maximum speed of 305 kilometers an hour (189.5 mph), Lamborghini boasts that it is "the fastest SUV in the world."
Analysts say that the move into SUVs has become a natural fit for most brands, despite the risk of alienating aficionados.
"I think if you look at those brands' image, I think you would look at an SUV — especially a Lamborghini — as almost a sell-out move. I don't think that is the case anymore," Jeff Schuster, senior vice president at LMC Automotive in Detroit.
From being nonexistent in 2006, high-end SUVs have more than quadrupled in sales since 2010, from 4,700 units to almost 21,000 units in 2016, driven by the Mercedes G-Class and Bentley Bentayga, according to IHS Automotive.
The entry of the Urus along with the planned Aston Martin DBX and Rolls Royce "High Side Vehicle" is expected to push those numbers up to 29,300 by 2020.
Even Ferrari is considering entering the category, with a decision expected early next year, which could leave McLaren as the only hold-out among supercars.
Luxury SUVS are following a mass-market trend. SUVs are the fastest-growing overall segment of the car market, tripling in sales in a decade from just below 8 million in 2006 to nearly 26.5 million last year. SUV sales are forecast by IHS Automotive to grow by another 28 percent to over 34 million units by 2020.
Before having a true luxury option, IHS automotive analyst Ian Fletcher said, many SUV owners went to private modifiers and tuners to increase performance and add luxury swag to their off-the-line mass-market vehicles.
"A lot of manufacturers said, 'Oh, we can have a piece of that,'" Fletcher said.
The decision to enter the SUV market was a no-brainer for Lamborghini. As part of the VW group, the Italian Lamborghini shares luxury SUV platforms with the Bentley Bentayga and the Audi Q7, bringing down development costs and increasing profit margins.
Lamborghini has not released sales goals, but IHS forecasts Urus sales of 2,900 a year to a peak in 2019-2020, putting it on par with the Lamborghini Huracan.
"This is going to sell very well," said John Littlefield, who owns Lamborghini Carolinas dealership in Greensboro, North Carolina. "I owned one of the old LM 002....The LM 002 was a beast. This is more refined luxury and beast."