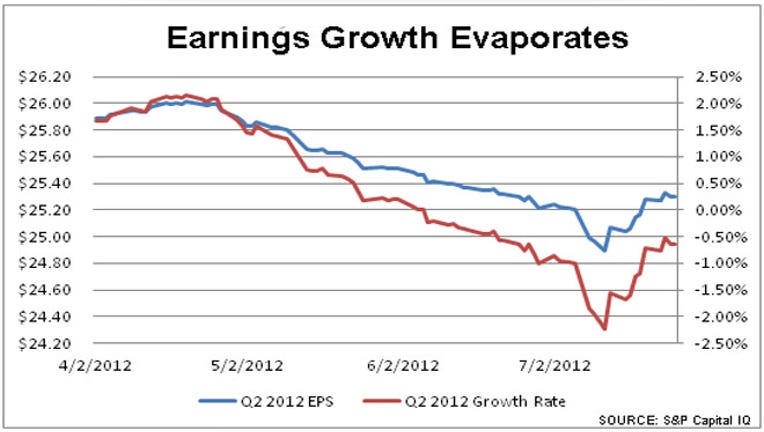 With the first half of earnings season now in the books, Corporate America has done little to quell mounting jitters about the global economy and future earnings growth.
Even though 66% of S&P 500 companies that have reported results as of Thursday morning have beaten earnings expectations, S&P Capital IQ is now warning actual earnings may decline year-over-year for the first time since the third quarter of 2009.
Gloomy guidance from bellwether companies like shipping giant UPS (NYSE:UPS) and Ford (NYSE:F) are only adding to the nervousness.
"The quality of the earnings season has deteriorated. It's pretty negative," said Bruce McCain, who manages over $20 billion as chief investment strategist at KeyCorp.'s (NYSE:KEY) Key Private Bank. "It just doesn't suggest you're going to have much let up in the overall downtrend in earnings growth."
Earnings Beats Dry Up
According to S&P Capital IQ, earnings at S&P 500 companies have dipped 0.65% from the second quarter of 2011, compared with growth of 7.5% in the first quarter and 19.1% a year ago.
This year's declines have been driven by a 14.81% slump in the materials sector earnings and a 14.41% slump from energy companies like ConocoPhillips (NYSE:COP).
So far, 66% of companies that have reported results have exceeded expectations from analysts, down from 71.4% a year ago and 69% in the first quarter, S&P says.
However, companies are only beating by an average of about 3.8%, which is barely half the 10-year average of around 6%.
Revenues Spell Trouble
More alarming are the disappointing top-line figures reported by a slew of big-name companies, including McDonald's (NYSE:MCD), General Electric (NYSE:GE) and Honeywell International (NYSE:HON).
Revenue is seen inching up just 2.11% for the second quarter, dragged down by a 4.59% contraction from slumping financials and meager growth of 0.87% from consumer staples companies.
"A slowing top line -- and disappointingly slow -- does not augur well for the next few quarters or so," said McCain.
Just 40% of S&P 500 companies that have reported so far have managed to top Wall Street's revenue expectations, the lowest revenue beat rate in at least 10 years, according to Christine Short, senior manager of corporate earnings at S&P Capital IQ.
Even Apple (NASDAQ:AAPL), once guaranteed to knock estimates out of the park, reported just its second miss on both top and bottom line results over the past 39 quarters.
Guidance Grows Gloomier
At the same time, managements have been guiding investors and analysts lower for the coming quarters amid growing dread over Europe's debt mess.
According to S&P, 36 of the 51 companies that have issued third-quarter guidance so far this season have given negative guidance, compared with 10 that have raised their outlooks. That negative-to-positive ratio of 3.6 is significantly worse than the 10-year historical ratio of 2.0.
Earlier this week UPS, which is seen as a bellwether for the broader economy, axed its full-year EPS outlook below the Street's expectations after saying second-quarter earnings inched up just 2.2%.
Scott Davis, the CEO of Atlanta-based UPS, acknowledged that "increasing uncertainty in the United States, continuing weakness in Asia exports and the debt crisis in Europe are impacting projections of economic expansion."
Analysts have been ramping down their earnings growth estimates for the second half of the year, projecting a decline of 0.05% for the third quarter and a rise of just 11.7% in the fourth. As recently as January, analysts projected more robust fourth-quarter earnings expansion of 16.7%.
"We are seeing drastic cuts to third and fourth quarter growth rates," said Short. "That's what is most alarming: this trend could continue through the second half of the year."
Of course, investors should take forecasts with a grain of salt as CEOs attempt to deftly management expectations.
"We've been in a period of time and will continue to be in a time where you'll hear subdued outlooks," said Scott Wren, senior equity strategist at Wells Fargo's (NYSE:WFC) Wells Fargo Advisors. "The last thing they want to do is over promise and under deliver."
Blame the Euro!
Companies have largely chalked up weaker-than-expected results and cautious guidance to the trouble in Europe, which experienced an intensification of its debt crisis in recent months.
Roughly 50% of S&P 500 revenue derives from overseas. S&P Capital IQ estimates 14% of revenue stemmed from Europe in 2011, down from 26% in 2010. Short predicted a further shrinkage, perhaps to single digits, this year.
Many companies have also cited "negative currency impact," which is CFO code for the rising value of the U.S. dollar as investors flee the euro and other currencies seen as risky.
For example, United Technologies (NYSE:UTX) estimated foreign exchange fluctuations hurt second-quarter sales by $800 million, contributing to a 4.6% decline in revenue to $13.81 billion.
Earnings Report Card
Reactions to the disappointing start to earnings season have been mixed as the S&P 500 is up more than 7% so far this year, but still off from 52-week highs set in early April.
Wren said he had been bracing for a slowdown in earnings and is pleased to see growth from cyclically-sensitive sectors like industrials and technology.
Wren said he would give the first half a "C+" or "B-" and he remains confident in Wells Fargo's 1400-1450 target on the S&P 500.
"This earnings season does not in any way, shape or form change that," said Wren.
Others are clearly more concerned.
Short scored it a "C" due in part to the decent percentage of earnings beats, while McCain's worries about the lack of top-line growth led him to give the first half just a "D."