'La La Land' Wins Big at Golden Globes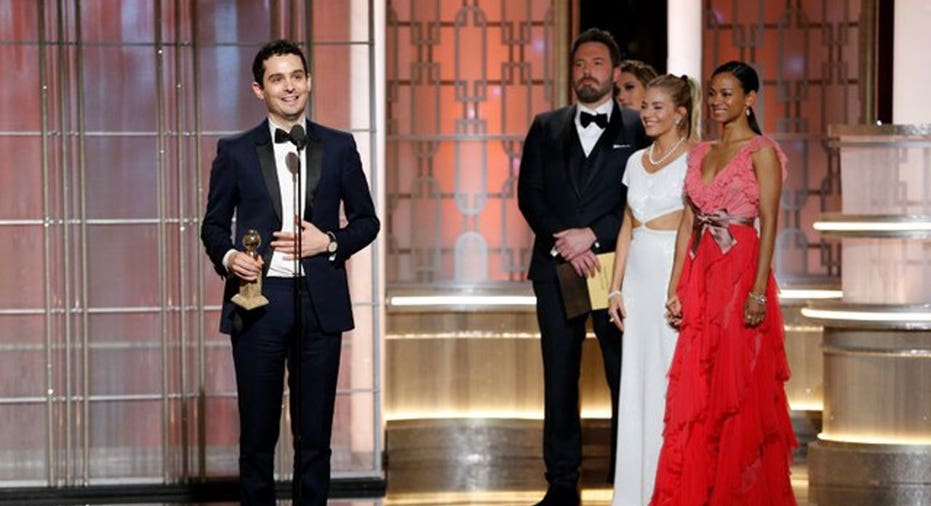 "La La Land" danced off with seven Golden Globes on Sunday on a night marked by upsets and a stinging indictment of U.S. President-elect Donald Trump by Hollywood favorite Meryl Streep.
"La La Land", a romantic musical about a struggling actress and a jazz pianist trying to make it in Hollywood, took home Globes for best comedy/musical and for its stars Ryan Gosling and Emma Stone, as well as for director Damien Chazelle, screenplay, score and original song.
But the evening's most dramatic moments came from 67-year-old Streep, the most respected actress of her generation, while accepting her lifetime achievement award.
Although the three-time Oscar winner never mentioned Trump's name, she said the most heartbreaking performance of the year came "when the person asking to sit in the most respected seat in our country imitated a disabled reporter."
"I still can't get it out of my head because it wasn't in a movie. It was real life," Streep said.
Streep wasn't the only celebrity to get political at the Globes. First-time host Jimmy Fallon opened the three-hour ceremony by calling the awards show "one of the few places left where America still honors the popular vote" - a dig at Trump's victory despite losing the popular vote to Hillary Clinton.
The night belonged to "La La Land," whose seven wins set a new record for the most Golden Globes by a single movie.
The other big movie award went to low-budget "Moonlight," about a young boy growing up in an impoverished neighborhood of Miami, which was named best drama.
"The movie touches people because they see the authenticity that we put into it. We weren't trying to do anything other than tell our story," said director Barry Jenkins.
The Globe wins, handed out by the Hollywood Foreign Press Association, strengthened the front-runner status of "La La Land" and "Moonlight" for the Oscars in February.
Casey Affleck, star of "Manchester by the Sea," won best drama actor for his role as a man riven by grief, while Viola Davis won best supporting actress, as expected, for playing a downtrodden wife in the African-American family drama "Fences," the movie version of the award-winning play by August Wilson.
"It's not everyday Hollywood thinks of translating a play to screen. It doesn't scream moneymaker, but it screams art, it screams heart," Davis said.
Elsewhere, the Golden Globes lived up to their reputation for upsets.
Isabelle Huppert was named best drama actress for the French psychological thriller movie "Elle" in an upset win over Natalie Portman for "Jackie," who has won a slew of critics' awards.
In television, hip hop show "Atlanta" won best TV comedy series and best actor for its star and creator Donald Glover, beating old favorites including "Veep" and "Transparent."
"This is incredible," said "Atlanta" creator and lead actor Donald Glover. "We didn't think anyone was gonna like this show so we really appreciate it."
Netflix's British royal drama "The Crown" won over fantasy "Game of Thrones" and sci-fi series "Westworld" for best drama series.
Tracee Ellis Ross, a first-time Golden Globe nominee, was named best comedy actress for playing the mom in African-American family comedy "black-ish."
(Writing by Jill Serjeant; Editing by Mary Milliken)