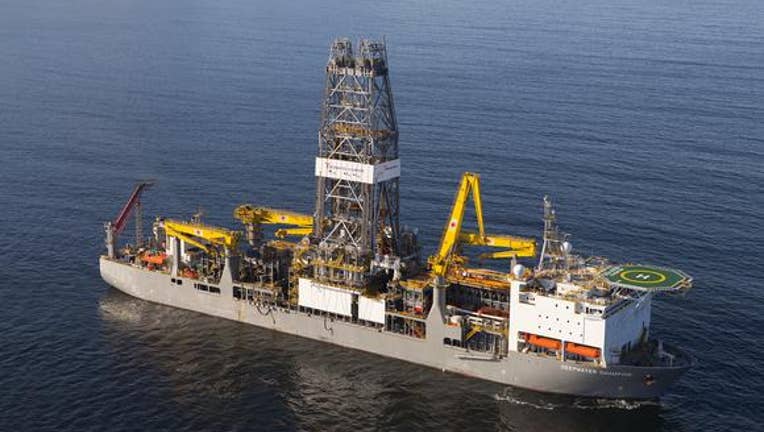 Image source: Transocean.
What: Crude oil prices jumped 3% today, which fueled a big rally in oil stocks. Several were up by double digits, including Transocean , ENSCO , EP Energy , Noble , and Seadrill Partners .
So what: Crude oil was driven higher by an oil workers' strike in Kuwait. The strike, which is now in its third day, has caused roughly 1.5 million barrels per day of production in that country to go offline. That's more than half of its daily output and roughly the amount of oversupply currently in the oil market.
Higher crude prices always seem to provide a lift to oil stocks, even if the reason behind crude's move is unrelated. Today, for example, the bulk of the biggest movers are offshore drillers Transocean, ENSCO, Noble, and Seadrill Partners, which don't see the immediate boost from rising oil prices that a producer like EP Energy would. Instead, these companies need crude to move meaningfully higher -- think $75 a barrel or more -- before producers will start pouring more money into new offshore wells, which would enable offshore drilling contractors to put some of their idle rigs back to work. That said, crude will likely only go that high once the oil market is back in balance due to improving market fundamentals, not because of a temporary supply issue such as the one caused by striking workers in Kuwait.
Now what: While the oil workers' strike in Kuwait is providing a boost to both crude oil and oil stocks today, it's likely a short-lived one. Instead, offshore drillers need to see supply and demand rebalance naturally in order to drive the oil price high enough to create the need for new offshore developments. We're still at least a year away from that happening, which suggests that there's still a lot of volatility and uncertainty ahead for these oil stocks.
The article Kuwait Jump-Starts Oil Prices, Sends Oil Stocks Soaring (RIG, ESV, EPE, NE, SDLP) originally appeared on Fool.com.
Matt DiLallo has no position in any stocks mentioned. The Motley Fool has no position in any of the stocks mentioned. Try any of our Foolish newsletter services free for 30 days. We Fools may not all hold the same opinions, but we all believe that considering a diverse range of insights makes us better investors. The Motley Fool has a disclosure policy.
Copyright 1995 - 2016 The Motley Fool, LLC. All rights reserved. The Motley Fool has a disclosure policy.