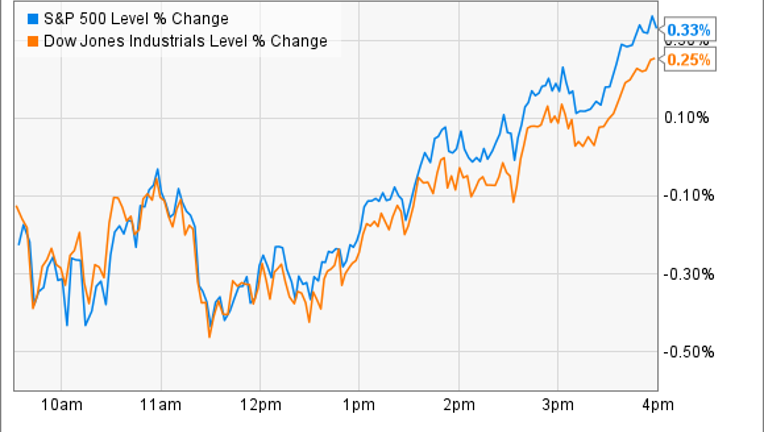 Stocks ended higher today ahead of a key jobs report due out before the market opens on Friday morning.
The Dow Jones Industrial Average gained 44 points, or 0.2%, and the S&P 500 rose 7 points, or 0.3%. Friday's jobs report is expected to show that employers added 200,000 workers in the month of February. The actual growth pace, in addition to wage gains and average working hours, will likely inform the Federal Reserve's debate on whether to raise interest rates in its monetary policy meeting later this month.
Individual stocks making notable moves today included Kroger and Stratasys , which both posted quarterly earnings results before the opening bell.
Kroger posts a growth slowdown Kroger was the biggest percentage loser in the S&P 500 following quarterly earnings results that revealed a slowdown from its recent market-trouncing growth pace. Comparable-store sales improved by 4%, enough to beat rival grocery chains, but below the 5% (or better) jump Kroger had managed in each of the last 5 quarters.
Comps excluding fuel sales. Source: Kroger financial filings.
Kroger has for years now been grabbing market share both on the value end of the industry, mainly from Wal-Mart and at the premium end from Whole Foods . This quarter's results indicate continued share gains since Wal-Mart posted a 1% comp in Q4 as Whole Foods' comps fell 2%. However, Kroger's pace of outperformance did worsen, all the same.
For 2016, CEO Rodney McMullen and his executive team forecast comps of 3% at the midpoint of guidance, down from last year's banner 5% result. The company also plans to significantly ramp up investments on its business, with capital expenditures set to total over $4 billion up from $3 billion in 2015.
Kroger projects roughly $2.25 per share in earnings this year, which is right within management's goal of between 8% and 11% annual profit growth. That leaves shares priced at below 17 times expected earnings -- a relative bargain compared to the 19 multiple that investors were quoted through all of 2015.
Stratysys says profits are coming3D printing specialist Stratasys popped 17% higher today, bringing shares into positive territory for 2016 (but they remain down 60% since last March).
Source: Stratasys.
The company posted a brutal 20% quarterly sales decline to $173 million that was nevertheless at the high end of the guidance it issued three months ago. The sales figure also beat consensus estimates, as Wall Street had been bracing for an even bigger slump.
"Our fourth quarter results reflect the impact of a market environment that is consistent with conditions we have observed throughout the year," CEO David Reis said in a press release.
Executives see a return to growth in the cards, though. 2016 sales are projected to tick higher by 3% after falling 7% last year. Meanwhile, investors may be applauding the results of the Stratasys' reorganization that appears set to produce more meaningful profits.
After lowering expenses, including through a 10% headcount reduction in Q4, the company "believes it can achieve a significant improvement in its operating structure in 2016 that will translate into improved operating profit." Stratasys forecast a small, but significant, operating margin of between 3% and 5% of sales that would translate into roughly $36 million of operating profit compared to losses in each of the last three fiscal years.
The article Kroger Co. Slumps and Stratasys Ltd. Soars as Stocks Rise originally appeared on Fool.com.
John Mackey, co-CEO of Whole Foods Market, is a member of The Motley Fool's board of directors. Demitrios Kalogeropoulos owns shares of Whole Foods Market. The Motley Fool owns shares of and recommends Whole Foods Market. The Motley Fool recommends Stratasys. Try any of our Foolish newsletter services free for 30 days. We Fools may not all hold the same opinions, but we all believe that considering a diverse range of insights makes us better investors. The Motley Fool has a disclosure policy.
Copyright 1995 - 2016 The Motley Fool, LLC. All rights reserved. The Motley Fool has a disclosure policy.