Kroger Co. Earnings: 50 Quarters of Growth and Counting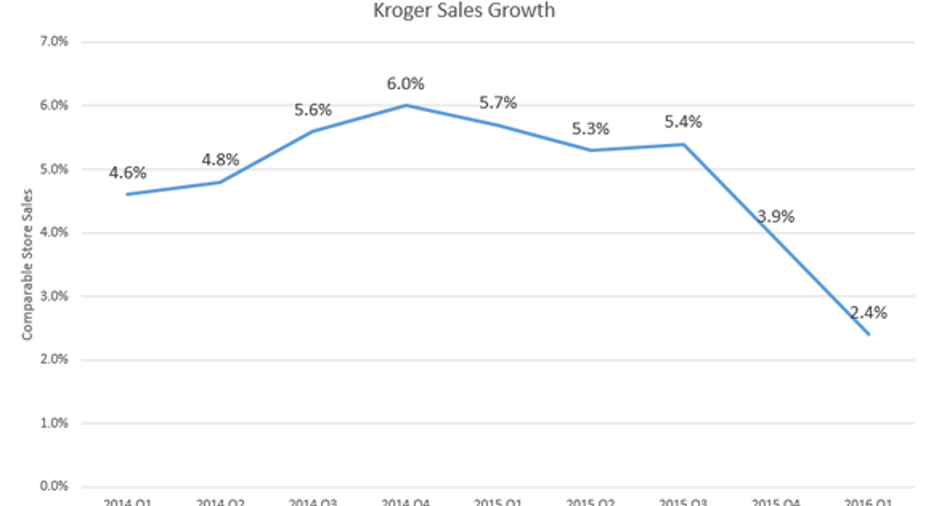 Kroger posted fiscal first-quarter results on Thursday that showed progress along all of management's key operating goals. Sales growth slowed down, as expected, but earnings spiked higher by double digits as the supermarket chain reiterated its full-year revenue and profit forecasts.
Here's how the headline results stacked up against the prior year:
| Metric | Q1 2016 Actuals | Q1 2015 Actuals | Growth (YOY) |
| --- | --- | --- | --- |
| Revenue | $34.6 billion | $33.1 billion | 5% |
| Net income | $680 million | $619 million | 10% |
| Earnings per share | $0.71 | $0.63 | 13% |
Source: Kroger financial filings.
What happened this quarter?
Kroger's comparable-store sales growth slowed to 2.4% following a near 6% bounce in the prior-year period. That result was still enough to beat out rivals Wal-Mart and Target , though. These retailers posted 1% comps for the first quarter.
Comps growth by quarter, excluding gas sales. Source: Kroger financial filings.
Here are the other highlights from the quarter:
Kroger's comps gain marked the 50th consecutive quarter of growth by that metric as it entered into its 11th straight year of stealing market share, especially from chief rival Wal-Mart.
Profitability improved nicely, with operating margin ticking up to 3.5% of sales from 3.3% a year ago. This jump suggests the sales growth slowdown had more to do with food price deflation than with competitive pressures.
Kroger expanded its online ordering and pickup services to 25 markets from seven the prior quarter. Grocery retailers are attacking this sales channel (Target has called digital growth a major priority). Kroger's approach has been to use what it learned from its Harris Teeter and Vitacost acquisitions to roll out online services nationally over time.
Return on invested capital held steady at 14%.
Operating cash flow spiked to $2.1 billion from $1.8 billion a year ago.
What management had to say
CEO Rodney McMullen called the company's 50-quarter growth streak "extraordinary," and credited Kroger's employees for helping deliver consistent results. He highlighted that track record as evidence that the retailer can succeed even in a slower-growth setting like the current one.
"We've been through all kinds of business cycles during the last 50 quarters," McMullen said, "and we've demonstrated time and again that regardless of the environment, you can count on Kroger to continue executing our strategy, investing in growth and creating value for our customers and shareholders."
Looking forward
McMullen and his team affirmed their guidance for sales and earnings growth in fiscal 2016. Comps should improve by roughly 3%, compared to last year's nearly 6% jump. Profit will rise 10% to $2.26 per share, putting Kroger right on pace with management's long-term goal of between 8% and 11% earnings growth. Investors also get the benefit of a steadily increasing dividend -- funded from spiking cash flow -- for what amounts to a double-digit annual return for owning this stock.
The article Kroger Co. Earnings: 50 Quarters of Growth and Counting originally appeared on Fool.com.
Demitrios Kalogeropoulos has no position in any stocks mentioned. The Motley Fool has no position in any of the stocks mentioned. Try any of our Foolish newsletter services free for 30 days. We Fools may not all hold the same opinions, but we all believe that considering a diverse range of insights makes us better investors. The Motley Fool has a disclosure policy.
Copyright 1995 - 2016 The Motley Fool, LLC. All rights reserved. The Motley Fool has a disclosure policy.