Kroenke set for full ownership of Arsenal after Usmanov deal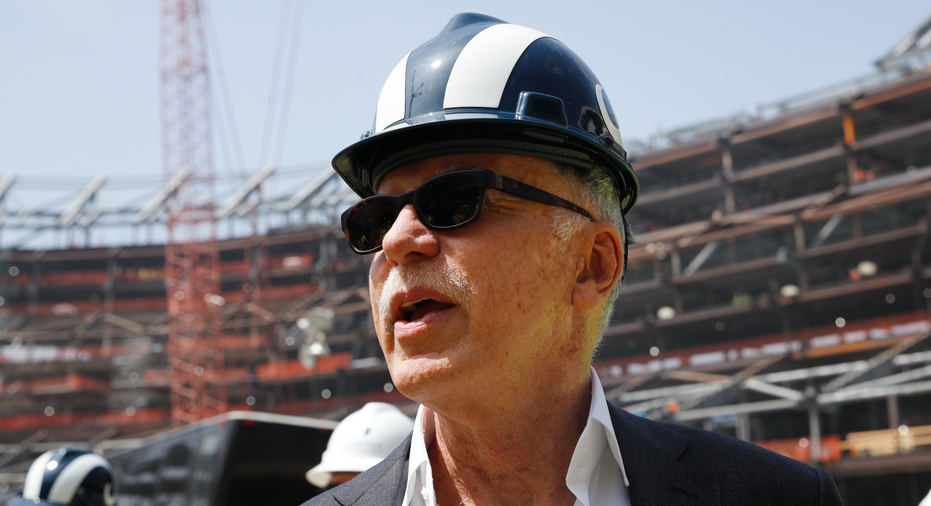 American sports magnate Stan Kroenke will take full ownership of Arsenal after winning a power struggle with a rival billionaire by securing a deal valuing the English Premier League club at 1.8 billion pounds ($2.3 billion).
Russian businessman Alisher Usmanov, who was denied a place on the Arsenal board by Kroenke despite building up his stake to 30 percent, has accepted defeat and agreed to sell up to the majority shareholder. Kroenke, who also owns the NFL's Los Angeles Rams, currently owns 67 percent of Arsenal and has taken a bank loan to spend 550 million pounds on Usmanov's shares.
The deal with Usmanov takes Kroenke beyond the 90 percent threshold that allows him to mount a mandatory bid for the remaining shares to gain 100 percent of the London club.
United States-based investment vehicle Kroenke Sports and Entertainment said it received an "irrevocable undertaking" from Usamanov's Red and White Securities to accept the offer for its 18,695 Arsenal shares as soon as possible. KSE said the holders of the remaining 3 percent of Arsenal will be entitled to receive 29,419.64 pounds for each share.
The main Arsenal fan group said Kroenke mounting full control "marks a dreadful day" for the club, which is preparing for its first season with Unai Emery as coach after Arsene Wenger's 22-year reign ended.
"Kroenke plans to forcibly purchase the shares held by Arsenal fans. Many of these fans are AST members and hold their shares not for value but as custodians who care for the future of the club," the Arsenal Supporters' Trust said in a statement. "Kroenke's actions will neuter their voice and involvement."
Kroenke addressed annual general meetings where he was questioned along with other directors in front of shareholders and media. Those partially public forums are now likely to end as Arsenal prepares to become entirely privately owned like most of the rest of the Premier League.
Kroenke dismissed concerns of fans who last saw the team win the Premier League in 2004 and finish sixth last season to miss out on the Champions League.
"KSE believes moving to private ownership will bring the benefits of a single owner better able to move quickly in furtherance of the club's strategy and ambitions," Kroenke's company said. "KSE is a committed, long-term owner of the club."
Kroenke, who — like Usmanov — first started amassing shares in Arsenal in 2007, succeeded in gaining full control in 2011. Usmanov publicly questioned the lack of investment in the squad as he was shut out of any decision-making by Kroenke, who also owns Major League Soccer's Colorado Rapids.
Usmanov did not explain why he has sold up, having mounted a full takeover bid himself last year that Kroenke rejected, but he did express frustration at the club's current plight.
"I have decided to sell my shares in Arsenal Football Club which could be the best football club in the world," Usmanov said. "I wish all the best and great success to this wonderful football club and to all those whose lives and careers are entwined in it."
Usmanov's business empire spans from mining assets to media. He has a majority share in VKontakte, Russia's most popular social media network with 270 million accounts, and other online assets. The tycoon, who started out with a plastic bags business, also heads the International Fencing Federation.
He is divesting himself of a significant investment in London at a time of bitter diplomatic relations between Britain and Russia. Chelsea owner Roman Abramovich did not have his British visa renewed earlier this year amid a crackdown by authorities on associates of Russian President Vladimir Putin after the poisoning of a former Russian spy in England that London blames on Moscow.
___
More Premier League coverage: www.apnews.com/tag/PremierLeague