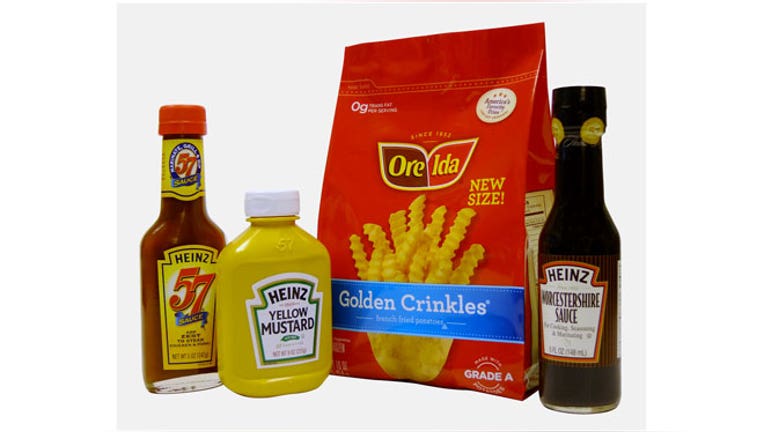 Kraft Heinz Co (NASDAQ:KHC), the packaged food company formed by the merger of ketchup maker H.J. Heinz Co and Kraft Foods Group Inc, said sales fell 4.9% at Kraft and 4.1% at ketchup maker Heinz in the last quarter before the merger was completed.
Kraft Heinz shares declined 2.3% to $77.00 in after-hours trading.
Sales at Kraft fell due to weak demand for its beverages, a result of fewer promotions versus the year-earlier period, while the strong dollar hurt sales at Heinz.
Heinz, backed by Warren Buffett's Berkshire Hathaway Inc (NYSE:BRK.A) and Brazilian private equity firm 3G Capital, combined with Kraft Foods Group to create the third-largest North American food company. The merger was completed on July 2, just days after the end of the two companies' fiscal second quarters.
Kraft's net income rose to $551 million, or 92 cents per share, in the second quarter ended June 27, from $482 million, or 80 cents per share, a year earlier.
Net loss attributable to Heinz shareholders widened to $344 million, or 91 cents per share, from $53 million or 14 cents per share, a year earlier.
Kraft's net revenue fell to $4.52 billion from $4.75 billion, while Heinz's revenue fell to $2.62 billion from $2.73 billion.
Kraft Heinz, whose brands include Oscar Mayer, Philadelphia and Maxwell House, has said it expects to save about $1.5 billion in annual costs by the end of 2017. 3G has a reputation for introducing aggressive cost cuts and improving efficiencies at other companies it has invested in, including Heinz and Anheuser-Busch InBev NV <ABI.BR>.
"The company is focused on the difficult and challenging process of integrating our two businesses," Kraft Heinz's chief executive, Bernardo Hees, said in a statement. "We have a lot of hard work ahead of us as we continue to design our new organization, always putting our consumers first."
(Reporting by Ramkumar Iyer and Anjali Athavaley in Bengaluru; Editing by Saumyadeb Chakrabarty and Leslie Adler)