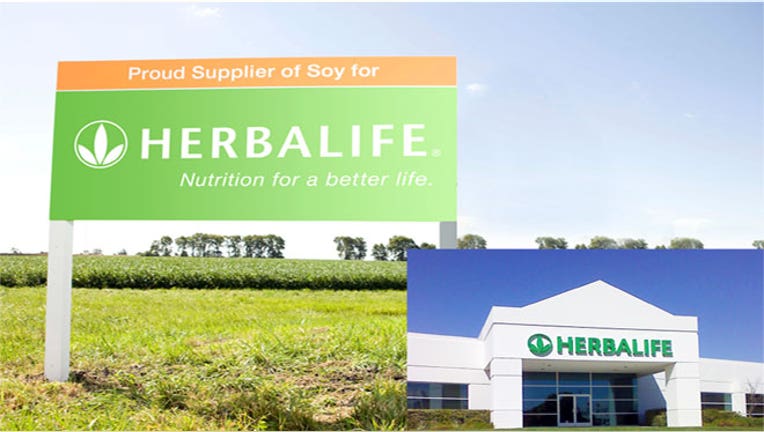 Shares of Herbalife (NYSE:HLF) retreated 5% on Tuesday afternoon after one analyst downgraded the controversial nutrition company due to concerns the KPMG insider-trading scandal will lead to decreased financial flexibility.
The bearish note from D.A. Davidson comes after Herbalife said KPMG has resigned as its auditor and withdrawn three years of audit reports because a partner at the Big Four accounting firm allegedly disclosed nonpublic information to a third party.
"This is and will be disruptive to the stock, but hopefully not the company," the analyst, Tim Ramey, wrote in a note to clients. "For now it would be imprudent for us to continue recommending purchase of Herbalife's shares."
Ramey slashed his price target on Herbalife to $38 from $78 and downgraded his rating to "neutral" from "buy."
Ramey said the KPMG episode means Herbalife will be out of compliance with New York Stock Exchange requirements, which could mean the company is in violation of its loan covenants and limit its ability to buy back stock due to a lack of financial liquidity. Herbalife may be able to obtain a covenant waiver due to the unusual circumstances, he said.
Herbalife may also receive a delisting notice from the NYSE, though it is "highly unlikely they will be delisted," Ramey said.
FOX Business's Charlie Gasparino reports Herbalife officials "doubt" the loss of audits will lead to a NYSE delisting. NYSE told Gasparino the company is likely to receive a "cure period" to get new audits.
After initially dropping just about 1% on the KPMG news, shares of Herbalife experienced heavier selling after the Davidson downgrade and were recently off 5.26% to $36.37. By comparison, shares of Skechers (NYSE:SKX) traded higher than before disclosing KPMG was withdrawing its audits as well due to the insider-trading scandal.
While he kept his EPS targets the same, Ramey axed his long-term price target on Herbalife to $90 from $180 due to his view that "there is heightened risk and volatility near-term, but excellent value in the longer term."
It's not clear whether the third party bought or sold shares of Herbalife based on the nonpublic information that the KPMG partner allegedly disclosed to it.
"KPMG's 22,000 partners and employees unequivocally condemn this individual's rogue actions," KPMG said in a statement.
Herbalife, like Skechers, stressed that KPMG resigned as its auditor "solely" due to the scandal and not because of other issued related to Herbalife itself.
Herbalife has been one of the most talked about stocks on Wall Street in recent months, ever since billionaire investor Bill Ackman disclosed a short position and called the company a "pyramid scheme." Other hedge-fund giants like Carl Icahn and Daniel Loeb have come to Herbalife's defense, squeezing Ackman's short bet.