Kobe Steel crisis deepens as more data tampering revealed; shares tumble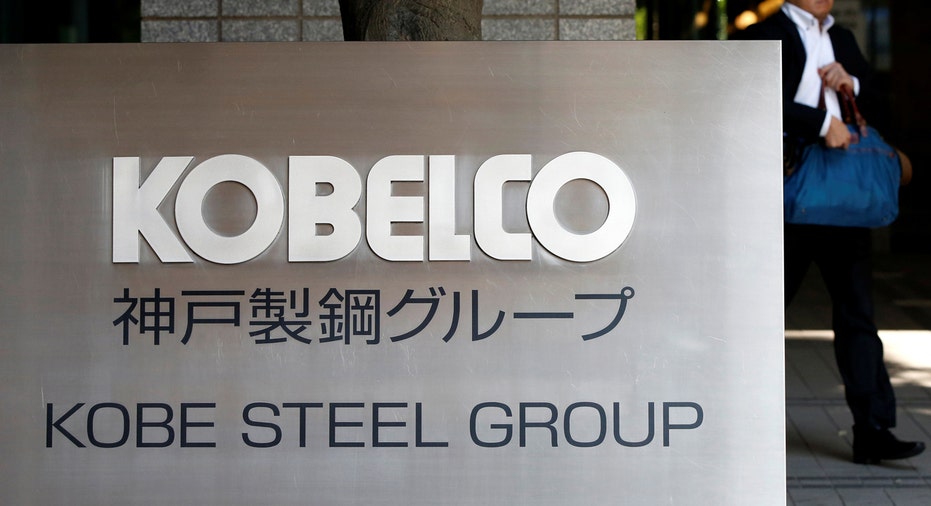 Japan's Kobe Steel Ltd plunged deeper into crisis on Wednesday as fresh revelations showed data fabrication at the steelmaker was more widespread than initially thought, heightening a safety scare along the global supply chain.
Investors, worried about the financial impact and potential legal fallout, again dumped Kobe Steel stock, wiping about $1.6 billion off its market value in two days.
Kobe Steel said late on Wednesday it found 70 cases of tampered data on materials used in optical disks and liquid crystal displays at its Kobelco Research Institute Inc, which makes and tests products for the company. It also found one case of falsified data on iron powder products shipped to a customer.
An internal probe carried out since it found issues in its aluminum and copper business has not found other cases of data tampering, Yoshihiko Katsukawa, a managing executive officer at KobeSteel, told a news conference.
He said the company - which has said it was examining possible data falsifications going back 10 years - has begun an external investigation of all its units, including those overseas.
"We can't rule out the possibility that the external investigation will find other cases," Katsukawa said, adding no customers had raised any safety issues or stopped buying its products.
One customer, Central Japan Railway, said some parts it received from Kobe Steel for its bullet trains did not meet Japanese Industrial Standards, but there were no safety issues.
Kobe Steel President Hiroya Kawasaki will meet a senior official at the industry ministry on Thursday, the ministry said in a statement.
The new revelations come after Kobe Steel admitted at the weekend it had falsified data about the quality of aluminum and copper products used in cars, aircraft, space rockets and defense equipment - a fresh blow to Japanese manufacturers' reputation for quality production.
There have been previous cases in Japan involving falsified data, including at Nissan Motor, Mitsubishi Motors and Takata, which filed for bankruptcy this year over faulty airbags that were blamed for 17 deaths and scores of injuries.
In 2015, it was revealed that Toyo Tire & Rubber fabricated data to secure government approval for materials to absorb shocks from earthquakes. Conglomerate Toshiba Corp is still battling the fallout of a scandal over reporting inflated profits.
The corrosive business practices have raised broader questions over corporate governance in Japan, and cast doubt on the integrity of a manufacturing industry once the envy of the world.
"The scandal looks similar to that of Toyo Tire, and not as massive (or) devastating as Takata's.Kobe Steel's technology is not something easily substitutable by others, and existing customers have nowhere else to go," said Yasuo Sakuma, Chief Investment Officer at Libra Investments in Tokyo.
Kobe Steel faces potential costs from any product recalls, replacements and possible litigation, including class-action suits in the United States, Yuji Matsumoto, an analyst at Nomura Securities, said in a report.
The data tampering at its aluminum unit could also hit plans to expand the business as carmakers increasingly turn to the material, which is lighter than steel, to meet tighter environmental rules.
"Aluminum is one of Kobe Steel's key focus areas in the medium term as part of its strategy to help lighten vehicles, (and) this will certainly have a negative impact on the expansion," Matsumoto noted.
Multinationals including Toyota Motor, Ford Motor and planemakers Boeing and Mitsubishi Heavy Industries have said they are investigating the safety of products from Kobe Steel.
REPEAT OFFENDER?
It's not the first time Kobe Steel has been caught up in falsifying data.
In June of last year, it said an affiliate, Shinko Wire Stainless Co, falsified data on tests for tensile strength of some stainless steel wire for springs over a period of more than nine years. And in 2006, Kobe Steel said its Kakogawa steelworks in western Japan falsified soot emissions data over five years.
In a statement on Wednesday, Kobe Steel denied a Nikkei business daily report that it intended to put its real estate business up for sale to help shore up its finances. The company said it was assessing its options.
The steelmaker reported losses in the last two financial years, but has said it expects to return to profit this year.
Sales at Kobe Steel's aluminum and copper division fell 6.4 percent to 323.3 billion yen ($2.9 billion) in the year to March, and recurring profit dropped by more than a fifth to 12 billion yen.
($1 = 112.2700 yen)
(By Yuka Obayashi and Tomo Uetake; Additional reporting by Sam Nussey, Kaneko Kaori, Makiko Yamazaki and Hideyuki Sano; Writing by Aaron Sheldrick; Editing by Shri Navaratnam and Ian Geoghegan)