Kobe Bryant to Begin His Next $100M Chapter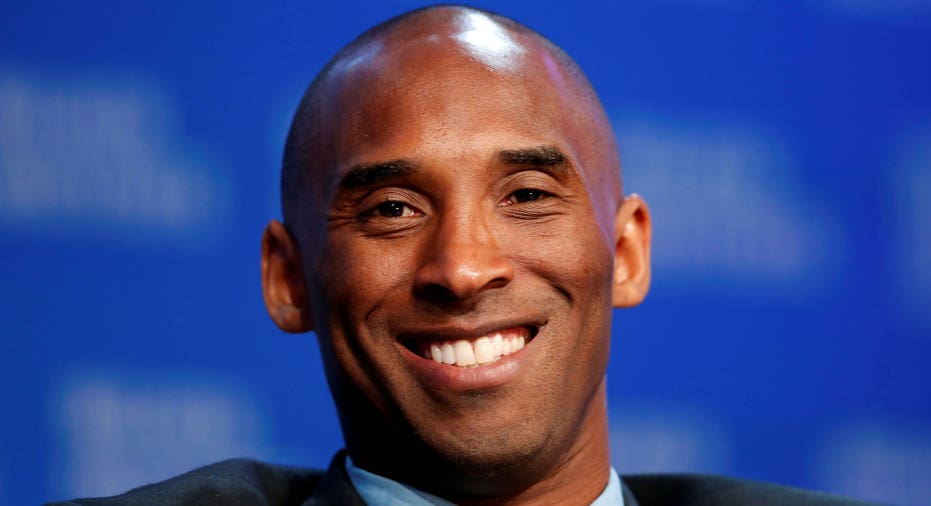 Meet Kobe Bryant, venture capitalist.
The retired NBA star will today unveil his venture-capital fund, a $100 million vehicle for investing in technology, media and data companies.
Mr. Bryant, who turns 38 Tuesday, isn't going it alone: He is partnering with 43-year-old Jeff Stibel, a longtime entrepreneur and investor who was introduced to Mr. Bryant by a mutual friend. They have named their firm Bryant Stibel and will be based in the Los Angeles area.
The two have been invested in 15 companies since 2013, but only after Mr. Bryant's retirement from basketball have they decided to formalize their relationship and fund.
The two men are contributing the $100 million -- which they expect to invest over the next few years -- and aren't seeking outside investors yet.
Current investments include sports media website The Players Tribune, videogame designer Scopely, legal-services company LegalZoom, a telemarketing-software firm called RingDNA and a home-juicing company called Juicero.
In an interview, the two men said their skills complement each other, with Mr. Stibel bringing experience building companies and Mr. Bryant contributing a creative, if obsessive, flair for details around marketing, branding and storytelling. He, in fact, designed the company's new logo with inspiration from piano keys.
They even bonded over shared injuries. In the case of 6-foot-6-inch Mr. Bryant, an Achilles rupture during a 2013 game against the Golden State Warriors; and in the case of 5-foot-7-inch Mr. Stibel, a broken foot in a mishap with a Manhattan cobblestone.
"We don't want to be in the business of investing in companies so someone can use Kobe as an endorser. That's not interesting," said Mr. Stibel, who began his career in brain research and later founded and developed tech companies. "The point is to add real value."
Mr. Bryant, who is known for his painstaking preparation and training, said he also brings the ability to identify entrepreneurs with a robust work ethic.
"Sometimes you can spot it right away, other times not so much," said Mr. Bryant. "It's the inner belief that a person has that he will endure no matter what the obstacle may be. It's that persistence, the entrepreneur doing what he or she truly believes in and truly loves to do."
This summer he has been holding 6 a.m., one-on-one workouts with young NBA players to help improve their skills and said he has a similar impulse when backing entrepreneurs.
"If you would have asked me 10 years ago, I would say I need to win now, " Mr. Bryant said. "Age tends to give you perspective. The most important thing I enjoy now is helping others be successful. I enjoy doing that much much more, that's something that lasts forever, and hope they do that for the next generation."
Many retired athletes are known for their powerful -- and often failed -- business ambitions. About 10 years ago, baseball pitcher Curt Schilling launched a videogame company and raised money with the help of Rhode Island government agencies. The company filed for bankruptcy in 2012.
Former Los Angeles Laker -- and ex-Bryant teammate -- Shaquille O'Neal has also made a number of investments in technology and entertainment startups. Perhaps the most similar comparison is to New York Knick Carmelo Anthony, who started Melo7 Tech Partners for largely early-stage tech investing.
Mr. Bryant said he doesn't view himself as a rival to those players. "I think it's interesting that the immediate reaction from people would be competitiveness between myself and others. I'm more interested in how I can help Shaq, Melo [Anthony] or [NBA player Andre] Iguodala."
And is the world ready for another athlete alighting into the business world? At least one venture capitalist -- New Enterprise Associates' Jon Sakoda -- says there is room. Mr. Sakoda worked with Messrs. Stibel and Bryant in their investment in sports website Players Tribune. "There are a lot of similarities between trying to build a career in sports with longevity and in business, too. Athletes are taken incredibly seriously by entrepreneurs."
Adds Mr. Stibel: "The most important things are grit and intelligence. You have to have that passion that you can succeed. The business and idea will change over and over again. But the entrepreneur persists."