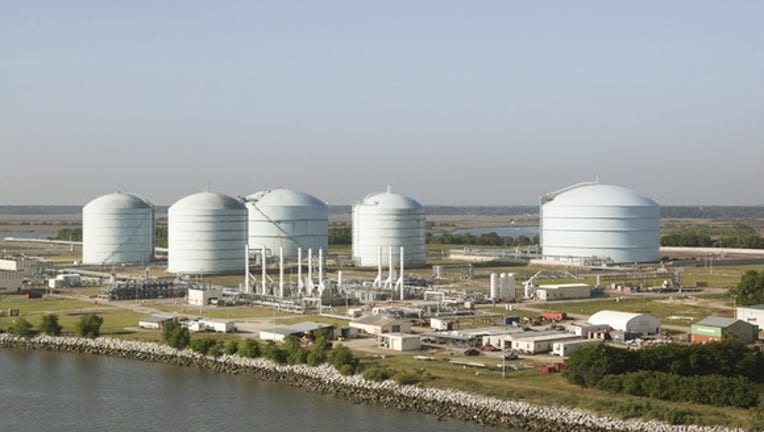 Kinder Morgan (NYSE: KMI) has been on a mission over the past year to strengthen its financial situation so it can return more cash to investors. One way the company has been accelerating that process is by joint venturing key growth projects to bring in cash for debt reduction and offload a portion of future capital expenses to the partner. The company took another step in that direction this week after securing a partner for a part of its Elba Liquefaction Project near Savannah, Georgia.
Details on the deal
Kinder Morgan announced that investment funds managed by private equity company EIG Global Energy Partners have agreed to become a 49% joint venture participant in Elba Liquefaction Company, which will own 10 liquefaction units and other equipment to be constructed as part of its Elba Liquefaction Project. To participate, EIG has agreed to make an upfront payment of $385 million, including $215 million to reimburse Kinder Morgan for its share of the 49% of capex already spent on the $1.3 billion project. EIG will also fund 49% of the remaining capex on the project. Further, EIG has agreed to pay Kinder Morgan $170 million in excess of capex as a premium for the value it has created by developing the project to this stage, which works out to a roughly 27% premium.
Image source: Kinder Morgan Inc.
The company expects that the initial phase of the project will come online in the middle of next year, with the final units entering service in 2019. Supporting the project is a 20-year contract with Royal Dutch Shell (NYSE: RDS-A)(NYSE: RDS-B). That agreement will provide the owners with a steady stream of fee-based cash flow for the next two decades. Shell was initially Kinder Morgan's partner on the project, but it sold its interest back to Kinder Morgan in 2015.
The structure of this deal is noteworthy because it accomplishes two important goals for Kinder Morgan. First, it receives an upfront payment to both reimburse it for capital spent to date and to recognize the value created on the project thus far, which is cash the company can use to pay down debt and push it one step closer to its leverage target. Further, the company offloaded 49% of future capex on the project, which will free up that cash flow for other uses, which likely includes paying down debt in the near term while strengthening its ability to boost the dividend in 2018.
Why this deal structure?
The structure of this transaction is similar to one the company used last year when it partnered its Utopia Pipeline Project with another private equity fund. Under the terms of that deal, the company sold a 50% interest in the $500 million project, which included a reimbursement of half of the project's prior capex, financing 50% of the remaining capex, and a payment in excess of capex to recognize the value Kinder Morgan created on the project. As such, it not only resulted in an immediate cash inflow for the company, but it got it off the hook for future capex, with the cash inflows and capex savings both going toward additional debt reduction.
Image source: Kinder Morgan Inc.
The company hopes to use this structure again on its Trans Mountain expansion project in Canada. In fact, the company's 2017 budget assumes it finds a partner to fund a portion of the capex on that project. While it did not budget for any potential proceeds in excess of the partner's share of capex, it does expect to receive a premium for the value it has created, which includes locking up customers under long-term fee-based contracts for capacity on the project. The company has already started discussions with potential partners for a 50% stake on the $5.2 billion expansion, though it is also pursuing an IPO to see if it can create more value with that approach. Either way, the company's top priority in 2017 is to secure financing for that project because it represents such a significant portion of its backlog.
Given the size and value-creation potential of Trans Mountain, securing a financing solution for that project represents the last major hurdle for Kinder Morgan as it winds down the process of shoring up its balance sheet. Once the company decides on a strategic direction, it will provide more clarity on the timing and size of a future dividend increase.
Investor takeaway
The Elba Liquefaction transaction puts Kinder Morgan one step closer to achieving its leverage goal. The company not only offloaded part of the project's cost, but it earned a nice premium for the work it has done so far.The deal terms bode well for the Trans Mountain process because it shows that the company is creating valuable projects that others are willing to pay a premium for the right to participate in.
10 stocks we like better than Kinder MorganWhen investing geniuses David and Tom Gardner have a stock tip, it can pay to listen. After all, the newsletter they have run for over a decade, Motley Fool Stock Advisor, has tripled the market.*
David and Tom just revealed what they believe are the 10 best stocks for investors to buy right now...and Kinder Morgan wasn't one of them! That's right -- they think these 10 stocks are even better buys.
Click here to learn about these picks!
*Stock Advisor returns as of February 6, 2017.
Matt DiLallo owns shares of Kinder Morgan and has the following options: short January 2018 $30 puts on Kinder Morgan and long January 2018 $30 calls on Kinder Morgan. The Motley Fool owns shares of and recommends Kinder Morgan. The Motley Fool has a disclosure policy.