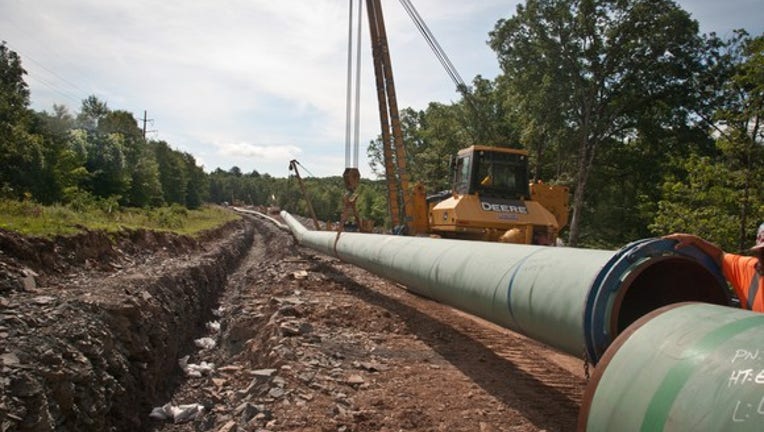 Image source: Getty Images.
Kinder Morgan (NYSE: KMI) reported its fourth-quarter and full-year results after the closing bell on Wednesday. The energy infrastructure giant produced $1.147 billion of distributable cash flow for the quarter, pushing its full-year total to $4.511 billion. While both of those numbers were down year over year, they were right in line with the company's revised full-year guidance.
Kinder Morgan Inc. results: The raw numbers
Data source: Kinder Morgan Inc. Chart by author. NOTE: In millions of dollars.
What happened with Kinder Morgan this quarter?
Kinder Morgan hit the bull's-eye:
Natural gas pipeline segment earnings came in at $984 million for the quarter and $4.03 billion for the full year, a decline of 10% and 2%, respectively. While full-year earnings were below the company's initial budget of $4.22 billion, it previously adjusted those expectations to reflect the sale of a stake in the Southern Natural Gas pipeline to Southern Company (NYSE: SO), calling for earnings to be down 5%, or roughly $4.01 billion, which it exceeded. Aside from the impact of the Southern Company deal, the other factor driving down segment earnings was weaker midstream gathering and processing volumes, resulting from a 21% year-over-year decrease in gathered volumes resulting from slumping oil and gas production in the Eagle Ford Shale.
Earnings in the carbon dioxide segment were $238 million in the fourth quarter and $917 million for the full year, down 18% and 20%, respectively, through right on budget. Driving those weaker results were lower commodity prices and declining oil production, which fell 8% from last year's average in part because of project deferrals.
Terminals segment earnings were $296 million for the quarter and $1.133 billion for the full year, up 15% and 7%, respectively. That said, results were about 5% below budget, which matched the company's most recent guidance. Driving earnings growth were record volumes, which were up 14% on the heels of four Jones Act tanker deliveries and the impact from the company's new terminals joint venture with BP (NYSE: BP). Meanwhile, the bankruptcy of a key coal customer caused results to miss the initial budget expectation.
Segment earnings in products pipelines were $308 million in the fourth quarter and $1.185 billion for the full year, up 7% and 8%, respectively. That was roughly 4% below its initial $1.232 billion budget, which was slightly better than its recently updated guidance that results would be 5% below budget. Stronger volumes on two key pipelines and an improvement in its Transmix business drove growth last year.
Finally, earnings in the company's Canada segment were $38 million during the quarter and $161 million for the full year, down 12% and 1%, respectively. Still, results were 3% better than budgeted, thanks to strong volumes and better foreign exchange rates.
Image source: Kinder Morgan.
What management had to say
CEO Steve Kean commented on the company's results:
Kinder Morgan's fourth-quarter and full-year results reflect the overall stability of its business. While weaker volumes and asset sales caused results to fall year over year, the company still managed to generate a tremendous amount of cash flow.
While the company used some of that cash flow to fund its dividend, the bulk went to finance growth projects. These investments enabled the company to complete its Southern Natural Gas pipeline and Elba Express Company expansions, the South System Flexibility project, the Cortez pipeline expansion, and the construction of the American Endurance tanker last quarter. Further, it completed these and other projects and funded capital toward future project completions while living within cash flow, which enabled the company to push its leverage lower. Overall, debt to adjusted EBITDA fell from 5.6 at the end of 2015 to 5.3 at the end of last year.
Looking forward
Kinder Morgan still has about $12 billion of expansion projects in its backlog, including $3.2 billion of capital spending this year. As with last year, the company intends to finance that capex with internally generated cash flow, which should be about $4.46 billion. After paying $1.1 billion individends, the company should have more than $100 million in cash left over, assuming no more joint ventures, project cancellations, or improvements in oil prices.
10 stocks we like better than Kinder Morgan When investing geniuses David and Tom Gardner have a stock tip, it can pay to listen. After all, the newsletter they have run for over a decade, Motley Fool Stock Advisor, has tripled the market.*
David and Tom just revealed what they believe are the 10 best stocks for investors to buy right now... and Kinder Morgan wasn't one of them! That's right -- they think these 10 stocks are even better buys.
Click here to learn about these picks!
*Stock Advisor returns as of January 4, 2017
Matt DiLallo owns shares of Kinder Morgan and has the following options: short January 2018 $30 puts on Kinder Morgan and long January 2018 $30 calls on Kinder Morgan. The Motley Fool owns shares of and recommends Kinder Morgan. The Motley Fool has a disclosure policy.