Kinder Morgan Inc.'s Future Growth Just Got a Bit Clearer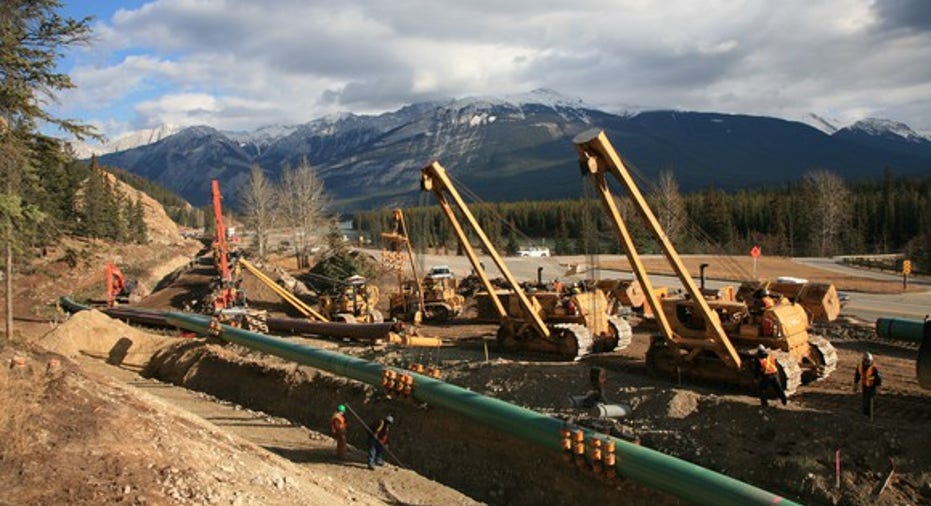 Kinder Morgan (NYSE: KMI) spent the better part of the last year working on high grading its backlog. What that means is that the pipeline company is purging lower-return projects while moving forward with its best options and looking for new opportunities to expand. It announced updates on those latter two initiatives this week, which is providing greater visibility into what will fuel its growth in the coming years.
Topping off Trans Mountain
Earlier this month, Kinder Morgan announced that it had completed the final cost estimate for its Trans Mountain Pipeline expansion project in Canada. As a result of several changes to the plan, itincreased its cost estimate from 6.8 billion Canadian dollars up to CA$7.4 billion ($5.5 billion). To offset those higher costs, it also raised the tolls it would charge for capacity. That increased rate resulted in shippers returning 22,000 barrels of capacity back into the company, which represented about 3% of available capacity.
Image source: Kinder Morgan Inc.
However, the company immediately launched an open season to find takers for that remaining capacity. Those available volumes didn't last long, with the announcement this week that it had secured commitments for all of its available capacity. As a result, its next move is to arrange the financing for the project, which puts it on pace to start construction later this fall. If everything goes according to plan, the project should enter service at the end of 2019.
Looking for riders on the Gulf Coast Express
In addition to announcing the successful open season on the Trans Mountain Pipeline expansion, Kinder Morgan also announced this week that it was launching an open season on the Gulf Coast Express Pipeline Project. This project would provide an outlet for producers in the Permian Basin to move natural gas toward the Gulf Coast, including growing export markets such as Mexico and via the region's expanding LNG export capacity. If enough shippers sign on to the project, Kinder Morgan could have it in service by the second half of 2019. Since Trans Mountain would also enter service about that time, it sets the company up for a big jump in cash flow heading into 2020.
What's unusual about this project is its focus on natural gas, instead of oil, which is what has attracted so much investment to the Permian in recent years. That said, with the basin's hydrocarbon makeup, producers are delivering a growing supply of associated gas that needs greater access to market centers.
Image source: PDC Energy. Photography courtesy of David Tejada Photography, 2016.
For example, diversified Canadian shale driller Encana (NYSE: ECA) plans to invest about half of its 2017 capital budget into the Permian Basin to boost its oil output. That capital should fuel 50% growth in Encana's Permian production this year, while the company forecasts a 30% compound annual growth rate through 2021. However, since about 16% of the production from its Permian wells is natural gas, Encana will need a market access for that growing gas output.
PDC Energy (NASDAQ: PDCE), likewise, produces a growing supply of associated gas out of the Permian after acquiring its position last year. Furthermore, its assets are in a portion of the play where natural gas is more prevalent, with natural gas making up about 35% of the company's reserves in the basin. That suggests that as its total production grows, so will its gas output in the basin. In fact, in some of PDC Energy's wells in the western portion of the basin, as much as 50% of the production is natural gas.
Given the likelihood of a growing supply of associated natural gas coming out of the basin, there's a pretty good chance that Kinder Morgan will find enough takers for the capacity that it's offering on the Gulf Coast Express Pipeline Project. If that happens, the company will take one of the first steps toward rebuilding its backlog, which has declined sharply over the past year due to project completions and the impact from cancellations and joint ventures.
Investor takeaway
These two open seasons should give investors confidence that Kinder Morgan still has plenty of growth left in the tank. While we won't see that growth move the needle for another two years, there is growing visibility that it is coming down the pipeline. It's all the more reason to believe that Kinder Morgan has the potential to deliver healthy dividend growth in future years.
Find out why Kinder Morgan is one of the 10 best stocks to buy now
Motley Fool co-founders Tom and David Gardner have spent more than a decade beating the market. (In fact, the newsletter they run, Motley Fool Stock Advisor, has tripled the market!*)
Tom and David just revealed their ten top stock picks for investors to buy right now. Kinder Morgan is on the list -- but there are nine others you may be overlooking.
Click here to get access to the full list!
*Stock Advisor returns as of February 6, 2017
Matt DiLallo owns shares of Kinder Morgan and has the following options: short January 2018 $30 puts on Kinder Morgan and long January 2018 $30 calls on Kinder Morgan. The Motley Fool owns shares of and recommends Kinder Morgan. The Motley Fool has a disclosure policy.